To protect your new Nikon 850 camera, you need a good camera bag. Why? You feel safer and more secure to have your expensive camera in a high quality camera bag. You need the right camera bag that you can load the Nikon DSLR camera as well as its accessories. A good camera bag is extremely important when you're out on a shoot or off traveling. In my previous review, I made a list of Whether you're looking for a versatile, stylish, or affordable backpack, I've got them covered in this review.
A hand-picked list of DSLR camera bags
Lowepro Flipside 400 AW II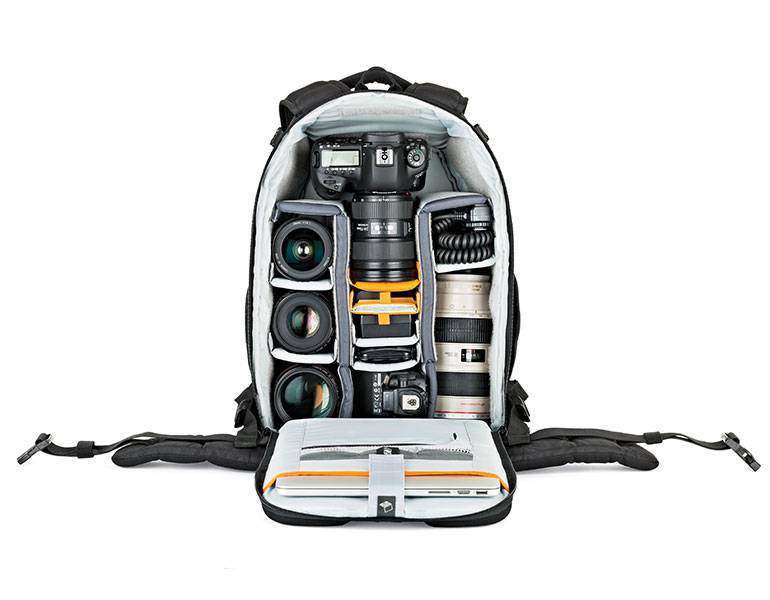 What if you've got a Nikon 850 camera with up to 7 lenses and flash or compact drone, and a MacBook Pro, an iPad and compact tripod? All you need is a high-capacity camera backpack for them while you can still easily go out and shoot. This Flipside 400 AW II gives you increased security, keeping gear safe and easy to reach. Believe it or not, the Flipside 400 AW II is one of the world's best selling camera bags. With its high-capacity storage in a customizable and protective pack, it has plenty of room and flexbility to fit your devices. This camera bag has the extra protection from rain, snow, dust and sand. The bag is sturdy and comfortable with a heavy load. The Flipside 400 AW II camera bag is ideal for people who would like to change frequently to take different shots.
What the Flipside 400 AW II bag can hold:
DSLR with up to 300 mounted lens or compact drone
4-6 additional lenses
Flash
15″ laptop
10″ tablet
Mid-size tripod
2 Mesh side pockets for quick-grab items
Gear attachment system
Also, the Flipside 400 AW II camera bag is very well made and good on the price too. So overall, it's one of the camera bags I'd recommend for your Nikon D850.


Porta Brace Large Messenger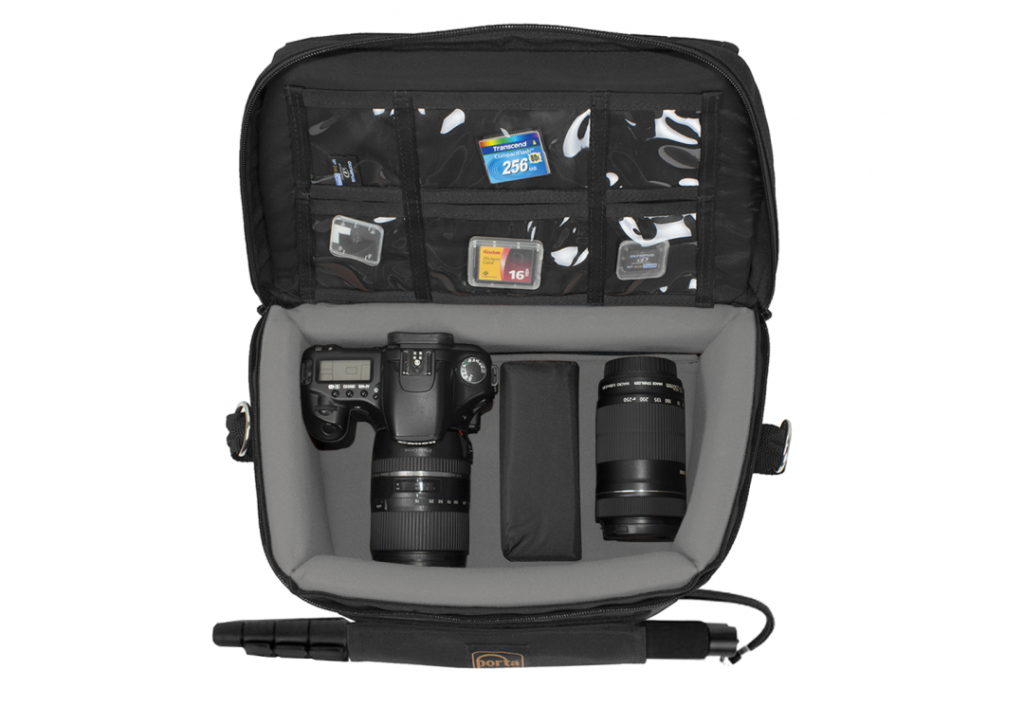 This messenger bag is large enough to fit Nikon D850 camera body and 4 extra lenses or multiple camera bodies, memory cards, and an iPad. Porta Brace is not just well known for its brandname, but also its highest quality materials.
What Porta Brace can hold:
Holds DSLR Camera & 4 Extra Lenses
Holds an iPad/Built-in Anti-Glare Visor
Water-Resistant 1000-D Cordura Nylon
Three Pockets for Memory Cards
Quick Access Front Snap Buckle
Tripod Pouch on Bottom

Manfrotto Professional Backpack 50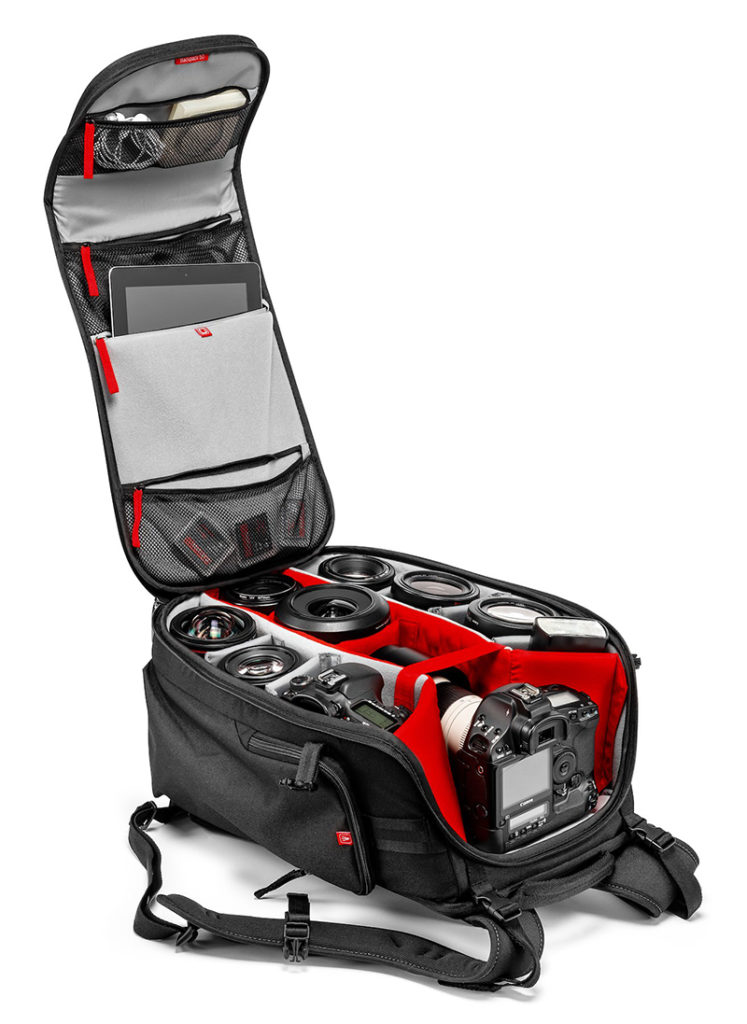 While the Manfrotto 50 might be much more than the money you'd want to spend, it's the camera bag you shoud look into. This camera backpack can hold a Nikon D850, a battery grip, attached 70-200 F/2.8 lens, an extra camera body, 5 extra lenses, a flash, a tablet, a 15″ MacBook laptop, a tripod, and accessories. The material used for the bag itself does repel water. However, for heavy rain you will want to use that cover. The material is fairly heavy and durable.

Lowepro ProTactic 450 AW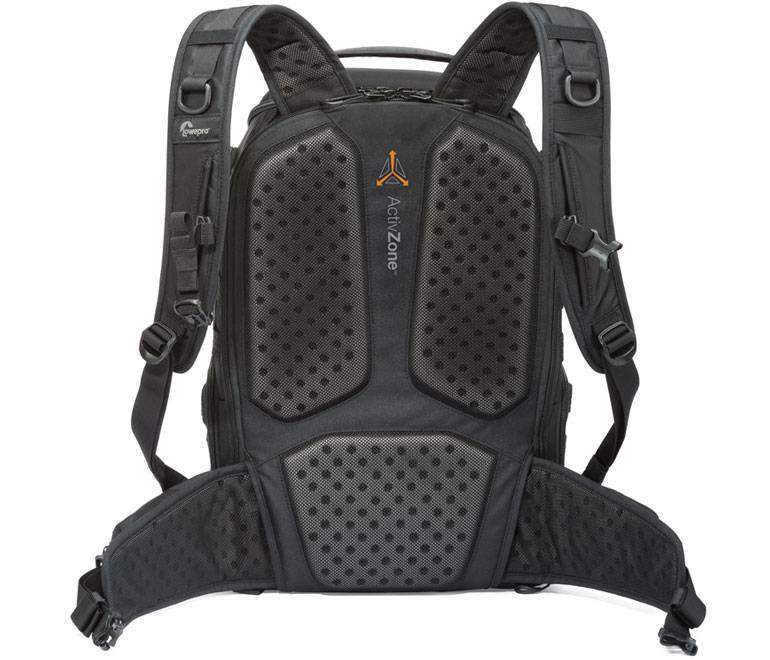 While Lowepro Flipside 400 AW II is a recommended camera bag for your Nikon D850, I also have to add this ProTactic 450 AW to the list because it's a professional backpack can can load up to two DSLRs, one with up to 70-200mm f/2.8 lens attached, 8 lenses/speed lights, 15″ MacBoook laptop, a tripod, and accessories. In addition to this, you can store your DJI Mavic Pro drone. The build quality on this bag is amazing, is clearly a notch above the Manfrotto bag. the ProTactic is everything you'd hope after simply reading the headline.


Think Tank Photo Airport Commuter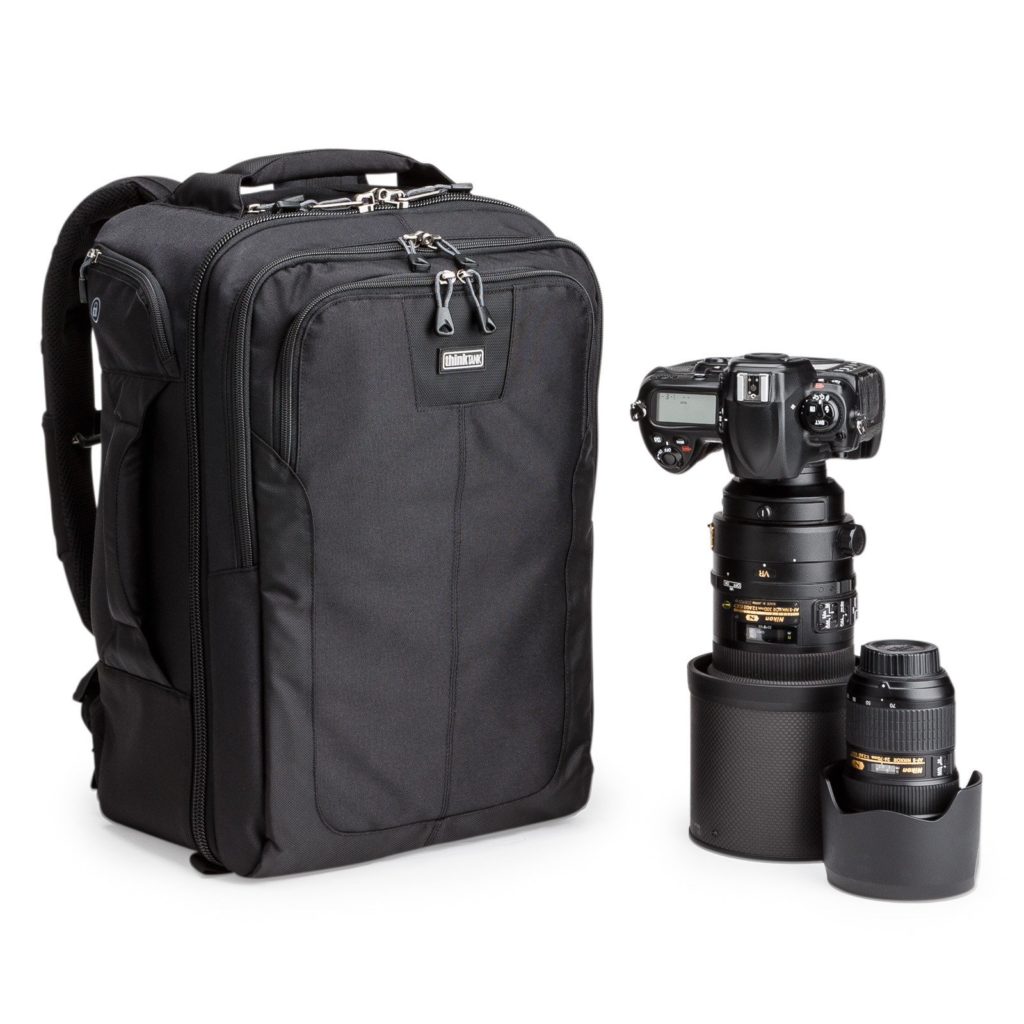 While there are many styles of camera bags, this is ideal for frequent travel photographers as they can take it as international or domestic carry-on bag. In the box, there are tripod straps, reinforced padded dividers, and cable lockSeam-sealed rain cover.
Key features:
Cable lock & locking YKK® RC Fuse zippers protect your gear
Fits up to a 15" laptop and a 10" tablet
Gripped DSLR
400mm f/2.8
15" laptop
10" tablet
Additional lenses and gear

Chrome Unisex Niko Pack
This is a water-resistant, padded camera backpack with integrated laptop sleeve and customizable interior. In addition to being adjustable and customizable, it's also easy to organize your items. The bag straps is short for those with a broader chest and shoulders. Overall it feels like a pack for storing gear rather than actively using gear. The Chrome Unisex Niko Pack is one of the most comfortable, durable and efficient camera bags for most photographers.
Key features:
Weather-resistant with PU coated zipper
Front hook and loop fastener straps secure large tripod or skateboard
Side access U-Lock holster
Customizable, adjustable interior organization accommodates DSLR and multiple lenses or other gear
Interior sleeve pocket fits 13″ MacBook Pro (laptop sleeve recommended)

Case Logic DSB-101 Luminosity Medium DSLR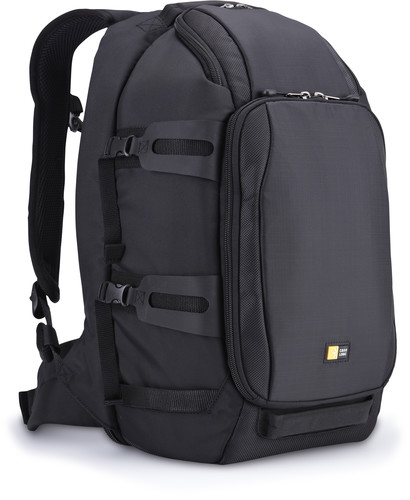 It's a great backpack for a Nikon D850 camera and all accessories (two lenses, charger, cables, battery pack, wipes).
Key features:
Adjustable walls, dividers and safety straps provide dedicated storage for DSLR camera, 3-6 additional lenses or flash and accessories
Unique, patent pending snake divider system allows you to customize camera and accessory storage with just one hand – simply slide tractable panels to either create more space or coil to envelope your gear with 360° protection
Back panel access to storage keeps gear safe and opens into a great work out of station
Interior organizer panel includes elastic pockets for memory cards and filters, a zippered water-resistant compartment for cleaning kit, batteries or other accessories and dedicated storage for your iPad®
Front lid zipper offers quick, full access to camera and interior mesh pocket quickly stashes lens cap or cleaning cloth
Spacious front organizer safely stores wallet, phone and all non-camera related items
Thickly padded, air mesh shoulder pads and backpanel ensure a breathable, comfortable carry
Snug-fit, padded waistbelt and adjustable sternum strap distribute weight of heavy loads for maximum comfort
Sturdy top and bottom grab handles for easy lifting and loading
Side pocket keeps a water bottle within reach
Adjustable side straps attach monopod or tripod while hypalon material prevents sliding
Removable weather cover protects case from the elements – can be stored in dedicated compartment, attached by adhesive straps, or removed completely to dry or clean
Lens cloth included

Kenora Backpack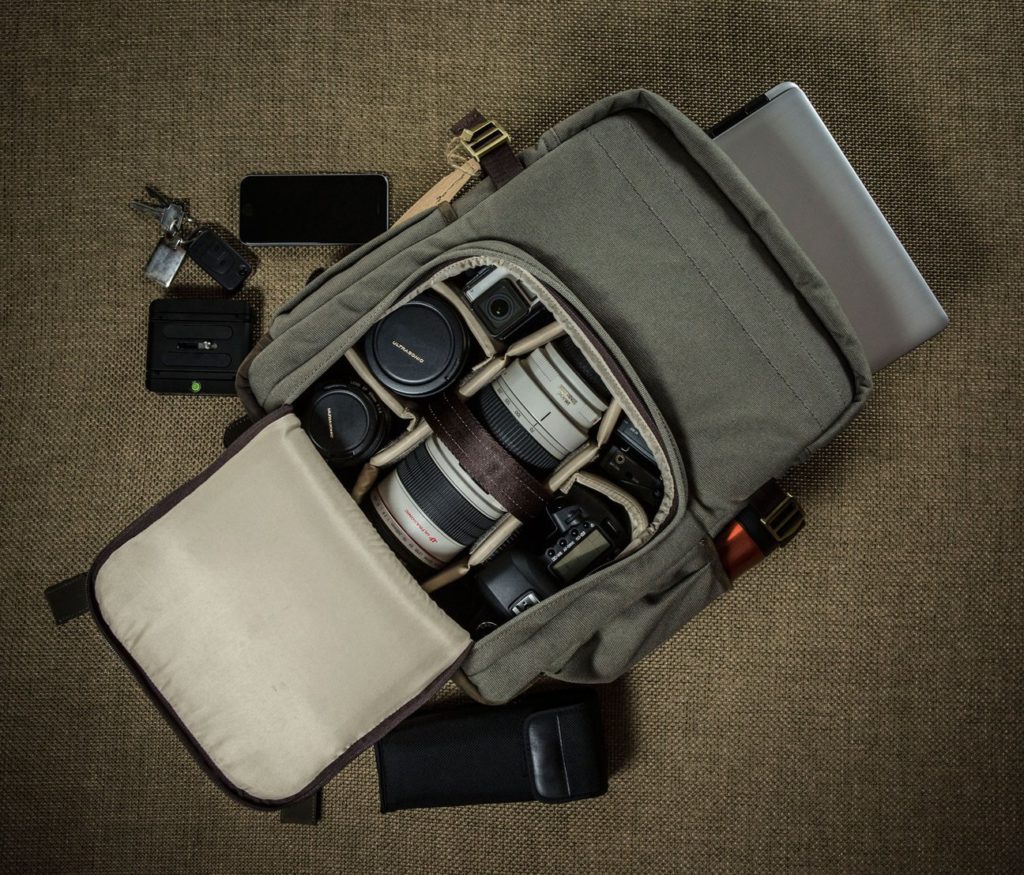 The Kenora backpack fits the essentials and a few accessories. Comparing to other camera bags, it's affordable. The bag uses the finest quality hardware, materials, and components. The premium quality leather and waxed canvas backpack looks beautiful. The Kenora backpack is perfect for the professional or amateur photographer who wants to look good while they shoot.
What I like about the Kenora Backpack
Quality/durability
Side access for camera
Carry my 15 inch MacBook Pro
Handle carrying a full frame body with 70-200 lens plus 3-4 other lenses
Easy access to main compartment, but still secure against would-be thieves
Can carry a medium sized tripod
Can accommodate a jacket/clothes/spare items
Good size and weight