Top Best Camera Sling Bags for Travel Photographers in 2019: Reviews
All photographers love adventure. With all its delicacy, a camera, either a DSLR or a mirrorless, still has to do most of its work outdoors. When not working, it needs a friendly house; somewhere it will not get dusty or knocked against stuff. Whether you have it for either professional or personal photography use, you'll need a reliable bag for carrying it outdoors.
Here's a list of the best camera sling bags for travel photographers with DSLR and mirrorless cameras.
The Best Hard Cases for DSLR Cameras
A List of Top Best Camera Sling Bags for Most Photographers in 2019
1. Altura Photo Camera Sling Backpack
Classy yet affordable, this top rated bag has four compartments; one for the camera and three for lenses and other accessories. Designed to accommodate most of the standard cameras, its sling allows you to move it to the front without struggling to take it off first.
Its interior is padded for maximum shock protection
Additional mesh pockets for smaller accessories
2. Kenox Camera Sling Backpack


The Kenox Camera Sling Backpack is just big enough to carry a camera, one lens and a few more accessories. On the outside, the bag is designed to allow you strap a tripod on it, so you won't have to carry it your hands.
Two built-in pockets for memory cards
Adjustable sling
Vary the strap length to fit your body size
3. Lowepro Slingshot Edge 250 AW

This classy, versatile bag has capacity to carry a compact DSLR camera with an attached lens. It has enough room to carry a compact drone such as the DJI Mavic Pro.
It also has capacity to carry smartphones, sunglasses, keys, headphones, wallets and other lightweight stuff. The interior compartments are very adjustable and you can strap a tripod on the outside. It also has a separate cradle where you can keep your tablet safe.
A side zip-line for easy access and anti-theft features
Straps are removable
Quick-release buckles for extra capacity
4. Neewer Professional Sling Camera Storage Bag

This sling bag can load a compact camera, two extra lenses and other accessories. Its interior has removable cushions which provide flexibility while organizing space.
A side pocket for  a water bottle, a tripod, and accessories
A water-resistant polyester cover
5. CADeN Large Camera Sling Backpack

CaDeN Large Camera Sling backpack is the best choice if you are not willing to compromise your gadgets' safety. Made of long-lasting, high density nylon, the sling bag  is waterproof and shockproof to keep off any possible damage, scratches and dust. It also comes with a red rain cover.
Large size for a compact camera, 3 lenses a tripod or monopod and other accessories
Anti-theft features for maximum security
6. AmazonBasics Camera Sling Bag
This sling bag comes with an ergonomic and padded sling strap. If you want fast access, comfort during use, and lightweight designs, this AmazonBasics sling bag is a good choice for you.
7. Altura Photo Camera Sling Backpack


It is a sling bag too. Means you can carry the camera in the way you want. Do not think about it. It is under your budget. It is one of the best reviewed camera case that is made especially for the travellers who love photography.
They know while travelling you has your luggage too that is obviously quite heavy. So it is made as light weighted as possible.
8. Case Logic SLRC-205 SLR Camera Sling (Black)

If you are in need of something affordable and compact, Case Logic SLRC-205 is the best waist camera bag to go for.
Apart from the padded waist handle, the bag also has detachable shoulder strap and a belt loop that enhances convenience.
Key features:
Padded flex wall, high-density foam padding, interior slip pocket, and zippered side pockets
Interior Size: 7.9 x 3.8 x 7.9 in
Exterior Size: 14.75 x 4.5 x 8.25 in
Weight: 1.2 lb
9. Thule Perspektiv Compact Sling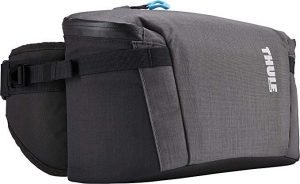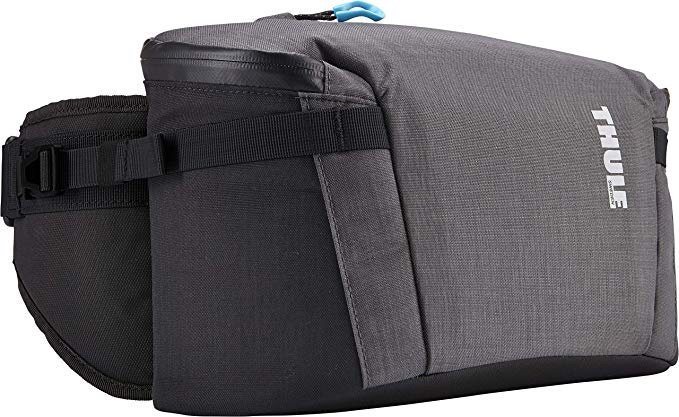 This spacious waist bag is fitted with taped and welded critical seams, YKK RCPU zippers which can provide defense against any unfavorable weather condition. It has a large space that can fit your camera pack and other personal staff you may need to carry.
Key features:
Load 4 flash/lenses and padded mini compartment storage
Size: 12.2 x 8.7 x 7.3in
Weight: 1.32 lb
10. Manfrotto Lifestyle Street CSC Sling/Waistpack


You can load either a Sony A7 or A9, or a DJI Mavic Pro. Convert between sling or waist. You'll like a bottom strap to carry a compact tripod or a selfie pole.
Key features:
Removable dividers to organize your kit
11. CADeN Universal Camera Waist Belt Holster Dual Camera System

The CADeN Professional DSLR SLR Camera Belt Holster is a dual camera system bag that has been designed to fit 2 full size DSLR.
With attached lenses, the bag has 2-positioned metal lock which ensures that you have freedom of movement as well as assured security of your camera.
Its base is also "bolted" to support your lens/procam/flash combo with security and ease.
Key features:
A lightweight, breathable, soft belt
Size: 11 x 3 in
Weight: 2.1 lb
12. Think Tank Photo Lily Deanne Mezzo
This medium size mirrorless camera bag is the best for travel photographers. You'll love its amazing quality and beautiful design.
Designed for female professional photographers
Adjusts well for crossbody or shoulder use
soft leather, lightweight seat-belt material for strap
14. AmazonBasics Large DSLR Gadget Bag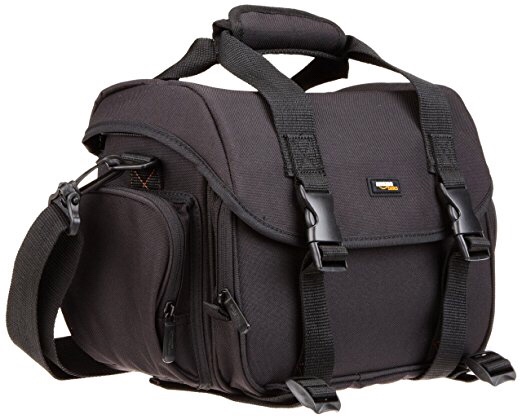 If you looking for good enough camera bag for your new Nikon D7500 is also the best choice. It's not too expensive. It does the job by providing a safe place for your Nikon DSLR camera.
The Best Small Camera Cases
Are you a traveling photographer? If you are one of them, then you must be fond of taking pictures also. So that means you have a cool camera too! Sounds great. But do you care enough for your camera? Do you have a long lasting camera case? If not then do not worry at all. I have discovered some of the best small camera cases. These are not all expensive. So you need not to break your bank.
These are some of the best as well as the affordable small camera cases that you reach up to expectation for sure. So if you are planning to go on mountain track or wanna try water diving, you can do all but with a safe camera case. Have a look!
15. ProTactic 350 AW Camera Backpack
This product from Amazon is user's best choice as it is worth the price. It is so rugged that you can use it in any manner without the tension of the camera. This product is also easy to carry.
It is not heavy at all. you can carry it all handy. This bag contains a no of sections that protects your camera from breaking. It fulfills the entire requirement that you are looking for.
16. Think Tank Photo Urban Approach 15
It is one of the best top camera cases for your camera. It has a sling also for the easy access. It is made up of quality material that is durable as well as rugged.
If maintained properly, you can use it for lifetime also. It has various zips that ease your storage. Not only features, its design gonna mesmerize you for sure.
17. Case Logic DCB-304 Compact System/Hybrid

Camera Case: It is a small case but it features is not less than any of the messenger bag. It has various sections that keep the camera separate from the accessories.
Why to break your balance when you are getting a number of features in such a low price? It is lightweight also and easy to carry. So there is no chance of difficulty.
18. MindShift BackLight 26L camera case

Made from high quality leather, it is the best picked product. Super easy to carry, it is user's favorite choice. You can carry on tough journeys too no matter if you are climbing a mountain or something else.
Overall, this sling bag can provide a good protection of your DSLR cameras and gears. With its stylish design and a lot of attractive features, it's also durable for most travel photographers.
A List of the Best Waist Camera Bags
After spending money on your camera and gears, the last thing you would imagine is to risk damaging them. A waist bag will protect your camera and give you the freedom of movement throughout your travel. Here's my list of the best waist bags you should buy this year.
19. Lowepro Inverse 200 AW Beltpack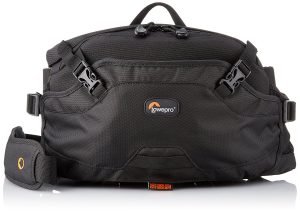 Lowepro has definitely made a name for itself in photography with its fascinating features. It'll allow you to carry as much of camera kit you wish, and still has enough space to keep personal items.
The contoured thick padding on the lumbar belt which secures the bag around your waist.
Key features:
An interior with a brushed Tricot fabric and smooth polyester for LCD screen
Interior Size: 12 x 6 x 8.3 in
Exterior Size: 12.9 x 8.6 x 8.8 in
Weight: 2.12 lbs