As photographer who loves hiking, you know very well that the strap that comes with your camera is designed only for everyday use. The conventional camera strap does the job, but not very well. It's just not comfortable for most hikers. When hiking in the forest, you don't want your camera hits against your chest. If you hike a lot or love hiking, I'd recommend that you need to have a good camera strap for hiking purpose. Designed for hikers, the best camera straps for hiking give most photographers the comfort for shooting outdoor.
A List of the Best Camera Straps for Hiking in 2018
10. Peak Design Slide Camera Strap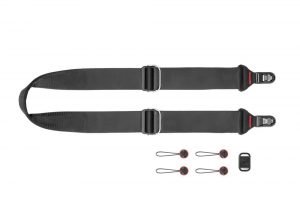 It's always a tough decision not to select a camera strap without including one from Peak Design. As always, this Peak Design Slide Camera Strap SL-2 is popular among photographers who frequently hiking. This is an adjustable camera strap that can be worn as a sling, shoulder, or neck strap.
Sling, Shoulder, or Neck Strap
Quick-Connecting Anchor Link System
Comfortable 2″ Width
9. BlackRapid Hybrid Breathe Camera Strap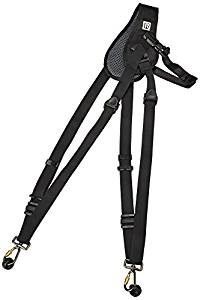 If you often have to move quickly on flat or rugged terrain, this is the camera strap designed for that purpose. The BlackRapid Hybrid Breathe helps stabilize an attached camera resting along the right hip.
Cross-Body Strap, Holds 1 or 2 Cameras
For Right-Handed Users
Places Cameras Upside-Down Against Wais
8. Matin Neoprene Fast Access Sling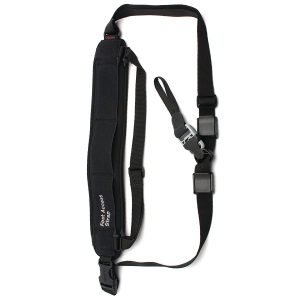 Made in Korea, this Matin Neoprene Fast Access Sling is one of the best camera straps for most hikers. The fast access strap makes it easier for photographers to use the camera. I like the comfortable leather on the top of the strap.
Shoulder pad – Neoprene, Metal part – Aluminum
Length: 47.24~63 inches (120~160 cm)
Protects the camera body safely
7. Keyhole Hands Free Camera Harness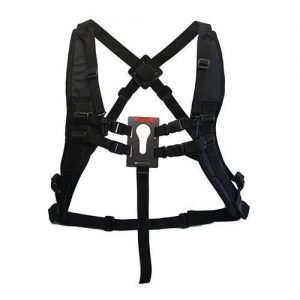 By using your backpack or chest harness, the Keyhole strap holds your camera steady against your body.  This is one of the best currently available solutions for carrying a full size DSLR to hike.
Made from durable polypropylene straps and a hard plastic plate
Reasonable security
Minimal weight and fuss
6. Vortex Harness Strap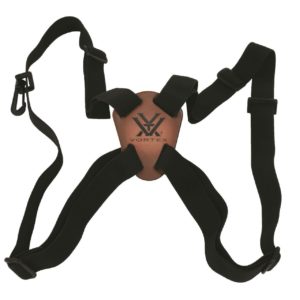 The construction on the Vortex harness is excellent. All the stitching is strong and reinforced. When using this harness, your binoculars fit close to your chest and eliminate them from dangling forward when bending over. One thing right away to notice and expect with this harness is that you no longer feel the dead weight on your neck.
5. Binocular Harness camera & rangefinder strap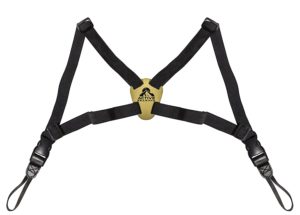 A superior & lightweight body and shoulder support system will distribute the weight across your shoulders and chest giving you an even, stable and comfortable fit. This camera strap for hiking uses durable elastic, but not too stiff. Adjustment is relatively easy and the binoculars can be removed without removing the straps. Binocular Harness camera & rangefinder strap is comfortable, easily adjusted, and looks to be built like a Sherman tank.
4. Crooked Horn Outfitters Original Slide N Flex Bino System
The product is made in the U.S.A. and guaranteed for life. This elastic strap allows the binoculars to slide up and flex out while in use. It's fully adjustable to work on all sizes of binoculars, cameras and rangefinders. By far this is one of the best camera strap for hiking available on the market today. This harness is the most dependable and truly functional harness that I have found.


3. Movo MB2000 Camera Carrying System Vest with Camera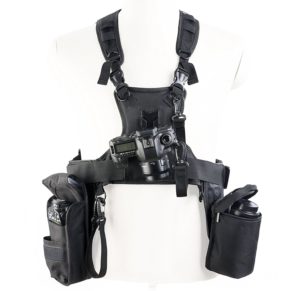 Amazingly, this vest has the ability to carry up to 3 cameras. It features your camera, lens & flash self-locking holsters, tripod attachment straps, and even smartphone compartment. What I like about this Movo MB2000 is that it's fully adjustable. It's probably your best choice if you have a water proof camera. This camera strap for hiking helps eliminate the neck pain after a long day in the field.
2. Micnova MQ-MSP01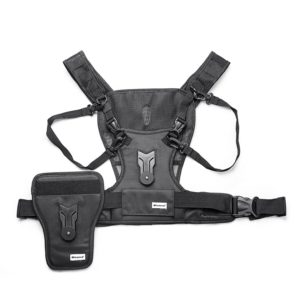 The Micnova MQ-MSP01 is well designed for photographers who love hiking. Made of nylon and mesh fabric with compactness and fitness, this strap is really comfortable. It's also breathable, which reduces stress and possess free-weight capability. It does lock into place when the camera mounts are properly positioned and tightened securely.
1. Cotton Carrier G3 1 Camera Harness Gray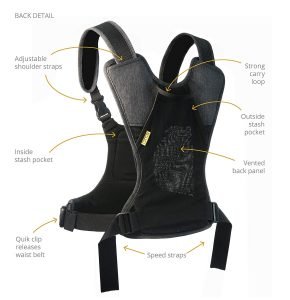 This strap is very ideal for most active photographers. You no longer have to worry about neck pain. Also, no camera bouncing against your body as you trek and hike.
Ergonomic design
Hands free
Conclusion
When hiking or shooting outdoor, photographers need a specialized design camera strap to make photographing way easier. The list of the best camera straps for hiking purpose I picked is a work of research, discussions with friends, and tests. By now, it's your turn to choose one from this list. When hiking, you need the best strap for that. Enjoy hiking and photography!
More Reviews: