If you've got a Fujifilm camera, chance is that you need to expand your photography horizon by adding more good gears and kits. In this list, you'll find my recommended accessories for most Fuji cameras.
The Best Accessories for Fujifilm X-H1
A List of the Best Accessories for Fujifilm Cameras in 2018: Reviews
1. Sandisk Extreme Pro – The Best SD Card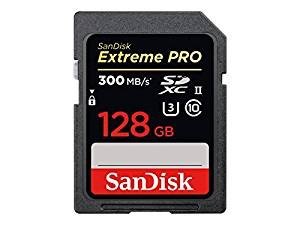 The fastest SD memory card you can buy, the Sandisk Extreme Pro is also very reliable.
2. AFUNTA Screen Protector Compatible Fujifilm X-T1 X-T2, AFUNTA 2 Pack Camera Anti-Scratch Tempered Glass Film for DSLR Camera

The best Fujifilm camera accessory doesn't have to be expensive. A tempered glass for your Fuji camera film is a must-have.
Made of optical glass material, which achieves more than 99% of transmittance, higher than plastic screen protectors. Exceptionally clear & low reflection.
3. Fujinon XF56mmF1.2 R

Surprisingly, this Fujinon XF56mmF1.2 R is capable of delivering beautiful background bokeh so it's ideal for portraiture.
35mm equivalent – 85mm
Max aperture F1.2, Min aperture F16
4. Fujinon XF50-140mmF2.8 R LM OIS WR

If you really want the best zoom lens, this is one of a few I'd recommend. The Fujinon XF50-14mm F2.8 R LM OIS WR is a sharp lens with a great build quality. And it's worth every buck.
Equivalent to 76mm to 214mm
Focal Length : 50-140 mm
Dust and water and low temperature resistance
5. Fujifilm Rechargeable Lithium-Ion Battery NP-W126S

When it comes to a camera battery, it's a good idea to always buy the original batteries and forget about cheap alternative substitutions.
Compatible with FUJIFILM X series cameras
6. Mitakon Zhongyi Speedmaster 65mm f/1.4 Lens for Fuji GFX Mount Camera
This lens is compatible with Fujifilm GFX medium format mirrorless camera systems. The Mitakon Zhongyi lens is capable of delivering exceptional image quality to meet the demanding 51.4MP sensors.
Fujifilm G Mount Format
50mm (35mm-equivalent)
Aperture Range: f/1.4 to f/16
Weight: 1,050g
7. Fujifilm EF-X500 Electronic Flash
Photography is all about having enough light. Whatever a Fujifilm camera you've got, you need a good flash. Get this EF-X500 Electronic Flash for your gear.
Equipped with LED video light
24mm – 105mm zoom coverage
Related Lists: