Lens selection has been the biggest challenge when it comes to a mirrorless interchangeable lens camera (MILC). Lighter, compact, faster and better for video, the mirrorless camera is ideal for most travel photographers. To help most beginners, I narrow down a selection of the best lenses for mirrorless cameras you can buy.
Top 10 Best Accessories for Mirrorless Camera
A List of Top 10 Best Lenses for Mirrorless Cameras in 2018
1. Olympus M Zuiko ED 14-150mm f/4-5.6 II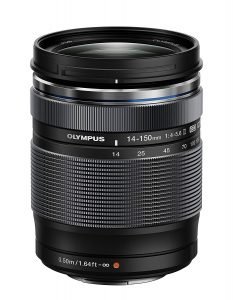 The 14-150 mm Olympus M Zuiko ED model is micro Four thirds system camera with a wide range zoom capability and provides a 28-300mm equivalent focal-length capability. When mounted on the camera, the lens is stabilized by the camera's stabilization system. This will help to compensate for the movement in different focal lengths.
The manual focus offers responsive and precise operations. The MFT camera also meet the telecentric requirements as the light rays from the lens strikes the imaging sensor at almost perpendicular angle to the sensor. This will help to optimize edge-to-edge image production.
Compatible with all MFT standard systems
Focusing mechanism for quiet and fast autofocus
2. FUJINON-XF90MM -F/2 LENS

The FUJINO-XF90MM lens model features Fast-Aperture Optic that helps to achieve ultra-sharp images and strong bokeh. It combines rounded aperture blades and optical construction reduces vignetting and creates a beautiful circular bokeh at the edge of the image. Most of my friends in photography community have rated this lens model for its high motor speed, accuracy and quietness. High focus speed help to achieve high versatile shooting experience.
Wide aperture of F2.0 for sharp, quality photos
Quad linear motor for high-speed autofocus of as fast as 0.14 sec
3. Panasonic Lumix G-X Vario (12-35 mm F/2.8 ASPH)

The G-X Vario model of Panasonic Lumix is the leading in the lenses designed for digital and interchangeable and Zoom lenses category. With a G VARION constant and F 2.8 Zoom capabilities, you can focus on different scenes ranging from dynamic landscapes to studio lit portraits.
The interchangeable lens of LUMIX G-X VARIO include interchangeable are designed to include 14 elements that help to achieve advance focusing in different situations.
Nano surface coating to minimize flares, glares and ghosting
Includes Power O.I.S to minimize Blur
Compact, light and durable
4. Pansonic LUMIX -G Leica-DG Nocticron (42.5 mm/ F1.2)

This model of Panasonic LIMIX is a Micro four Thirds system designed to offer a focal length of 35MM, which is equivalent of 85 mm with a fast aperture of F 1.2 making it one of the most preferred lens for portraits. Most reviewers say that the DG Nocticron has a sharp and lovely boker. It is rated one of the best portrait lens in the Micro four thirds system class as it produce amazing razing results.
Includes Power I.O.S. to stabilize the optical images
Work with the new Panasonic dual optimization features
5. Olympus M-Zuiko Digital ED 300 MM F/4 PPRO Lens

The Olympus M-Zuiko model is one of the best M4 3 lens for telephoto. According to reviewers in Amazon, the 300 MM lens are compatible with Panasonic Lumix GX8 and is designed to have a short focusing distance of about 4.5 feet which a rear feature. It includes functional built-in lens-foot, which eliminated the need for the costly lens plate.
Lighter than the 600MM F4 lens
Metal construction for sharper and contrast photos
6. Fujifilm-XF 55-200mm F 3.5-4.8

The Fujifilm FX 55-200mm is compact telephoto zoom lens designed to achieve between 84-350 mm equivalent focal-length. It also features an aspheric element and 2 ED elements as well as super ED elements, which help to reduce chromatic aberration and maximize sharpness.
The lenses are also designed to include 7 rounded bladed diaphragms to help reduce for the need of ghosting and flare. It also comes with aperture ring with 1.3-EV click stop for precise MF control.
Built-in optical image stabilization
A focal focus of 3.6 feet at all lengths
Impressive telephoto magnification of up to 0.18X
7. The Panasonic –Leica 12MM F1.4

This is one of the modern lenses on the market and is now available in a pr-production version but is Amazing. It offers the widest angle lens on the Panasonic family. Although it is available at a higher cost like other lenses with Leica brand, it is actually of that value.
The 12 mm Summilux has a 24 equivalent focal length on a M4 3 Camera
Compact size of 12 ounce
Study build and design
Supreme optical performance with a high speed aperture of F/1.4
8. Fujinon XF 16 mm F/1.4 WR Lens

This model of Fujino XF is designed for those who want a super wide-angle lens. This model of lens is well built, but is significantly larger than most modern lenses. It has a high-speed autofocus of up to 0.11 sec. Moreover, it features GI coating that help to achieve high quality image.
Sharp images and is sharp even when it is wide open
All-weather and dust resistant
9. Lens-baby Velvet 56 MM F /1.6

This is a 56 mm prime lens that employs unique 4-element in three group single doublet singlet to deliver high quality images . It is one of the unique lenses that are able to achieve sharp images at the widest apertures.
A 84 mm focal length equivalent on a APS format and 112 mm focal length on MFT camera
10. Tamron 18 – 200 mm F/3. 5 –F/6.3 Lens

This is a lightweight extended range lens design for telephoto zoom that provide an effective focal length of up to 28-300 mm when used with APS mirrorless cameras. It is designed for a minimum distance focus of up to 1.5 feet in all range.
Stepping motor for a quicker and quite precision
Contrast detect capability
Good to Know
Got a Sony Alpha A7R III, Sony A7 III or Nikon Z6 or Z7, you'll find that having the best lenses is essential in doing photography.
All photographers can agree that it is the lenses that matter most when it comes to image quality. Today, even the entry level cameras, features cable imaging sensors and all you need is the right glass attached to produce stunning images.
Although most lenses can be used with the mirrorless camera, there are specific lenses that are designed for these particular cameras. The lenses designed for mirrorless camera are lighter, smaller and can be focused more quickly than other lenses.
Related Lists: