Most people these days use more USB charged items than anything, so it's also nice to get the built-in surge protectors with them. Interference in your power supply means dirty power. These selected surge protectors filter it out to increase device lifespan. Never ever let your electronics ride dirty. If you're looking for an inexpensive method to protect your electronics, gadgets, and gear against random power spike damage, then this the ideal review of 2017 for you. What makes a good surge protector? Let's put this way. Surge protectors provide you extra protection in amounts called joules. It's like a reservoir of protection. A simple definition is that a surge protector attempts to limit the voltage supplied to an electric device by either blocking or shorting to ground any unwanted voltages above a safe threshold. So if you live in an area with lots of thunderstorms, your gear is probably more likely to experience power surges. Even if you live in the desert, your A/C or refrigerator could kick power spikes back down the lines to your A/V gear. You know what, most surge protectors are not very expensive. So it's always a good idea to have some surge protectors in your home or studio. These are some of the best surge protectors for 2017 we selected for you:
Belkin 12-Outlet Surge Protector
For many years, Belkin has built its reputation for its great quality products. This Belkin 12-Outlet Surge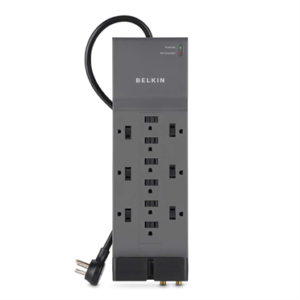 Protector is without an exception. It works simply by plugging the surge protector into any AC wall outlet and connects your device to keep it safe from surges, lightning strikes, and AC contamination. It works just great. It has never had any problems. The maximum spike Voltage is up to 6000V.  The Belkin 12-outlet protector is ideal for a home office, entertainment center, or any room with multiple electronic devices. It has two led lights; one which lets you know if your protected or not and the other to let you know if its grounded. This surge protector works great.


JOTO 2 Outlet Surge Protector
It has 2 three-prong plugs, 3 USB plugs (5V 2.4A Max) and one Type C plug (5V 3A Max). The electronics inside maximize compatibility with the devices, and also protect from overheating, over-current and over-charging — when each battery is fully charged, the JOTO 2 shuts off power to that device. And get this: It's rated at 4,320 joules of protection. It's solid as a rock. This mini power strip charger can fit right into your palm; it is ideal for home office and travel. This is a perfect modern living room accessory. JOTO 2 intelligently detects the input current to maximize both compatibility and charging speed. JOTO 2 outlet surge protector is incredibly reliable, fast and safe surge protection.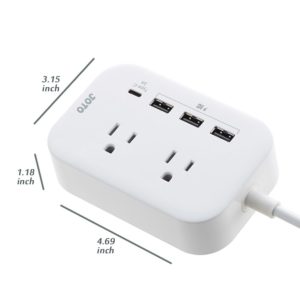 JOTO 2 is a really convenient surge protector to have. It's really small and compact in size, but it has everything you would need. It's small enough to not take up the entire table and it handles everything plugged into it perfectly. You might also want to read our comprehensive review of this great product here.
Accell Powramid 6 Outlet Surge Protector
This is a compact outlet surge protector. The conical design offers an easy access to all six outlets and has two USB ports, and blocks power when protection fails. Its Power Stop technology terminates power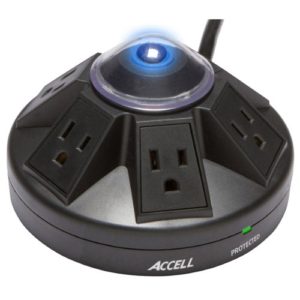 transmission whenever surge protection is compromised, protecting your valuable connected equipment from unexpected damage. In addition, the Firesafe X3 MOV fireproof housing absorbs 1080J of power surges and eliminates the risk of fire. The Powramid lets you know when it is powered up and protecting your devices from electrical surges. You can plug in huge plugs in all the outlets and not have to worry about size or placement. It is very convenient for charging multiple items in a small space.


Tripp Lite 1 Outlet Portable Surge Protector
In all of our review of the surge protector, this Tripp Lite 1 is the cheapest one. This travel size surge protector perfect for on-the-go applications or space sensitive areas. Fits perfectly in laptop case It's got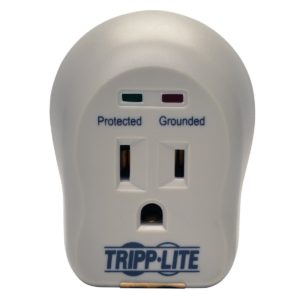 600 joule rating. In order to do its job and to properly protect the equipment connected to the surge suppressor, it needs to be directly plugged into the wall.


ECHOGEAR Low Profile On-Wall Surge Protector
This Echogear product works well as a power adapter, with 3 AC outlets & 2 USB ports to rapidly charge your phone. It's got plenty of juice, with enough left over for a delicious smoothie.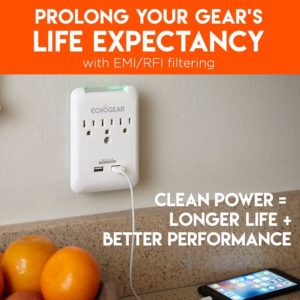 Some technical specifications you should know:
540J surge protection w/ max spike current 36,000A or 6KV
Electrical rating: 15A, 120VAC
Two 5V USB charging ports capable of 2.1 Amps (Output range 4.75Vdc~5.25Vdc)
1.1" profile with mounting screw for stability
500V clamping voltage (voltage protection rating)
X3 fireproof Metal Oxide Varistor (MOV)
EMI/RFI noise filtering

MAKETECH Aluminum 4-Outlet Surge Protector
This is a slim multi charging station that has 4 AC outlet power strip and 4 port USB charger into one, eliminating the need for multiple chargers.