After spending money on your camera and gears, the last thing you would imagine is to risk damaging them. A waist bag will protect your camera and give you the freedom of movement throughout your travel. Here's my list of the best waist bags you should buy this year.
A List of the Best Waist Camera Bags in 2018
1. Lowepro Inverse 200 AW Beltpack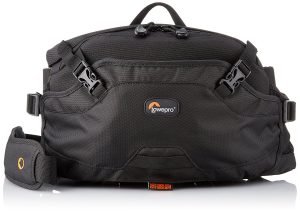 Lowepro has definitely made a name for itself in photography with its fascinating features. It'll allow you to carry as much of camera kit you wish, and still has enough space to keep personal items. The contoured thick padding on the lumbar belt which secures the bag around your waist.
Key features:
An interior with a brushed Tricot fabric and smooth polyester for LCD screen
Interior Size: 12 x 6 x 8.3 in
Exterior Size: 12.9 x 8.6 x 8.8 in
Weight: 2.12 lbs
2. Case Logic SLRC-205 SLR Camera Sling (Black)


If you are in need of something affordable and compact, Case Logic SLRC-205 is the best waist camera bag to go for. Apart from the padded waist handle, the bag also has detachable shoulder strap and a belt loop that enhances convenience.
Key features:
Padded flex wall, high-density foam padding, interior slip pocket, and zippered side pockets
Interior Size: 7.9 x 3.8 x 7.9 in
Exterior Size: 14.75 x 4.5 x 8.25 in
Weight: 1.2 lb
3. CADeN Universal Camera Waist Belt Holster Dual Camera System


The CADeN Professional DSLR SLR Camera Belt Holster is a dual camera system bag that has been designed to fit 2 full size DSLR. With attached lenses, the bag has 2-positioned metal lock which ensures that you have freedom of movement as well as assured security of your camera. Its base is also "bolted" to support your lens/procam/flash combo with security and ease.
Key features:
A lightweight, breathable, soft belt
Size: 11 x 3 in
Weight: 2.1 lb
4. Manfrotto Lifestyle Street CSC Sling/Waistpack

You can load either a Sony A7 or A9, or a DJI Mavic Pro. Convert between sling or waist. You'll like a bottom strap to carry a compact tripod or a selfie pole.
Key features:
Removable dividers to organize your kit
5. Thule Perspektiv Compact Sling


This spacious waist bag is fitted with taped and welded critical seams, YKK RCPU zippers which can provide defense against any unfavorable weather condition. It has a large space that can fit your camera pack and other personal staff you may need to carry.
Key features:
Load 4 flash/lenses and padded mini compartment storage
Size: 12.2 x 8.7 x 7.3in
Weight: 1.32 lb
Good to Know
There are many types of camera bags for compact, DSLR and mirrorless cameras:
Each type of bag has its own purpose to serve photographers' need. My lists above will help most photographers find the ideal choice.
Disclaimer: All recommendations are impartial and based on user experience, with no bias to the products or the brand. The products in this post contain affiliate links which help support SweetMemoryStudio.com.