Do you know that you can transform your camera from "just an electronic" to an eye-opening machine? Yes, you can. A pretty camera strap can change your camera to an attractive device. Leather can excellently make your accessory eye-popping. Leather gives a ageless look. It is well-known for its classy look, durability, and strength. I bet you will be looking stylish carrying your camera around with this leather strap. Leather straps are expressive practical and unique. You will be surprised on how this straps age beautifully.
A list of 5 leather camera straps that will provide with:
· Comforts around your neck and ergonomics.
· Easy time when using it
1. Herringtone Heritage Leather Camera strap


Herringtone Heritage leather camera strap provides you with the best solution if you want to be
holding from the side. This strap offers an excellent ergomic solution. This leather works eases holding the camera and booting becomes great. It's one of the most favorite straps among Leica owners.
Pros
It increases camera ergonomics
The real leather makes it more attractive
It eases carrying the camera without affecting accessibility
Best for people who don't like the neckstrap.
Con
Can be difficult to install
Not all cameras can fit because its too thick
Some users said that the leather is thin
Cant carry larger DSLRs.
2. bstill leather camera strap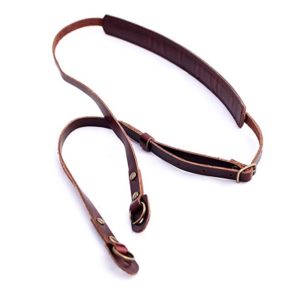 WOW! This is a strap providing its users with attractive and authentic leather look. This is made for users who want their pals open their mouths wide because of the unique colour. It is strong, wide and can carry heavy cameras. It has canvas drawstring bag to tot it around.
Pros
Attractive and handicrafted leather.
Comes with a canvas drawstring bag
The shoulder and nech pad aids to reduce pain when used for long.
Designed to carry heavy cameras (upto 5 pounds)
Cons
Some users dint like its durability
The leather contained orange hue
Some users complained of loose leathers that fell.
3. ONA – The Presidio – Camera Strap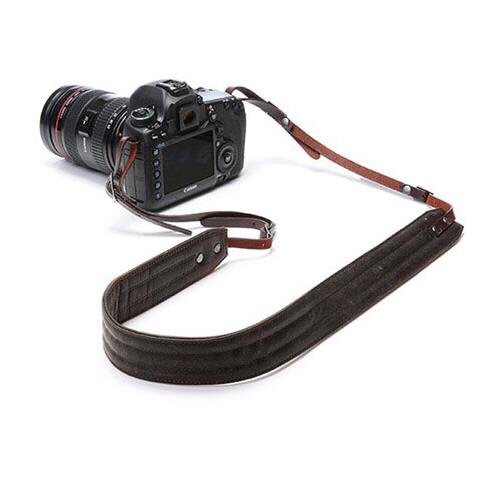 This strap authentic and stunning. It is very tough thus its highly durable. If you believe money can buy happiness, this strap will offer a stuuning look. It is very thick and can support heavy equipments. People with big bodies can find a solution in this strap.
Pros
Has a long and adjustable strap
It has a padded necklace
Build with waxed canvas
Cons
The strap was too for some users.
Some found the buckles sturdy
Some found it too thick and heavy
4. Movo MP-SS5 Vintage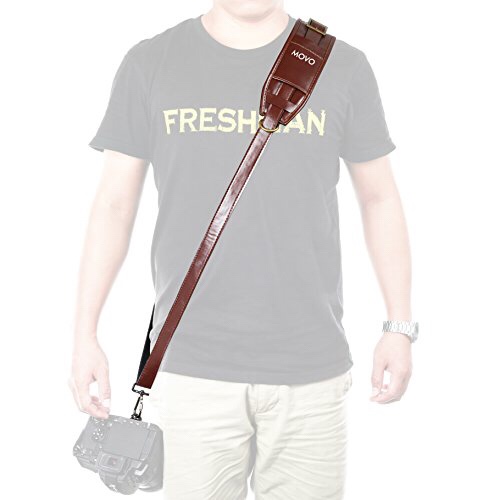 It solves the problem of thise big-bodied people. It is long and adjustable. The the shoulder helps in distributing weight through the body.
Pros
It is valuable
Good for large people.
Long and adjustable strap
Cons
Heavy for some users
Simulated leather
Some complained of mould breaking endaring their accessory
5. TETHER Brown Leather Wrist Camera Strap for DSLR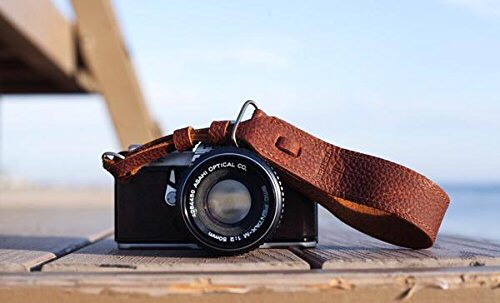 This is fit for those having a small camera.
Pros
It's a true Italian leather
Looks attractive in your small camera
Doesn't stain incase weather changes.
Cons
Some found it too stiff
Maybe quite small for small camer users.
For those hikers who are looking for some of the best camera straps for hiking, please read my review here.
Disclaimer: All recommendations are impartial and based on user experience, with no bias to the products or the brand. The products in this post contain affiliate links which help support SweetMemoryStudio.com.