Scuba diving and snorkeling as loved by many are exciting things to ever experience. One of the most fun and exciting things about scuba diving is being able to capture all the good moments while interacting with nature. It doesn't matter why you want to capture your moments, but it matters how you capture them. You don't want to sit down one day feeling sorry for having taken the worst pictures of your diving experience, do you?
With top rated GoPro camera filters, no matter how boring your diving experience, you can at least make it look incredible by taking the best and memorable pictures.
A List of Top 10 Best GoPro Filters for Scuba Diving
1. Neewer 52MM Filter Kit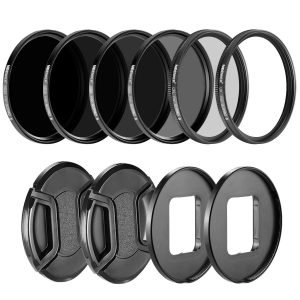 The Neewer filter kit is compatible with GoPro Hero 3, 3+ and GoPro Hero 4 and is furnished with an allen wrench to tighten it. The Neewer 52MM filter kit can be used to facilitate lower shutter speeds and it is designed to reduce the amount of light going into the film without necessarily altering the color. If you want something close to natural, this would probably be your best bet.
2. GoPro Red Dive Filter

This filter is designed for use with Camo, Blackout and Standard Housings. It is furnished with a tether and a carrying bag which makes it safe and portable. It is scratch resistant and is designed for use in tropical climates.
3. PolarPro Red Filter

If you will capture the best of the best, then this is your filter. The PolarPro Red filter is compatible with both GoPro Hero 3+ and 4, Standard 40M housing, Hero, Hero+ and LCD. It had the ability to capture the sprightliest colors ranging from 10 to 80 feet deep.
4. Backscatter FLIP4 Pro

This 3 filter kit is the perfect solution for perfect colored images. FLIP is the enduring filter kit. It is designed to survive all the diving harshness to which it is exposed. Its aircraft grade aluminum makes it strong and unbreakable
5. Koroao 5PCS Professional Diving Lens Filter Kit

Capture the most exciting images with this 5-20 feet filter kit. If you are diving in green or blue water this is probably your best shot at taking the most stunning footage. It is compatible with GoPro Heros 5, 6 and 7
6. PolarPro PP1016 Filter Set

This magnificent filter set includes the magenta filter for green water and the snorkel filter for shallow water. It is suitable for use with the GoPro Heros 3+, 4, Standard 40M housing and LCD. Thanks to our professional grade color correction filters which can be used for vibrant water colors.
7. GoPro Dive Filter for Dive Housing (Magenta)

Perfect for freshwater lakes, reservoirs and salt water that appears green, this filter stands out in the crowd for its ability to provide color correction and its optimal image clarity. It is suitable for use at depths of between 15 and 70 feet
8. XCSOURCE 58MM Adaptor Filters

This is probably the one filter set compatible only with GoPro 3. It is however perfect for undersea diving and is fashioned with neutral density filtering qualities to regulate the amount of light passing through the lens.
9. WoCase Dive Filter

WoCase is probably the most versatile dive filter with a very modest price. It is compatible with Heros 3+, 4 and standard housing. The filters are made with high quality professional grade lens material and they are most suitable solution for diving 20-50 feet blue water
10. PolarPro Three Pack


This is one of the most exciting filters as it includes a polarizer and macro lens. Its HD glass ensures sharp image quality and what makes it more exciting to buy is its 5-year warranty with PolarPro support. It is suitable for Heros3+.4, Her+ and LCD.
Disclaimer: All recommendations are impartial and based on user experience, with no bias to the products or the brand. The products in this post contain affiliate links which help support SweetMemoryStudio.com.