Top 10 Best Tech Gadget Gifts for Christmas in 2019
Whether it's a gadget gift for Christmas or your loved one, this is a comprehensive list of ideas you have when shopping for best and coolest one. A good gadget is easier to find. However, finding the right one for right time and person is tough. To give you some ideas, I picked these gadget gifts (preferred by photographers and filmmakers).
A List of Top 10 Best Tech Gadget Gifts in 2019
1. UBeesize Selfie Ring Light with Cell Phone Holder Stand for Live Stream & Makeup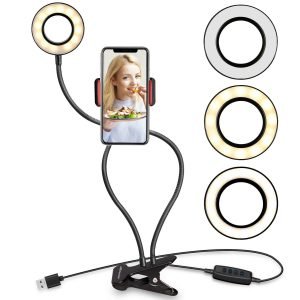 Doing frequent livestream, live broadcast, lives show, selfie or video chat? The Ubeesize Ring Light is a must have for most people. The great advantage is it works well with iPhones. Overall, it's worth the money especially for your Christmas tech gadget gift. Read here for a list of top best ring light for live streaming.

Easy control on cord

Flexible and d

immable
2. SanDisk Extreme PRO microSDXC Memory Card Plus SD Adapter up to 100 MB/s
Of all the top rated microSD cards, the SanDisk is a great quality product to have. Perfect for your Gopro! You have to also beware of fake memory card.
Water proof, shock proof, x-ray proof, temperature proof
3. Mountain Warehouse Pakka Mens Waterproof Rain Jacket
Any geek or photographer will need to have at least a good waterproof rain jacket for their outdoor and street photography.
100% nylon breathable
Collapsible pockets for extra storage space
4. Pix-Star 15 Inch Wi-Fi Cloud Digital Photo Frame
One of the most sought after in recent years is top quality wireless digital photo frame. In short, the Pix-Star digital photo frame is a perfect gift idea to stay connected for photographers and loved ones.
4 GB internal memory (15,000 photos)

Supports USB and SDHC memory cards
5. OnReal Body Camera 1080P Video Resolution Mini Wearable Camera
A multi-pupose wearable camera, you can use the OnReal Body for outdoor action camera, wearable camera, and even drone camera.
120 Degree angled viewing lens with Sony sensor
6. JOTO 2 Outlet Surge Protector Power Strip with USB Smart Charger
With 2 outputs for surge protection and 4 USB ports for charging, this surge protector ensures that you get universal convenient charging. You can simultaneously charge your mobile phones, tablets, laptops, digital cameras and other devices such as USB. Read here for my list of top best outlet surge protectors.
7. SanDisk Extreme 500GB Portable SSD: The Best Waterproof
Shock-resistant for greater durability

Ruggedized, water- and dust-resistant

Compatible for both

PC and Mac users
8. Anker PowerCore 10000
Just another must-give away gift for your friends, the Anker PowerCore is a good recommendation. Who doesn't need a portable power bank to power up our personal gadget devices?
9. Sony Pico projector MPCL1
No matter what screen you use it adjust the focus accordingly as it has laser beam scanning tech in it. As it is a portable projector so it has a chargeable battery that plays continually for an hour. One can also charge it with a power bank.
10. HP Sprocket X7N07A Portable Photo Printer
One of the best gadget gifts of all time is a portable, small photo printer. The HP Sprocket is my top recommendation for most people.