Best AV Receivers for Music (2022)
How much do you know about AV receivers? AV receivers have evolved and have become more complicated, which has made it more difficult to choose the best one that will satisfy your need and last for a long time. However, you don't stress about it because this excerpt will touch into detail some of the best AV receivers that will amplify and immerse your music experience to cloud nine. Getting or choosing the best AV receiver could be hard, especially when you have never used or owned it. Some may not last long or do not serve your need.
A List of Top Best AV Receivers for Music
Denon AVR-X4700H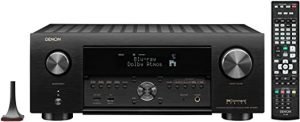 Denon AVR-X4700H upgrades your expectations with your favorite music that has been featured with discrete high-current amplifiers on 9-channels, which delivers high power performance at 125W per channel to ensure a powerful and precise entertainment experience all the time. The Denon features an advanced HDMI that supports HDCP 2.3 and video processing with 4K and 8K pass-through and upscaling for HDMI sources that give exceptional color, clarity, and contrast and can also play copy-protected content that is uninhibited.
You can extend the reach of your music to any room in your house by using Digital In, Phono input, and Network support with a range of wireless connections. Moreover, you can also use Wi-Fi to airplay or use Bluetooth with heos multi-room wireless speakers without any extra hardware.
The AVR-X4700H features a full 3D audio support with Dolby Atmos, Dolby Atmos Height Virtualization Technology. Using the in-built nine-channel amplification will provide immersive audio without heights effects you would enjoy in 7.1, 5.1, or 2.1 speaker arrangement. Furthermore, it is featured with an enhanced Audio Return channel to directly support 3D audio formats from your TV and many more. Besides, the AVR-X4700H is compatible with Amazon Alexa, Google Assistant, Apple Siri, Control4 SDPP, and Josh.ai. This allows you to voice control of the volume and tracks and has a wireless music hand-free service.
Pros and Cons
Pros
Voice control compatible.
Supports both Wi-Fi, wireless sharing, and Bluetooth connections.
The 9-channel amplification delivers a powerful home theater sound experience.
Cons
Marantz AV Receiver SR8012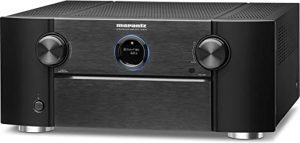 Marantz is the first-ever AV receiver designed with 11 identical amplifier channels, each delivering 250W per channel. SR8012 features advanced reference-class 32-bit AKM D/A converters on all channels to ensure consistent high fidelity and precise channel matching across all channels for an ultimate listening experience. The AV receiver has an Audyssey MultEQ XT32 that smooths out the annoying jumps in volume, thus, letting you listen to the music at lower levels and still provides full-range clarity. Besides, you can use the Audyssey MultEQ with advanced DSP algorithms with the supplied measurement microphone to analyze each speaker's output at up to eight measurement locations to optimize each channel for the best possible sound.
You can also choose your favorite voice control agent from Amazon Alexa, Google Assistant, and Apple Siri, which allows you to connect with other devices, adjust the volume, and play your playlist. Furthermore, you can integrate it with smart home automation systems like Control4 or Josh.ai. the SR8012 AV receiver has a full pass-through, SD/HD video sampling to ultra HD, Dolby Vision, HLG, and Enhanced Audio Return Channel that supports the transmission of 3D audio from your TV apps with a single HDMI connection.
Pros and Cons
Pros
Voice control compatibility
Smooths out the annoying jumps in volume
Supports the transmission of 3D Audio
Cons
Doesn't support a Wi-Fi connection
Yamaha CX-A5200 AVENTAGE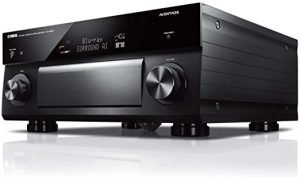 CX-A5200 delivers a breathtaking, rich, and realistic sound right in your room because of its 11 amplifier channels included a YPAO microphone to tune your system for the best sound in your room. The AV employs reflected sound control technology to correct early reflections for studio-quality surround sound. The CX-A5200 also features two of the latest ESS SABRE PRO premier DACs to deliver state-of-the-art 32-bit performance and to minimize noise levels to achieve an exceptional signal-to-noise ratio.
The YAMAHA CX-A5200 features YPAO 3D to provide automatic sound parameter optimization that maximizes the 3D sound effects of the CINEMA DSP HD3 as well as Dolby Atmos and DTS: X 64-bit precision EQ calculation and angle measurement to achieve the most natural room acoustic possible. Controlling the AV is done easily by voice control via Alexa devices like Echo or Echo Dot, and it is compatible with Bluetooth, Wi-Fi, airplay, Spotify Connect, and MusicCast multi-room. Furthermore, you can use HDMI to transmit video or audio content to another room to allow you to watch and listen to the same main room content.
Pros and Cons
Pros
Voice control compatibility
Supports Wi-Fi and Bluetooth connection.
Auto-minimizes noise levels
Con
Pioneer Elite SC-LX904-11.2-Ch Network AV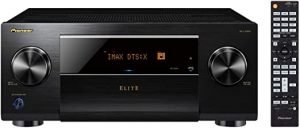 The pioneer Elite Av features 11 amplifier channels with Mcacc Pro auto-tuning technology that analyzes the phase and group delay characteristics to control phase differences between the speakers. Besides, it corrects phases differences in all ranges and all channels from phase difference in the original audio material; to sound emitted from the speakers. Furthermore, the pioneer Elite features two 384kHz/32 bit ESS DACs to control all channels with extremely precise D/A conversion and high S/N ratio to provide powerful sound full of rich details.
The SC-LX904 is compatible with 7 2 4ch/7 two 2ch/5 2 4 channel configurations of Dolby Atmos to reproduce object-oriented sound in smooth curving movements or 3D sound effects. Besides, the Dolby Atmos can up mix other audio codecs such as DTS Neural X, PCM, and DSD to enable a new immersive and interactive audio experience. The SC-LX904 is controlled via remote control, and you can wirelessly connect to Wi-Fi to streamline your favorite music.
Pros and Cons
Pros
Features Mcacc Pro-auto tuning technology sound effect.
Supports wireless communication and connection.
Provides powerful sound full of rich details
Cons
Supports only remote control.
Sony STR-ZA5000ES 9.2 channel AV Receiver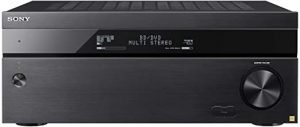 Enjoy premium quality audio via a flexible connection from a powerful 9.2 amplifier channel 4K AV receiver, which delivers 130W per channel to produce a surround sound that is crystal clear. The amplifier can also be configured to support two speakers either independently or simultaneously decoding up to 11.1ch. Besides, to Bi-Amp fashion to experience immersive IMAX sound and clarity at home. Also, it supports Dolby Atmos; and DTS: X to provide 3D sound effects. The Sony STRZA5000ES has an eARC that relays full-sound resolution directly to and from your TV without routing through alternate media sources.
The Sony AV receiver has a flexible HD connectivity with eight assignable inputs, a 6HDMI, and 2 component, and is also HDCP2.2 compliant for full-playback of 4K content with multichannel sound quality. The ZA5000ES allows full, native 4K video content pass-through and even upscale HD to 4K capable TV and projectors. Furthermore, Sony ZA5000ES features music connect that allows integrators to combine the powered an ES-grade multichannel sound system and optimize custom in-home integration and system configuration with the leading control system.
Pros and Cons
Pros
It can be decoded up to 11,1channel.
Capable of connecting with eight assignable inputs.
Delivers a powerful surround sound effect.
Cons
Doesn't support voice control.