The Best DVD Recorders
A List of The Best DVD Video Recorders
Magnavox HD DVR/DVD Recorder

Magnavox recorder records from HDD to DVD and features a 1 TB HDD in-built memory. You will have 1000 GB to record giving you plenty of space to record on the drive. Besides, you can record when you are away from home. Thanks to its ATSC tuner that allows reception of digital TV channels. The Magnavox recorder also offers a 1080P Upconversion. Be sure of a high-resolution DVD recording that is clearer.
Additionally, the Magnavox model is of compact design. You will have the freedom of placing the device in any place you want. Since it is also a lightweight design. You can quickly transfer this device to your preferred location without difficulty.
Pros
• Records from HDD to DVD
• ATSC tuner that can record footage even while away from home
• 1080P Upconversion
• Compact design
• Six-hour auto record buffer
Cons
• Expensive
TOSDVR670-TOSHIBA DVR670 UpConverting DVD Recorder/VCR Combination(with built-in digital tuner)

Toshiba DVR670 DVD/VHS recorder offers capabilities of recording on both VHS and DVDs. It features a one-touch recording which makes your recording to be easy. This recorder also has a two-way dubbing feature which is efficient to any user. Furthermore, this recorder can record –R/-RW, +R/+RW. It can record all rewritable discs. With a 1080P, this DVD recorder offers a higher resolution when watching the recorded footages. However, the Toshiba DVR620 recorder requires an external tuner source to record TV programming. Even with this additional purchase, this DVD recorder will allow you to record your favorite programs easily. One unique feature about the Toshiba DVR620 DVD recorder is that it will auto finalize. You recording processes will be simpler since it will automatically complete your recordings. The Toshiba DVD recorder also has bi-directional dubbing. You will easily copy items of a DVD onto a VHS or vice versa. Lastly, it comes with a one-year warranty. You will have extra assurance in this product.
Pros
• Has a warranty
• Auto finalizes your recording
• Two-way directional dubbing
• Excellent input upconversion
Cons
• Requires external tuner source to record TV programming
Toshiba DR430

Toshiba DR430 is easy to operate. You only need to connect it to your satellite or cable box and is ready to record your favorite shows or TV series. The 1080P resolution allows the films to be high resolution with clear pictures. Besides, the Toshiba DR430 features playable disk types that include: DVD+RW, DVD+R, DVD-RW AND DVD-R. You can record all the rewritable disks with this model. The Toshiba DR430 has good connectivity. You will enjoy working with a model with multiple inputs and output options.
Further, this model comes with audio features playback WMA and MP3. This multi-format and recording and playback options enables ultimate flexibility and convenience for using the popular format, thus, simplifying the recording process. Toshiba DR430 also features video progressive scan 3:2 pulldown. This pulldown suggests that the DVD recorder creates ten videos from four film frames. Finally, the Toshiba DR430 allows for easy Conversion of your favorite family videos to a permanent DVD device in HD quality.
Pros
• 1080P input Up Conversion
• Multiple inputs and output options
• One-touch recording
• Supports multiple discs formats
Cons
• Complicated recording process
Sony RDR-GX300 DVD Recorder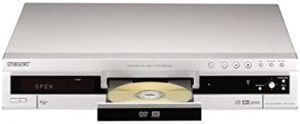 Sony RDR DVD recorder provides multiple recording sources. It caters for DVD RW and DVD-RW recording thus you will have the option of reusing your disks.
Besides RDR features video recording mode. You can perform editing tasks such as making changes to the original title, creating a playlist and erasing advertisements. You can also record and use playback at the same time. You household members will moreover watch TV at the same time. Furthermore, it features a stand-out feature of six recording models. You can go for the best-quality HQ, or pick a low-quality recording mode to minimize the amount of memory the film uses. When you choose the best-quality HQ, this model offers a maximum of an hour recoding time on its 4.7GB disc. Lastly, the Sony RDR features optional digital text, and a perfect surround-sound mode thus is one of the best DVD recorders on the market.
Pros
• Surround-sound mode
• Six recording modes to fit your memory's capacity
• Video Recording mode to make edits to the footage
Cons
• Lacks SD slot or HDMI output
Toshiba D-KR10 DVD Recorder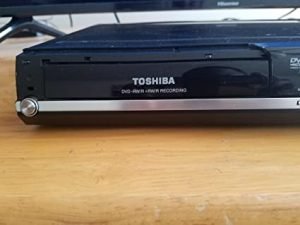 Toshiba D-KR10 DVD recorder features five recording modes. You can choose the right quality to minimize the footage from eating up the disk space. This DVD recorder also allows setting recordings via the Time Program button. You can schedule your recordings for when you are out of the house. It is an excellent option for busy TV shows lovers! Besides, the D—KR10 supports dual player DVD+R AND DVD-R; thus, double the video capacity for up to eight hours of footage recording.
Furthermore, this DVD recorder features duo speed settings. By its slow motion and zoom instant skip, you can watch the footage to your liking. The 1080P allows you to view your recordings in high-quality footage. Not all DVD recorders have an editing feature, but Toshiba title renaming and skip any advertisements. Be sure of watching your footage without interruptions.
Pros
• Features five recording modes
• Features editing options
• Smooth transfer of footage from VHS to DVD
Cons
• Lacks USB port
ZSMJ 854 1609116 Drive Recorder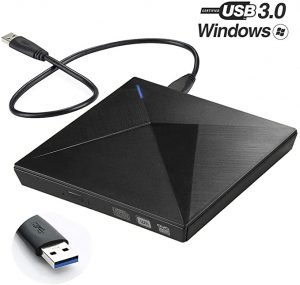 ZSMJ 8541609116 DVD recorder comes with a high-speed USB 3.0. Therefore, you will quickly transfer your files and download speeds than USB 2.0. The DVD recorder is the lightest and of compact design. It will be easy to move it to your preferred location. Besides, this DVD recorder also features a shockproof cable design. It is a safe option to consider. If you purchase this DVD recorder, it comes with two cables to prevent power shortage.
Furthermore, this DVD recorder offers writing and reading speed of 5GB with no extra power needed. You will just plug the device into your USB port, and your device will automatically detect it. Finally, this DVD recorder also acts as a DVD player. You can watch your favorite movies and listen to audio music from your PC.
Pros
• Acts as a DVD player
• High-speed USB cable
• Compact design
• Portable and lightweight
Cons
• Low capacity compared to other models
Lite-ON Black Premium Burner Recorder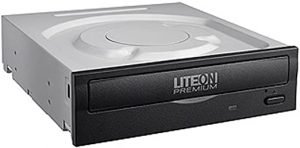 Lite-ON burner recorder has a 1GB RAM and supports orts up to 8 hours footage. Record your footages without worrying about capacity. Besides, it comes with The Smart-X tech. You will enjoy whisper recordings. Lite-ON DVD recorder also automatically adjusts the maximum data read speed settings. Be sure of getting high-quality footage. This DVD recorder is compatible with most windows; thus, you can use it on different devices.
Furthermore, this DVD recorder has both DVD+R AND DVD-R; thus, you can increase the speed of your recordings. Finally, this model features the ABS system. There will be no vibrations and noise while you are recording.
Pros
• Supports DVD-R and DVD+R
• Data protection tech that hinders footage loss
• ABS system allows for quiet recordings
Cons
• Heavy compared to other models
Panasonic DMR-EZ28K DVD Recorder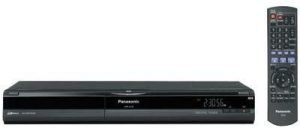 Panasonic DMR DVD recorder features a new Picture Processor with noise reduction. You will enjoy quiet recordings. This DVD recorder also produces high-quality footage with 1080P image quality, making it the best option for high-quality audio and images. Besides, this model comes with the VIERA link function that allows you to watch TV and record footage at the same time. The Panasonic model also produces high-quality sound. This model is ideal for recording orchestral performance. Notably, this DVD converter has A SD card. You can quickly transfer your footages to your computer and reuse the disk.
Pros
• Multi-format playback
• 14 hours footage on a single disk
• Excellent sound quality
Cons
• Not easy to follow user manual
Emerson EWD2204 DVD/VCR Combo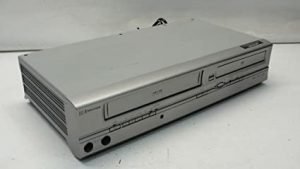 Emerson DVD recorder provides 10 hours recording time and can transfer footage from VHS to Digital Disc. These features make it a unique design that you should consider. Besides, Emerson features audio surround sound for high-quality audio when watching your footage. You will love the parental lock feature. No one will view your footage without your permission. Plus, the Emerson also features discs formats including DVD-RW AND DVD-R. You will be able to record any rewritable disk.
Pros
• Affordable
• Offers 10 hours record time
• Quick instant recording
• Supports DVD/VCR
Cons
• Few recording hours as compared to other models
AVerMedia EzRecorder, HD Video Capture High Definition HDMI Recorder, PVR Schedule Recording, 32gb Flash Drive Include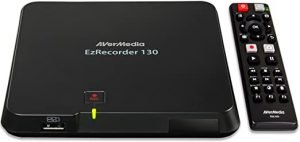 AVerMedia DVD recorder captures 1080P HD video. You will get high-quality images while watching your footages. Besides, this DVD recorder features an easy schedule so you will never miss your favorite shows and movies. Furthermore, this DVD recorder has a USB port. You can transfer your footage to your computer and reuse the disk. This model also has an HDMI output; hence it can be compatible with your TV. Lastly, this DVD recorder comes with a two-year warranty. You will have extra assurance in this product.
Pros
• Has a warranty
• Features a USB port
• Easily schedule recordings
Cons
• Don't support recording for HDCP signals.