The Best L Shaped Desks
L-shaped desks are becoming increasingly popular in home studios and offices due to their practicality and space-saving features. Unlike traditional desks, L-shaped desks offer more workspace and storage options while occupying a smaller surface area. In this guide, we have compiled a list of the 10 best L-shaped desks available in the market today, taking into account their design, storage capacity, and overall functionality.
These desks come in a range of styles, from contemporary designs to more modern looks, ensuring that you can find the perfect fit for your workspace. Whether you are looking for a desk that provides ample storage space for your equipment or one that is visually appealing and stylish, we have got you covered.
Investing in a high-quality L-shaped desk can help improve your productivity and workflow, allowing you to work more efficiently and comfortably. With this guide, you can make an informed decision and choose the perfect L-shaped desk that suits your needs and preferences.
A List of Top 10 Best L Shaped Desks
Ameriwood Home 9354026PCOM Dakota L-Shaped Desk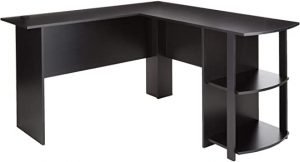 Even though it does not come assembled, its set up is very easy. It also comes equipped with a user manual that stipulates guidelines on how to set up. You'd get ample space for your laptop and other work items. There is also extra space for your favorite art, photographs, day planners, etc. To add on, it comes with extra space for storage purposes. This gives you room to hold your files and other documents that you would not wish to display on top of your desk.
2 grommets built into the desk
2 open shelves on the side
Bush Furniture Cabot L Shaped Computer Desk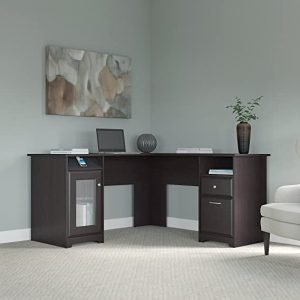 There are a lot of features that come with this unit that I admire. It comes with multiple concealed storage surfaces. So you can use to store and lock away confidential files and important documents. The storage cabinets are well spaced. Your A4 size files will nicely fit without irregularly folding and creasing. Second, it comes with an integrated 4 port USB hub that will aid in the effective charging of all your devices. It is a beautiful build with some of the most quality and strong materials.
SHW L-Shape Corner Desk Computer Gaming Desk Table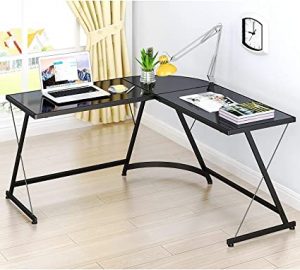 Its design is not the normal traditional desk that we get to see. Instead, its make features a modern design hence it will be perfect for a modern interior office. It does not come with storage cabinets, though. It comes with plenty of top surfaces that you can use to place your laptop and other materials. To add on, it comes constructed with a steel frame and coated finish that is not only strong but also durable. Its feet come embossed with glides to prevent slipping and reinforce stability.
Sauder August Hill L-Shaped Desk, Dover Oak finish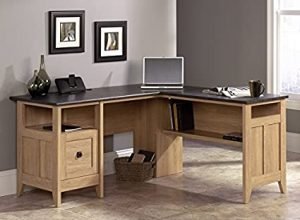 The latest design from the Sauder brand is this L shaped desk. A beautiful construction that will be the perfect addition to your office. The wood material used in its build is not only strong. I love the well-polished and contemporary finish. It is well spaced to fit all your files and other work documents and equipment add on. You'd enjoy extra storage compartments below the desk. We have both open storage and closed storage system to store your important items. But, you should consider getting hardware tools for installation purposes.
Walker Edison Furniture Company Modern Corner L Shaped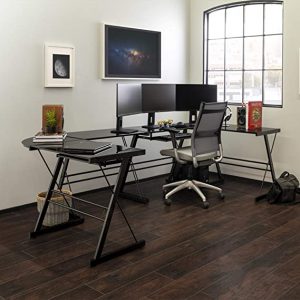 I love the fact that this l shaped desk can blend with a professional office set up. The other feature that stands out about this feature is the presence of a universal CPU stand. Its top surface comes embossed with a glass material that adds more style and that modern feel. The glass surface is strong and does not break or get scratched. This is because the glass is a thick and well-tempered design.
Tribe signs Modern L-Shaped Desk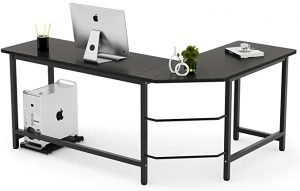 If you need plenty of space for your work items, this L shaped desk will be perfect for you. Ladies would fall in love with it due to the beautiful marble top surface that is well complemented with steel frames. It's well polished with a golden finish. It is well heightened to allow your legs to fit perfectly while you are sitting. Although it does not come with extra storage space, it comes with a free CPU stand. It is also easy to assemble the unit. It comes with all the necessary hardware tools.
Z-Line Belaire Glass L-Shaped Computer Desk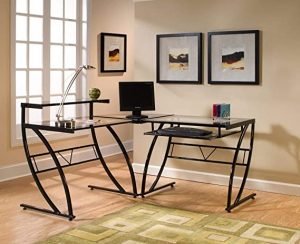 It comes equipped with a glass surface. For that reason, most people consider it not safe. Yet, this narrative is not true. Thick and tempered glass are safe. Not only that, but the tempered glass is easy to clean and a good resistant to heat. Moreover, it is very strong and does not scratch and break even when subjected to a strong impact. You will also get to enjoy the spacious workspace to accommodate all your work items. Furthermore, it was a pull-out keyboard tray.
Monarch Specialties Hollow-Core Left or Right Facing Corner Desk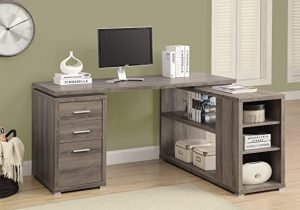 The selling point of this unit is the multiple storages it comes with. It comes with up to 5 shelves and 2 concealed drawers. This l shaped desk further has a file cabinet. With this, you will be able to achieve great organization for all your files. You have enough room to place all your work equipment, stationery, and office supplies.
SHW L-Shaped Home Office Corner Desk Wood Top, Espresso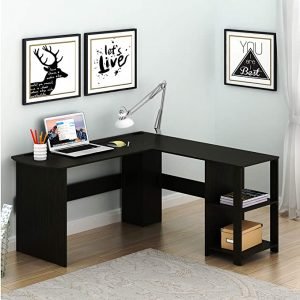 This is what I describe as a state-of-the-art build. The beauty that comes with this unit is unimaginable. It has a touch of femininity as well as elements of some masculinity. For that reason, both males and female individuals would love to have it under their roofs. It has extra storage shelves that you can customize to your taste and preference. To add on, since the shelves are an open design, anything can fit. Additionally, it has two grommets for cord or cable support.
Bush Furniture Cabot L Shaped Desk with Hutch in Espresso
Saving the best for last, we have this amazing l shaped desk from the bush furniture brand. Even though it is big, its design will easily blend into small spaces if at all you have a small office. The positive to its big size is that it comes with plenty of space. This is not only the work surface but also shelves and concealed storage cabinets. Some of the storage cabinet doors feature a fluted glass door, a factor that brings some sense of style. Its drawers feature an extension of ball bearings for an easy glide. To add on, it comes with a hutch that can be mounted on either side of the L shaped desk.