The Best LED Light Strips
LED light strips are a popular lighting solution that consists of small LED lights fitted on a flexible strip. They're designed to provide illumination in a room and come in different sizes, usually measured in meters. What makes these lights versatile is their ability to produce multiple colours, allowing users to choose their preferred colour scheme. They typically come with a remote for easy control, or they can be operated through smart devices.
LED light strips are perfect for lighting up special occasions, and there are numerous options available to suit different preferences. Some light strips are made of waterproof materials, making them suitable for outdoor use. These lights are easy to install and can transform the ambiance of any space. Whether you're looking for a warm and cozy atmosphere or a bright and colorful one, LED light strips are an excellent choice for your lighting needs.
Best LED Light Strips
Ubanner LEd strip lights 65.5 FT WFI Wireless Smartphone Controlled Lights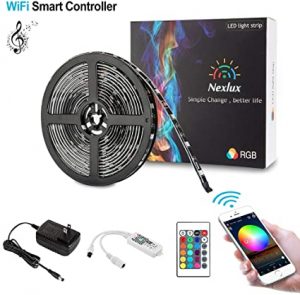 Transform your room with these beautiful LED light strips. One roll features about 6.5 Ft long strips to cover a large area in your house. You can utilize these lights for an in-house party as they provide colourful party themes thanks to the multiple colours equipped. Controlling the functionality of the lights is easy as they have Amazon Alexa for connecting with a smartphone. The strips can be cut in small pieces in case the area is small, or you don't want to cover a large area. Installing these lights takes little time with the provided user manual.
LED Strips Waterproof MINGER 2x5m RGB SMD 5050 LED Rope Lighting Colour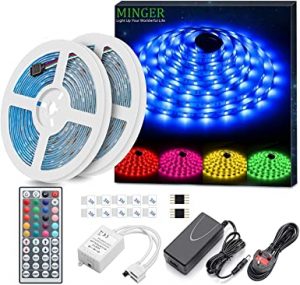 If you are looking for flexible lights that you can use both on indoors and outdoors then get this model. The pack consist of two rolls of LED lights each measuring about 5 metres and has 3000 lights. It comes with a remote of easy control when setting or making any changes. The LED light is multi-coloured to provide a great vibe for both indoor and outdoor parties. Note that you can change the strips to light up in different colours and speeds as well. The light can be cut in case you want to set in small areas, and it takes a few minutes to set it up with the self-adhesive tape.
White LED Strip Lights Govee Upgraded Dimmable Lights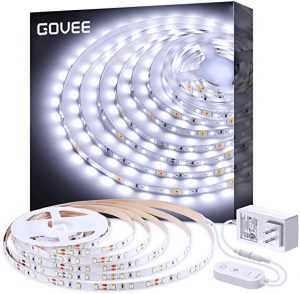 This is a great LED strip light for people who need a single lighting option. It provides a cool light that is dimmable to reduce light reflection in the room. These LED strips provide up to 6000k lights ideal for use in the dark area. It is versatile in use since you can set it at your vanity mirror, under cabinet, in your wardrobe or even in the kitchen area. One pack consist of 5 metres long strip that can be cut in case you wish to set in different areas. It emits extremely low heats making it safe to install even in kids' rooms. The light is flexible such that you can bend it in different designs to fit in various areas indoors.
LED Strips 5M SHINELIN 16.4 Ft RGB SMD 5050 Dimmer Colour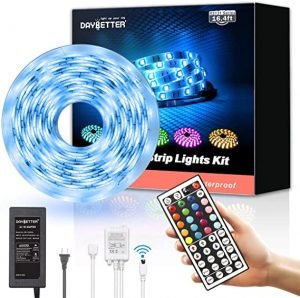 These are great LED strips light for use in all home parties and events. The lights come in multiple colours so you can change and set it depending on the party themes. The strips are bendable for easy fitting in different parts in the house or when mounting on the Christmas tree. The LED strips feature a total of 16 different colours and four modes to choose from. They are also dimmable to provide cool lighting in the room and prevent high power consumption. Note that the lights come with double-sided adhesive tape for the installation process. Thus you can easily do it at home.
GIDERWEL Dreamcolour LED Strip Lights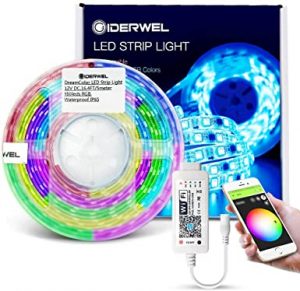 These are the perfect party LED lights to buy for home parties since the lights can be synced to music. Thus, it changes the light colours depending on the music playing. You can also set the lights in different areas such as the TV backlit, Christmas tree decor among others. It comes with a wireless remote that makes changing convenient as you can do it from anywhere. The colour and brightness of these lights adjust to different levels for one to choose their preferred level of colour or brightness. The lights work at 12 V and do not cause any short circuit to ensure safety.
RXment Works with Alexa Google Home IFTTT WIFI SmartPhone Wireless Controller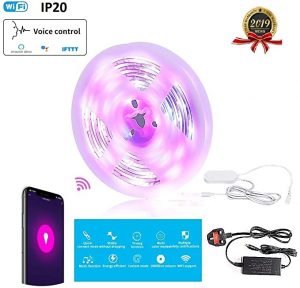 These LED strips are suitable for both indoor and outdoor since they feature waterproof material to prevent them from damage in case they are touched by wetness. The lights are super easy to control considering they are compatible with a smart app like Google Home or Alexa for easy controlling with a smartphone. There are over a million colours on the strips for you to achieve the best decor for your outdoors. You can also sync the lights with music to change colours depending on the music playing. The best part is that these lights are compatible with different types of music. The lights are dustproof for easy maintenance and it only takes a few minutes to install them.
WenTop LED Strips Lights 32.8Ft 10M WIFI Smartphone Controlled 300 LEDs RGB LED Strip Light with Remote Control
For easy control of these LED lights trips, you can sync with your smart device. It is compatible with both android and iOS systems. It is also compatible with Google assistant and Alex for easy control. The lights come in multiple colours for you to set depending on your preferred theme or colour mood. Installing the lights is super easy with the provided adhesive tape, plus the materials are easy to cut for easy installing in different areas. You can set the lights to illuminate one colour or multiple colours. The pack comes with a 30 days money return guarantee for quality assurance.
Philips Hue Light Strips Plus 2 m high Colour Ambience Smart LED Kit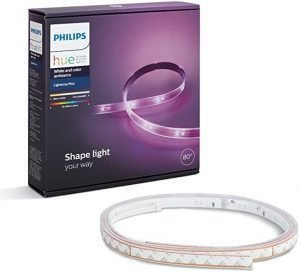 Although this LED strip light from Philips features a simple design, it is quite reliable in terms of illumination. It brightens any type of event setting thanks to the multiple colour illuminations. The LED strip can be synced with smart apps such as Google Alexa for easy control with your voice using a smart gadget. There are millions of colours for you to select your preferred colour illuminations. Installing the strip takes little time as it comes with adhesive tape, plus it is cuttable as well. Note that the light can also be synced with the music or video playing in the background.
YUNBP LED Strip Lights RGB Waterproof 12 V Flexible LED Tape Light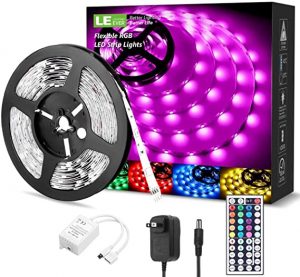 This is a versatile LED light that you can install at home and other areas like clubs, and even offices. The strip feature over 1000 colours for you to choose the light depending on the colour decor option. The pack comes with self-adhesive tape for easy installing and removing. This LED light is super safe for installing in areas with kids since it operates at 12 V and safe to touch. You can cut the strip to smaller sizes since it has an easy to cut material.
Novostella 6M Dimmable LED strip Lights Kit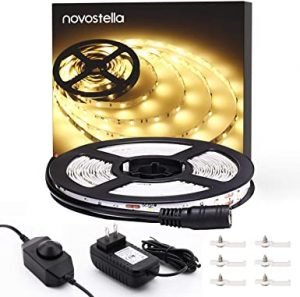 This is the perfect LED strip light to fit in bedrooms since the light is dimmable for safeguarding your eyes from the glares. One pack consists of 6 m length lights that have a total of 360 units. The strip can provide up to 6000k brighten essential for use in dark areas of the house such as the cabinet, closets and even at the kitchen area. This light emits low heat such that you can comfortably touch it with bare hands. It features two installation mechanisms which are the adhesive tape, and the clips for convenience when setting up in different parts of the house.