Best Mixing Desks for Home Studio
The time comes for us all when the make-shift workspace you started with cannot support your studio's ever-growing demands anymore. And it is about time that you invested in a new and proper desk that will perfectly meet your needs. However, finding a suitable desk for your studio needs can be a daunting task.
That is because people's needs are different, and what may seem to be a perfect option for one studio may not work for another. This article will outline some of the mixing desks you can find on the market, each for specific tasks, for a more comprehensive view. Hopefully, you will find a kind that will be ideal for your home studio.
A desk for home recording is often overlooked when setting up a home studio and is often overshadowed by the other purchasing equipment. However, as anyone who has set up a home studio knows, the desk plays a pivotal role in one's setup. The list above is intended to point out the desks you should consider when out shopping for one.
What makes the best mixing desks for a home studio?
Whenever you are out looking for a mixing desk for your home studio, there are various factors to consider to ensure the desk you ultimately buy meets all your needs. Here are some hinters.
Ease of assembly
It is always a good idea to go for desks that you can quickly assemble on your own. Many of them do not come assembled, and they are always an excellent DIY project.
Ergonomics
Typically, you will spend a considerable amount of time on your mixing desk. Ergonomics is, therefore, a crucial factor. It is essential to find a desk that offers maximum comfort.
A List of Top 5 Best Mixing Desks for Home Studio
On-stage Stands WS7500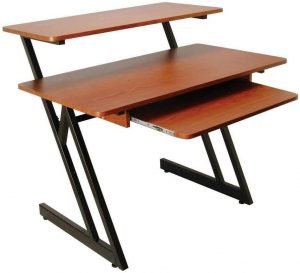 The On-Stage Stands WS7500 is well-worth the money. This is the go-for mixing desk for a small room and minimal gear. An extensive and fancy desk will not do for some people, which makes this a great option. This stand features three main parts that are required for any typical recording desk. These include a slide-out tray that you can use for a mouse or keyboard, a more enormous central shelf for the desktop USB mics, interfaces, and so on, and the small upper shelf for your studio monitors. This stand may be tiny, but it is sturdy enough to support up to 175lbs.
On top of that, this studio workstation has an ergonomic design for the ultimate work efficiency and maximum comfort. This stand features a rectangular steel tube frame for reinforced strength to support all your computer and keyboard gear. It has a unique compact Z-frame which, with the slide-out keyboard tray, helps to keep your workstation sleek and clean.
Pros:
Features essential parts for any typical recording desk
Plenty of space for mixing gear, synths, etc.
Ergonomic design for ultimate comfort
Durable and robust construction
Cons:
The sizing will not work for many home studios
Z-Line Cyrus Workstation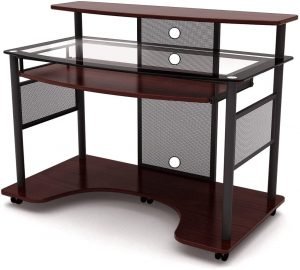 The Z-Line Cyrus workstation is a solid choice. If you want to add a touch of style and elegance to your home studio, this is the workstation for you. It features tempered glass, well selected as it is 4 to 5 times stronger than standard glass and perfect for studio use. Also, the glass has a black border for safety purposes.
This contemporary-style desk has a sleek cherry finish with black accents for a great look. There are chrome cylinder glass supports for reinforced strength. What's more is, this workstation comes with a pull-out keyboard tray with room for your mouse. Moreover, it is fitted with castors for easy mobility and enhanced user-friendliness. This workstation is conveniently easy to assemble and lightweight.
Pros:
It comes with casters for easy mobility
Large bottom shelf for external hard drives
Pull-out keyboard tray with room
Durable construction
Easy to assemble
Cons:
The top shelf may not hold the large driver studio monitors.
Walker Edison 3-Piece Contemporary Desk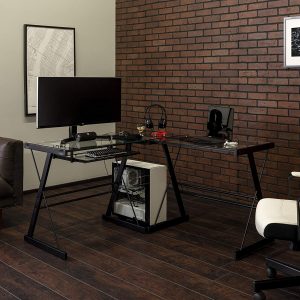 The Walker Edison 3-Piece Contemporary Desk is ideal for many tiny home studios, with the only available space in the room's corner. This desk is affordable and conveniently compact enough to fit even the tightest corner spaces with its L-shaped design. The two side surfaces are sturdy sufficient to support up to 50lbs each, while the corner top surface can support 20lbs. Moreover, it comes with a keyboard tray with a weight capacity of 10lbs.
Another thing is, this contemporary desk is designed to accommodate multiple monitors. It is made with tempered safety glass and has a sleek design making it look good in any space. Furthermore, this workstation is easy to assemble. This desk has a flexible configuration to meet most needs. Also, it is made with a durable steel frame with a powder-coated finish.
Pros:
Made with sturdy steel and tempered glass for durability
Perfect corner desk for small bedroom studios
Ideal fit for space-saving needs
Flexible construction
Cons:
Its weight capacity could be better
Omnirax Presto 4 Studio Desk Black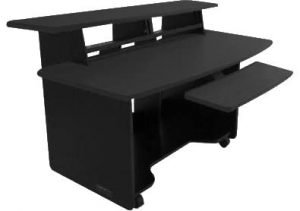 Omnirax Presto 4 Studio desk is a perfect addition to any home studio. With the expanding of home studios, rack spaces are being embraced as essential commodities. And if you are one of those who prefer their rack spaces built into the desk, then the Omnirax Presto is an excellent choice. It is a large desk with six rack spaces to make all your gear easily accessible.
The main surface area is large and robust enough to hold a full keyboard or control surface. If you are one to have a lot of gear, this desk will accommodate it all. Additionally, the shelf below is ideal for your computer and storage. It also comes with an optional sliding computer keyboard shelf. Furthermore, it is fitted with heavy-duty casters for easy mobility and cabling.
Pros:
Large desk surface for significant keyboard controllers, small mixers, etc.
Enough shelf above rack surfaces
Optional sliding keyboard shelf
Lower shelf ideal for storage
Cons:
It doesn't come with a keyboard drawer
OneSpace 50-100705 Regallo Expandable Home Recording Desk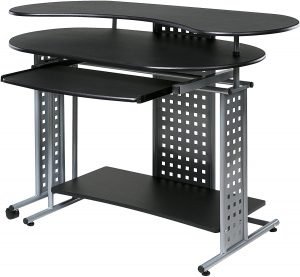 OneSpace 50-100705 Regallo Expandable Home Recording Desk is a very functional studio table. This desk has a unique space-saving design with an expandable configuration so it can adapt to your space. It is a fully functioning workspace made with your comfort in mind. It can be closed to create a large surface with plenty of room for your monitors and keyboard. If you need to spread out, it extends into an L shape for more space and storage options.
Moreover, this workstation is built to last- it is made of tubular steel framing and durable MDF surfaces. The multiple layers of shelving and the contrasting silver and black tones give it a captivating style to complement any room.
Pros:
You can expand it into an L shape
Unique space-saving design
It is a fantastic value
Durable construction
Cons:
Assembly is a hassle