The Best Portable Karaoke Machines
Don't let old-fashioned karaoke machines limit your singing fun to a specific location. With portable karaoke machines, you can sing along to your favorite tunes anywhere, anytime. Whether you're throwing a party or simply having a family gathering at home, a portable karaoke machine is a must-have instrument to make your event more entertaining. With a wide range of options available in the market, choosing the perfect karaoke machine can be a bit overwhelming.
A portable karaoke machine not only adds an element of fun to your party but can also help your child discover their musical talent. And let's not forget, after a few drinks, even the adults can unleash their inner rockstar! With its portable design, you can enjoy the singing experience anywhere you want.
A List of Top 10 Best Portable Karaoke Machines
ION Audio Block Rocker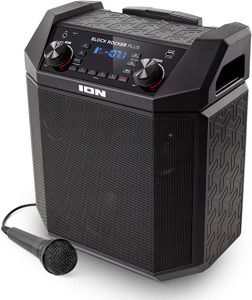 The ION Audio Block Rocker is an 8-inch woofer with a dispersion tweeter that delivers crystal clear sound. It comes with a 100-watt amplifier accompanied with a bass button to deliver quality low-end sounds. Its portability is well shown by its rugged plastic cover for outdoor protection, wheels, and carrying handles. The battery will last for 50 hours on a single charge, and a USB port is available to charge your phone or tablet. Connectivity is not limited either as it is Bluetooth enabled and a 3.5mm aux cable is also included. An internal AM/FM tops it all. To complete this set is a high-quality mic.
Pros.
Its build is of high quality.
It's easy to use.
It can be used as a stereo system.
Cons.
The audio quality is just average.
Long battery loading time.
Karaoke USA GF842 Karaoke Machine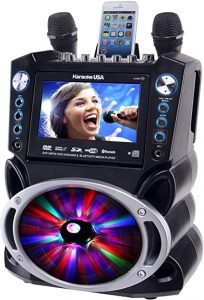 The Karaoke USA GF842 is an all in one media player. It features a 7″ TFT digital color screen. It has a 35W amplifier that delivers loud quality sound. Its synchronized led lights and flash will flow to your beat but can also be switched off. It is Bluetooth enabled but backed by RCA audio cable, a 3.5 mm aux cable, 3.5mm aux. The remote control also comes in handy. It is equipped with a personal device cradle to mount your device and comes with a USB charger. It comes with two microphones that make a duo even more entertaining. Analog echo control, balance control and digital key control will give you the best output you need.
Pros.
Portability
It offers crisp clear audio
It has a built-in screen
Bluetooth and Aux capability
It Comes two microphones
Cons.
The microphone input quality is a bit low.
The CD/DVD opening mechanism is not as good.
Singing Machine SML385BTW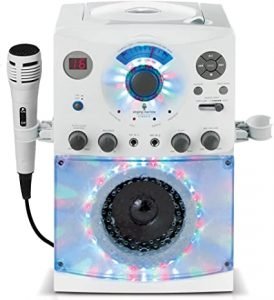 The Singing Machine SML385BTW comes with a top of the line CD player that can play CD with graphics. It's compatible with any Bluetooth device and comes with RCA cables to connect to your TV. Additionally, it comes with a 54 Led disco lights with dimming capability. Your song track is displayed by a two-digit LED display as you rock to powerful sounds coming from the built-in speaker in a well-assembled wooden cabinet. It comes with two mics that can be used at different volumes. Echo control and auto voice control will make you sound your best.
Pros.
Its excellent value for its price.
It comes with built-in LED lights
It comes with a built-in CD player
Cons.
It doesn't come with an inbuilt screen.
The speakers are not very loud.
Memorex MKS-SS2

The Memorex MKS-SS2 can connect to any device with a 3.5 mm headphone jack. You will sing your favorite music freely as it inbuilt cradle holds your device in place for you to view. It's compatible with most musical instruments such as guitar and keyboard that enhance the singer's music. Additionally, it has auto voice control to synch the music to your voice and dampen the original vocals ensuring your voice is clear and loud. It has 5-watt speakers at the base that project your sound in every direction while keeping the sand stable. It suitable for everyone s the stand is 59inches tall when fully extended and features two mics.
Pros
It's great for both adults and children.
It's perfect for indoor fun.
It boasts an enhanced amplified speaker with voice controls.
Music and microphone volume can be adjusted separately.
It Connects to all iPad and iPod devices.
It can connect to a guitar and keyboard.
It's easy to set up and use.
Cons
The built-in speaker is not too loud.
It distorts at high volume.
Electrohome Portable Karaoke System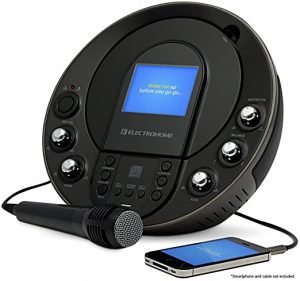 The Electrohome karaoke system is best suited for home use. It boasts two high-performance speakers, which can play from a wide variety of sources such as CDs with graphics or Mp3 with graphics from a USB flash. It comes with a built-in 3.5@ display but also connects to a TV easily. A 3.5 mm aux will source the audio from your smart devices such as phones, tablets and laptops. Digital echo and key controls enrich your voice while auto voice control backs you up on forgotten lyrics. A duet will be possible as it has two mic inputs.
Pros.
It has a sleek design.
It has blue party lights.
It's Kids friendly.
It can connect to a variety of sources.
It's Portable and compact.
It's easy to set up and use.
Cons.
It doesn't come with a built-in screen
It doesn't have a recording option.
A battery can't power it.
The mic quality is not immaculate.
Singing Machine iSM1030BT Pedestal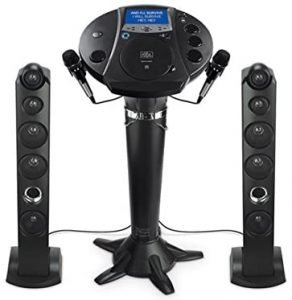 The Singing Machine iSM1030BT Pedestal will play live and also record for you and others to enjoy your music later. It comes with 7″ TFT display for your new lyrics. It comes with a universal cradle to hold your device for when you need to stream new songs. You will get rich sounds from powerful tower speakers accompanied by digital keys, balance controls, auto voice controls, and echo controls.
Pros:
Plays MP3+G files from a USB device and Plays CD+G discs.
It is Bluetooth enabled
It Can be connected to an entertainment center.
Lets you record and save your singing performances.
IT has good quality sound.
Cons:
The materials used are not of high quality.
It's not very sturdy.
Singing Machine STVG785W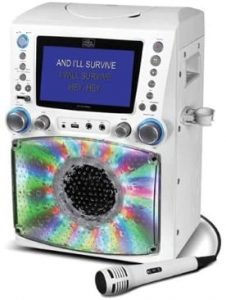 The Singing Machine STVG785W sets the mood just right with its disco lights. As you sing along to your song, you can read your lyrics on its inbuilt 7″ LCD screen, and if that isn't enough for you can connect to your tv through the RCA cables. It can read CD, CD+G, MP3, and MP3+g and record music and voice onto a USB flash. It has echo control and auto voice control.
Pros:
It has a built-in 7-inch LCD color monitor.
It has disco LED lights that set that party mood.
It Records music and voice to USB.
It has RCA cables to connect to a Tv.
Aux-in port.
It includes one microphone.
Cons.
It's expensive.
It's not durable.
Singsation Karaoke System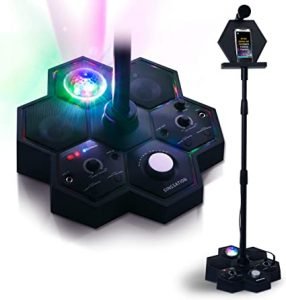 The Singsation Karaoke System is a stand-up karaoke machine that has all it controls speakers and light at the bottom, which makes it cool and very stable. It is excellent for any age as the stand can stand at the height of 2″ to 6″. It accepts two mics. The room and ceiling lights can be set up in 16 different ways. It has ten different voice effects and eight sound effects. It has a cradle at the top of the stand for your phone and has Bluetooth capability. The singstation will entertain the kids all day and still be fun at night for the adults.
Pros:
It's easy to install and use
It's compact & portable design
It comes with one wired microphone
It supports Bluetooth & 3.5mm headphone jack
It features an adjustable stand for the mic and mobile device
Cons:
The volume is not as loud
Short Bluetooth range.
Akai KS213 System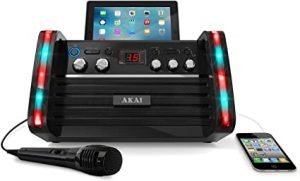 The Akai KS213 will kick off your party with a bang. You can play your favorite karaoke CD&G's or music CDs on it, inbuilt cd player. It comes with a single wired mic and a cradle for your personal device. Both Ac and 8 C batteries can power it. It features 2 mic ports, a headphone jack with video and audio outputs. Balance Control, Echo Control and auto Voice Control
PROS
It's effortless to use.
Its kids friendly.
It's small compact size
It can be used as an amplifier for mobile devices.
It can run on 8 C batteries.
It's expensive.
CONS
It doesn't have Bluetooth capability.
It doesn't have a HDMI port.
The sound quality is not very good.
KaraoKing Karaoke Machine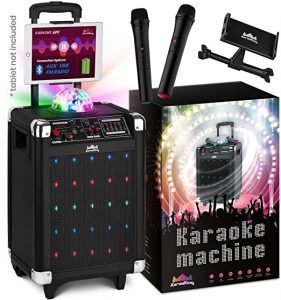 The karaoking karaoke machine will rock your world with its high-quality speakers. Two wireless mics will let you dance freely as you sing. The disco ball then sets the right mood. USB, AUX, FM radio and Bluetooth will give you a wide variety of sound sources. It is very well assembled and durable no matter who is on the mic kid or adult, you get your quality output. It rolls effortlessly on it built-in wheels.
Pros:
It's portable and has a durable design
The speaker is very powerful
Sound is rich with an equalizer system
It has a wide array of connections
It has Bluetooth microphones
IT has a disco ball
Cons:
It needs an external source for the music
It doesn't come with an install manual.