Best Portable Piano Keyboards for Travel
It can be quite disheartening for music lovers when they have to leave their beloved piano behind simply because it's too large and not portable. However, with the advent of portable keyboard pianos, music enthusiasts now have the perfect solution to indulge in their passion wherever they go. Whether you're yearning to play music in the comfort of your own space or unwilling to part with your keyboard piano during travels or band outings, a portable keyboard piano proves to be an excellent choice.
When embarking on the journey to find the ideal portable piano, it's essential to consider several crucial factors. Firstly, weight becomes a significant consideration as you'll want a lightweight instrument that can be easily carried around. Secondly, the quality of sound and construction should be of utmost importance to ensure an enjoyable playing experience. Additionally, evaluating the size of the instrument is vital, as it should strike a balance between portability and functionality. The range of installed features, such as built-in sounds and effects, should also be assessed to determine if they align with your musical needs. Moreover, exploring the connectivity options, such as MIDI and audio interfaces, can enhance your musical possibilities. Lastly, the number of keys should be taken into account, as different models may offer variations in size and range.
With the multitude of portable piano models flooding the market, it can be overwhelming to make the right choice. Therefore, having a reliable and informative guide is crucial to avoid any confusion and make an informed decision.
For a working musician or a passionate piano enthusiast, having a reliable and effective portable keyboard piano can transform traveling into a fun and successful musical journey. With this portable companion by your side, you'll never have to sacrifice your love for music, even on the go.
A List of Top 5 Best Portable Piano Keyboards for Travel
Yamaha PSR-EW300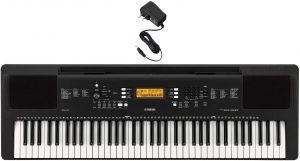 This portable keyboard piano will be an excellent option for composing sessions, rehearsals, and also practicing. Yamaha is delivered with 76 keys, and the keys are very pressure sensitive, making it among the most inexpensive models to provide dynamic sound. Yamaha is lightweight, weighing only 13.7lbs.
The user can effectively hook his/her tablet or smartphone through active aux input and jam to the favorite songs. Further, you will love the standard headphones jack, especially when you require privacy. Yamaha comes with more than 500 voices, 150 songs, and 150 beats.
Besides, this portable piano is also perfect for beginners and experienced ones. It features an educative version that supports MIDI files where the user can effectively import from his tablet or computer. Admirably, you will learn different songs step by step with the aid of this fantastic education suit feature. Additionally, someone can connect the keyboard to the computer through a USB.
Pros
(a) MIDI support
(b) Pressure-sensitive keys
(c) USB support
(d) Beneficial teaching suite
(e) Come with over 500 instrument sounds
Cons
(a) The physical owners detailed manual not included
Casio CTK-2550

This portable keyboard comes loaded with the best features for experienced and beginner players. The keyboard offers the best price to quality ratio, comes with 61-key, and weighs about 7lbs. You will love the Dance music mode in this piano, which allows someone to remix and compose electronic music with 50 set built-in rhythm patterns.
Further, the Casio keyboard is delivered with 400 different and active instruments sounds. And 100 rhythm patterns in various useful genres. Amazingly, someone can select between 60 onboard tunes to play. Too, this keyboard comes with a pre-installed helpful lesson for beginners.
This system is meant to educate someone on positioning the fingers to read music and play some easy and straightforward melodies. Essentially, the Casio keyboard also comes with an active headphones jack for the user's privacy. The premium version comes with headphones and a keyboard stand, while the standard package includes only the power supply.
Pros
(a) Built-in lesson function
(b) 400 instrument sounds
(c) Perfect for composing duties and practicing
(d) Easy to use
Cons
(a) Not the best for live performance and recording
RockJam 88-key portable digital piano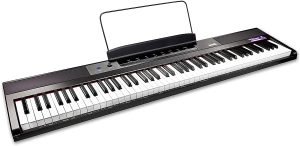 This piano keyboard is one of the most inexpensive 88-key models. Despite the full-size of this keyboard, you will love how pretty mobile it is. The keys are pressure-sensitive and semi-weighted, allowing them to modify the users playing style.
Besides, for individuals who love digital piano with quality features and minimalistic design, Rockjam will be the best option. Essentially, these keyboards sound back come with only ten selected voices, including strings, church organ, upright piano, and others related. Admirably, this device is manufactured with an available and free learning app for both Android and Ios. However, it works perfectly with a tablet.
Further, this digital keyboard piano is fortified with an active pair of twelve speakers. Connectivity choices include and ¼ inputs for sustainer and soft pedals, and an effective ¼" microphone jack. Still, there is ¼" best aux output and headphones jack if the user would want to connect the piano to the mixer.
Pros
(a) Lightweight
(b) Quality instrument voices
(c) Pressure-sensitive keys
(d) It comes with an Interactive learning app
Cons
(a) Not the perfect portable piano keyboard for recording
Yamaha YPT260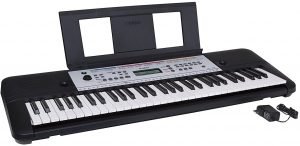 You remember the other Yamaha we discussed in this article; this one is very different and more advanced. It weighs about 12.5lbs and straightforward to transport, making it the best companion for the road. Yamaha YPT260 starts with a practical set of 61 keys, which spans five full octaves. This device won't break your bank account and is the best option for beginners and experienced ones.
The Yamaha education suite helps the user learn finger positions, study notes, and simple tunes. Further, the keyboard comes with three operation modes: timing listening, and waiting. In essence, this piano is loaded with 400 active instrument sounds, which range from brass, strings, and woodwind instruments.
The bass, guitar, and other synth tones are also included. There still 112 onboard songs that the user will play along with. There are 130 backbeat styles with overall popular genres for you. Admirably, this Yamaha comes with reverb and chorus effects.
Apart from all these unique features, the piano comes with the best headphone jack that has very handy when you are composing or practicing without disturbances of individuals around you. Lastly, the auxiliary input will allow the user to connect a smartphone or tablet and play along with his/her favorite tunes.
Pros
(a) Huge sound bank
(b) Affordable
(c) Great acoustic keyboard sound
(d) Comprehensive education suite
Cons
(a) It doesn't come with a MIDI port
Casio SA-76

This is another different type of portable piano keyboard we have currently in the market. And remember not to confuse Casio SA-76 and Casio CTK-2550. This type comes with an orange bottom cover and at a very affordable price. This portable piano comes with 44 keys, which are small and also designed for short people. Also, kids can be comfortable with this keyboard.
You will love how the keyboard operates on six AA cordless effectively. Admirably, only one set will last for about two weeks with moderate utilize. The keyboard also provides enough for beginners who are starting. Virtually, this device is delivered with 100 sounds referred to as the best voices of keyboard piano.
Further, the user will easily carry this super-lightweight piano on his backpack with comfort. The ten-song and 50 built-in best rhythm patterns for our children to play makes this keyboard my favorite. All around, this portable piano keyboard is among the top-rated due to its best and useful features.
Pros
(a) Decent piano sound
(b) Very affordable
(c) Weighs 3lbs
(d) Good battery life
(e) Come with easy controls
Cons
(a) Not the sturdiest portable piano in the market