The Best Smartphone Microphones
Unfortunately, smartphone manufacturers rarely include microphone improvements on their "must-have" features list when releasing new models. If you want to do anything serious involving audio with your smartphone, investing in a high-quality external microphone is essential. In this review, we'll introduce you to the top ten best smartphone microphones on the market. By using one of these microphones, your mobile device can transform into an on-the-go recording studio, capturing far better audio than built-in microphones.
When combined with your smartphone's HD video capabilities, adding an external microphone can turn your device into a tiny audiovisual studio, significantly enhancing your overall experience with your mobile phone.
Best Microphone Stands for Studio Recording
A List of Top 10 Best Smartphone Microphones
Rode VideoMic Me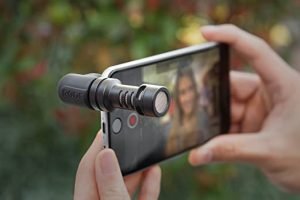 This is a high-quality model from Rode that is very reliable. The Rode VideoMic Me has a very flexible mounting bracket that allows it to accommodate a variety of phone models. Besides, this makes it fit for both the selfie on the front and the primary camera on the back too. This microphone uses power supplied by the device you connect it to. For interviews and dialogues, this is the perfect smartphone microphone for you. It is pretty cheap, simple to operate and very small in size allowing you to easily carry it in your pocket while traveling. However, it has a limited frequency range and suffers from static periodically.
Apogee MiC 96k Professional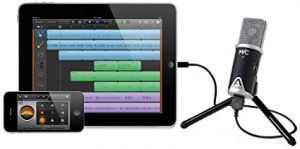 With any of your Apple devices, you can connect Apogee MiC 96k Professional using the lightning port. Of course, this will make it a high-end studio tracking microphone. It is capable of 24-bit recording and is better suited for doing voice work in your home recording studio rather than using it for fieldwork. This is because you cannot mount it to the camera and be quite mobile with it. Though it comes at a high price, it is among the best smartphone microphones you can invest in.
Movo MA2010
Movo MA2010 is a simple smartphone microphone that comes with an audio output passthrough and sports an omnidirectional pickup pattern. This allows you to easily monitor what exactly you are laying down. Carrying the microphone around is quite easy as it only weighs 17 grams. Despite being quite cheap, it works with almost all devices. On the downside, it picks up a lot of background noise. Once you invest in this product, you will be backed up with a 1-year warranty for it.
Shure MV88+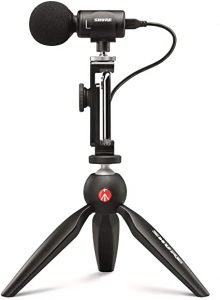 If you are the guy who is owning a modern smartphone like the latest Samsung Galaxies and iPhones, Shure MV88+ is the microphone for you. The microphone can automatically adjust its compression, equalization, and limiting depending on the sound environment it detects. Indeed, this keeps your audio clear and clean with little or no clipping. Lightning and USB-c cables are inclusive with this smartphone microphone. However, it doesn't work with stereo mini plugs.
Saramonic Mini SmartMic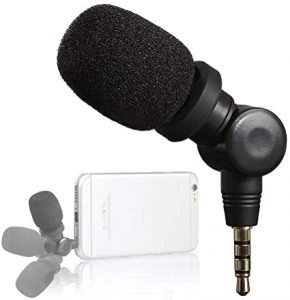 If you are looking out for a small and less expensive smartphone microphone, Saramonic Mini SmartMic would be the best deal for you. It also features a directional condenser configuration which is ideal for a wide range of options. The microphone is very light and has a removable foam windscreen. With any iOS or Android device that accepts a 4-pole plug, you can comfortably invest in this microphone. It is worth noting that it, however, has no real-time monitoring.
Shure MV5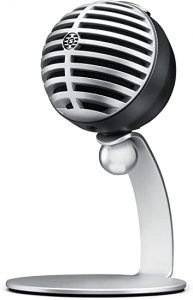 The Shure MV 5 features DSP presets that are vocal, flat, and instrument-focused. If you are just a beginner, this would be the ideal product for you as it is easy to use and you still get a high-quality recording. It works with the Shure plus motive app, has a simple plug-and-play setup, and an integrated headphones port that allows you to conduct real-time monitoring. On top of being compatible with iOS and android, Shure MV5 is MFi-certified for use with Apple products. Isn't this quite amazing!
Saramonic SmartMixer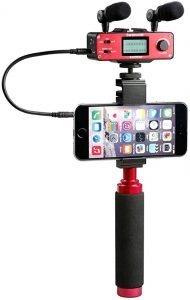 If it has always been your desire to turn your smartphone into a professional rig, here is a two-channel kit Saramonic SmartMixer to invest in. It comes with a pair of inputs, phantom power, LCD level monitoring, and an amplifier that allows you to make a recording of studio-quality around any place. Besides, the microphone has a volume control knob, a phone holder, and an accessory shoe for mounting lights.
Comica CVM-VS08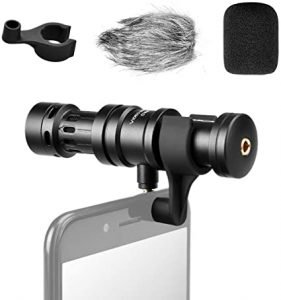 Besides having a typical 3.5 mm, the Comica CVM-VS08 smartphone microphone comes in a USB Type-c version that is compatible with most of the latest devices. Its availability in an ultra-compact form factor also, makes it easy to move around with. This microphone is equipped with an aluminum body and has a cardioid pickup pattern. Moreover, it picks up very little background noise.
Movo PR-2-PM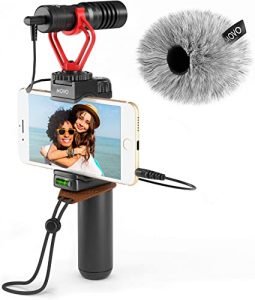 Low price and quality engineering combine to make Movo PR-2-PM one of the most effective smartphone microphones around. It has a shock-resistant mount and a dead cat windscreen which is vital in making your mobile videos sound good on top of looking good. The microphone's clamp expands to 3.6 inches and has a sturdy monopod handle. Enjoy a 1-year warranty once you invest in this product.
Rode SmartLav+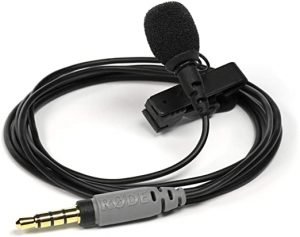 Rode SmartLav+ is a product of Rode Company that has a lot of expertise gained in designing some of the best shotgun microphones in the film industry. This device is very easy to hide on an actor's body and provides you with the sound of near-movie-quality. On top of having a frequency range of 20-20000 Hz, Rode SmartLav+ comes with pressure-gradient acoustics and a durable Kevlar-reinforced cable.