Sony ZV-1F for Vloggers
The Sony ZV-1F is a 13.2×8.8mm sensor vlogging camera with a 20mm equivalent lens specifically designed for those who want to create video content featuring themselves talking directly to the camera. It has a three-capsule microphone and an LCD screen that can be completely rotated, so you always have a clear view of yourself while recording.
The all-new Sony ZV-1F is a pocket camera designed with mobile content creators in mind as they upgrade to their first DSLR. Unlike the originalZV-1, which featured a built-in 24-70mm full-frame zoom lens, or the ZVE10, which had the advantage of Sony's interchangeable E=mount lens system, the new ZVFO comes equipped with a fixed 20mm f2 wide angle lens.
The Sony ZV-1F is a compact, easy-to-use camera for vloggers and live streamers. Its smaller sensor may limit its capabilities, but it offers practical features like a rotating touchscreen, built-in microphone and windscreen, and quick smartphone pairing for a simplified user experience. Its lack of advanced features may be an issue for more experienced photographers, but it is well-suited for its target audience of vloggers and social media creators.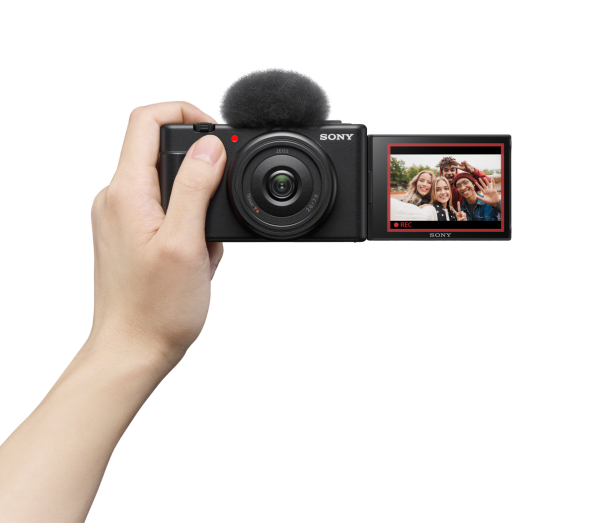 The best features for vlogging
The Sony ZV-1F has several simple features to assist video creators in appearing their best in front of the camera. The following are some examples:
Face Priority AE – This holds the nose bridge in pace with your temples, ensuring you have a well-balanced amount of brightness for your face. The feature also ensures there is less flickering in scenes with changing lighting.
Soft Skin Effect option – This helps smooth out skin tones and blemishes so you can look your best on camera.
Background Bokeh setting – the lens and camera design allow a more natural bokeh effect, adding more depth and focus to your subject.
Product Showcase Setting – It can be useful to switch focus between faces and objects when writing product reviews. The feature allows the camera to quickly and smoothly switch focus between your face and the product in front of you.
Ability to mark clips during recording – This allows for quick and easy editing during post-production, saving time and making the process more efficient.
Ten pre-installed creative looks – The ZV-1F comes with ten pre-installed creative looks, including Cinematic and Sunset Glow, to add an extra flair to your videos.
Design, audio, and connectivity
The new ZV-1F camera is smaller and lighter than most cameras on the market, only weighing 256g with battery and media. According to Sony, this camera model was manufactured from recycled materials for the body as well as accessories. In order to share stills and movies immediately after capturing them, users may connect their ZV-1F to the Imaging Edge Mobile Plus smartphone app using Bluetooth or Wi-Fi.
Furthermore, you can operate the camera using the existing GP-VPT2BT tripod/shooting grip. The ZV-1F incorporates a directional 3-capsule microphone that picks up signals from the front of the camera and an included windscreen when recording sound. The ZV-1F lacks Sony's multi-interface audio modules because it only has a cold shoe interface, unlike the ZV-1.
Features and Specifications
1. Compact and lightweight design – The Sony ZV-1F is a compact vlogging camera weighing just under 10 ounces. Its size makes it perfect for carrying around during vlogging adventures. Unlike larger DSLR cameras, the ZV-1F can easily fit in a small bag or pocket.
2. 20MP BSI CMOS sensor – The camera's 20MP BSI CMOS sensor helps capture high-quality images and videos with excellent low-light performance.
3. 20mm Equiv. 7.6mm F2.0 lens – The ZV-1F's wide-angle lens allows more of the scene to be captured, making it perfect for vlogging and landscapes.
4. Contrast detection autofocus – The camera's contrast detection autofocus ensures that your subject remains focused during video recording, making for smooth and professional-looking footage.
5. 4K – 30p and 1080 – 120p – The ZV-1F offers high-resolution video recording options, with 4K recording up to 30 frames per second and 1080 recording up to 120 frames per second.
Video, Image quality, and AF
The ZV-1F sensor model is Type 1 20.1MP Exmor RS, which is smaller than the APS-C sensor in the ZV-E10 but comparable to the Sony ZV-1. The eye AF capabilities on The AF system but no Real Time Tracking features suggest that it lacks pixels. The AF system includes 425-point contrast detection and Eye AF functions but no real-time tracking capabilities.
4K video resolution is a mere 4096 x 2160, and the 4K UHD video frame rate will only go as high as 30p. The ZV-1F doesn't have HFR (high frame rate) recording like the ZV-1, but it features Sony's S&Q mode, which lets you record at speeds from 1 to 120fps.
The ZV-1 camera is mostly for video but can also take still photos. It has a 20.1MP sensor with a native ISO of 125-12,800 that may be expanded to ISO 80 for pictures. Eye AF works in both video and picture modes to support clear still pictures. Raw recordings aren't an option; instead, the ZV-1 captures raw data.
The discrepancy here is that whereas the ZV-1's native ISO starts at 100, the ZV-1F's starts at 125. Sony hasn't clarified whether or not this means the two models have different sensors. The ZV-1F has an onboard microphone that can capture in-camera audio and a built-in windscreen to help reduce wind noise. Additionally, there is a cold shoe mount on the camera for mounting external accessories.
Sony ZV-1F usability
The ZV-1F features a touchscreen-based user interface to appeal to smartphone users, which is evident in the design of its 3-inch vari-angle touchscreen that swivels out to face the front. This is essential for vloggers and live streamers who make up the target audience since they will mostly work with the display.
Omitting an EVF was necessary due to this focus on display. The ZV-1F is designed for vloggers and YouTubers to use in front of them at arm's length. The camera must be small and light to not fatigue the user while filming. At only 256g, the ZV-1F weighs 16g less than an iPhone 14 Pro Max—barely noticeable when held in your hand. While the built-in lens lacks optical image stabilization, electronic (digital) stabilization should keep video footage captured with this device sharp and smooth even when you're on the move!
The ZV-1F is equipped with Wi-Fi and Bluetooth, so you may effortlessly link it to your smartphone or other gadgets such as Sony's Bluetooth grip. The camera will prompt you when you first open the box if you want to link your phone. This eliminates the need for a user to input their date, time, and location settings manually into their camera, saving time.
The new Imaging Edge Mobile Plus app is required to use this feature. The camera's Fn menu resembles a smartphone menu, with boxes you can tap to change settings and interact. Digital zoom options such as 1x and 2x will be recognizable to anyone who has used a smartphone camera app before.