If you haven't experienced a 360-degree video yet, it's time to experience this promising technology. The best 360 degree cameras for most photographers should be waterproof that can shoot 4K quality. After spending time to research and test, this is a list of the top 10 best 360 video cameras you can buy this year.
Also: The Best Wearable Cameras
A List of Top 10 Best 360 Cameras in 2018: Reviews
1. Rylo 360 Video Camera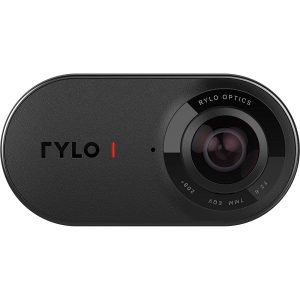 This year, Rylo is the top best 360-degree camera. The 360 camera is easy to use for most people. It's an amazing camera to shoot 360° videos without compromise. You can also edit videos and live stream on the go. You can expect about an hour of battery life.
Built-in GPS
Spherical video at up to 5.7K
4K video
2. Samsung Gear 360 Spherical VR Camera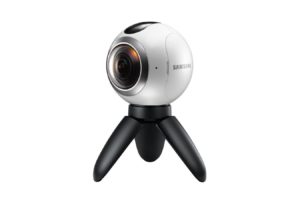 This 360-degree camera by Samsung has a dual 15MP CMOS Sensors. It also has a dual f/2.0 Fisheye Lenses. The Gear 360 is compatible with Google Street View app, which means you can instantly publish your photo sphere to Street View. The Gear 360 is a fabulous little device that is very portable and easy to use.
3840 x 1920 Video Recording at 30 fps
30MP Still Images in Dual Lens Mode
Dual & Single Lens Modes
3. Ricoh Theta S 360-Degree Spherical Digital Camera


The Ricoh Theta S is one of the most popular 360 cameras. You can capture 1080p HD video at 30 frames per second and 25 minutes of continuous video. The Theta S adds a larger sensor for improved still and video capture. Video recording time increased to 25 minutes, video streaming capabilities and a live view function to your mobile device. This Ricoh Theta S even has an app for the Samsung Gear VR in the Oculus store for taking and viewing images which works great.
WiFi capabilities enabled
The S comes with live preview
4. Nikon KeyMission 360 4K Action Camera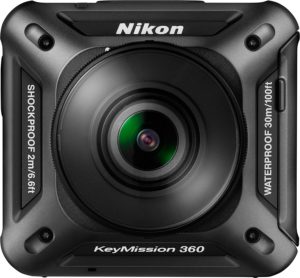 The KeyMission360 is the first in Nikon's new line of action cameras. This camera features a rugged design and is built to withstand the elements. I've been experimenting this all weekend. Pretty solid, does take some video experience to get the videos to work. I noticed the stitching lines distinguishable because of the different exposures to the lighting, one camera may get more lighting because of the sun, than the other.
Ultra HD 4K resolution at 24 fps
Waterproof down to 100 ft, shockproof from 6.6 ft, freeze-proof, and dust-proof.
5. 360fly 360° HD Video Camera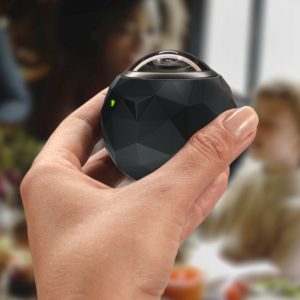 360fly designs and creates 360° cameras and technology for people to capture, share and experience their lives in immersive, interactive 360° videos. Interestingly, 360fly started up in a robotics lab out of Carnegie Mellon University. With the 360fly HD, you can shoot, edit, share and live stream life in immersive 360° video—all directly from your smartphone. It's a camera that captures everything, in all directions, without limits.
Beautiful and innovative, design compliments
A simple and easy to use interface.
6. Insta360 Nano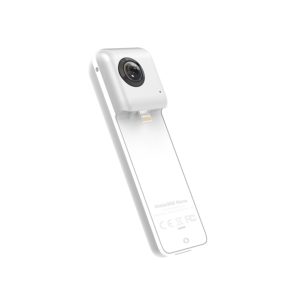 The Insta360 Nano can turn your iPhone into a 360° VR camera. It's compatible with iPhone 7, 7 Plus, and iPhone 6/6S, 6 plus/6S plus, or used alone. Insta360 Nano is so easy to use – basically one button operation. Once you put in MicroSD card (I use a 64GB), you can shoot without it being attached to your iPhone.
Easy to share your 360 videos on social media sites.
It uses 2x 210-degree lenses to stick together a 360-degree image
7. ALLie Home 360 Degree Camera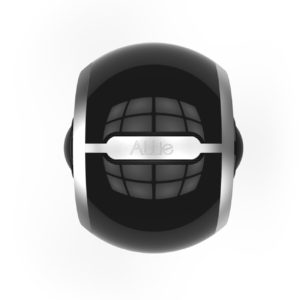 It's fine camera if you want a camera for 360 home surveillance. ALLie Home 360 Degree Camera is one of the world's only 360-degree everyday use camera that is always on so you can see it all. Live stream footage is recorded to the cloud so you can go back and re watch the 360 video you recorded. You can also use the camera as a point and shoot without live streaming.
24/7 viewing, recording and streaming
8. Banne Panoramic 360 camera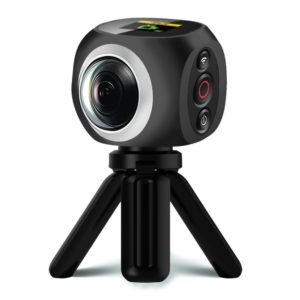 This is a lovely companion camera to have for snorkeling experience holiday. The photos are great, highly recommend at a great price! You could be completely blown away by the quality of the camera for the price but the videos are so clear I've captured so many special memories. So with this Banne Panoramic 360 camera, you can enjoy capturing your world with a fantastic resolution anywhere.
9. Probo HF-361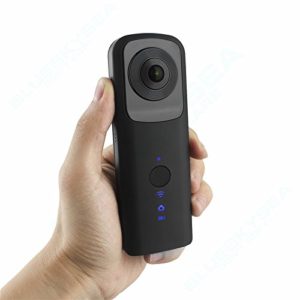 This camera is very light and easy to carry, whether it is for capture in sport, outdoor, or just indoor in any cozy family events. It's similar to the Ricoh Theta S in design. The cool thing is it does take an SD card. Easy to use and set up.
You can upload to social media and email yourself the stitched photos.
It allows for several different projections which are fun to play with.
10. Kodak PIXPRO SP360 4K Premier Pack VR Camera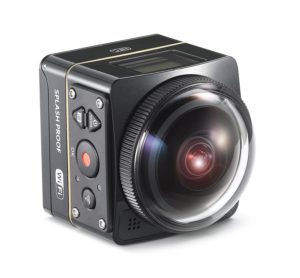 With this 4K resolution camera, you get ample detail, clarity and precision for important nuances you want to capture and share. With this Kodak Pixpro camera, it can take your creative vision to the next level. It offers a simple and flexible solution for 360 Degreex235 Degree, interactive 360 Degree video, complimentary editing software and a host of included accessories to use right out of the box.

High quality 4K video

Best for low light video capture
Good to Know
As digital photography continues to evolve, this is our exciting time with technologies like action cameras, drones with cameras, 360 video cameras. With the best monoscopic 360 camera, we can take immersive, spherical photos or videos where every angle of the scene at the same time. The 360-degree camera industry has been dominated by GoPro ever since GoPro essentially created the idea in the early 2000s. Other manufacturers include Sony, Garmin, TomTom, Ricoh, 360fly, and Nikon. I believe this list of the best 360 degree cameras will help you get the right one for yourself.
Related Reviews: