Top Best Camera Cleaning Kits (2019)
How to make your camera last longer? To take stunning shots, your camera and its lens should be clean from scratches or dust particles. The top rated cleaning kit for DSLR cameras and lenses are usually the must-have accessories for most photographers. In this list, you'll find the best camera cleaning kits that helps you protect you prestigious camera for a life time.
A List of the Best Cleaning Kits for DSLR Cameras and Lenses in 2019
1. Altura Photo Professional Cleaning Kit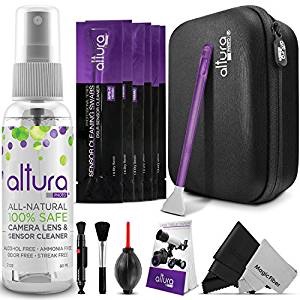 This camera cleaning kit is the best cleaning kit for professionals with DSLR cameras. The pens and brushes are light weight to avoid pressure on the lens. They are easy to hold. It does not contain strong chemical smell when poured.
Lens cleaning brush and a pen, air blower, cleaning sheets and cloths
Comes with a spring which helps you spray a limited quantity liquid for cleansing purpose
2. Camkix Professional Camera Cleaning Kit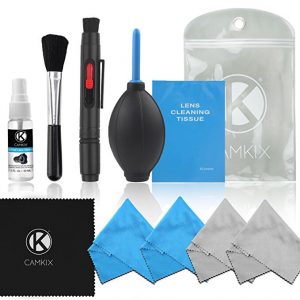 This is the next best camera cleaning bag, is the above-mentioned kit. It is one of the good number for cleaning and can be used for a long period of time. This also comes with a reasonable price range. And is a ready to use cleaning kit.
A double sided pen for cleaning the lens
Reusable liquid solution; alcohol-free
50 cleaning sheets
3. Tycka Professional Camera Cleaning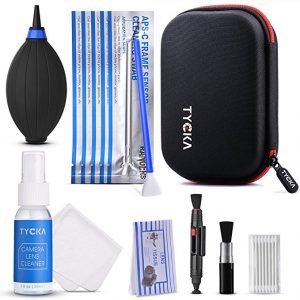 It is one of the famous brands, which sells camera cleaning kits. It also has extremely fine microfiber which makes a complete camera cleaning kit to carry anywhere.
Cleaning swipes, liquid solution, air blower
6 x sensor cleaning swabs
4. LS Camera Cleaning Kit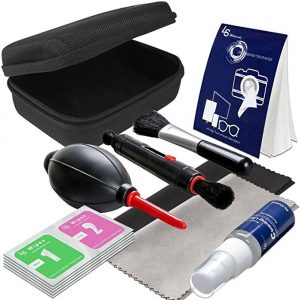 It is one of the trusted brands known for selling accessories that help you maintain your camera in a professional manner. What makes this camera cleaning kit unique is the lens cleaning paper tissue pack. This is effective and serves its purpose just in one swipe.
Liquid, cleaning cloths, air blower, a cleansing brush and a pen
5. UES VSGO Camera Sensor Cleaning Swab for DSLR Cameras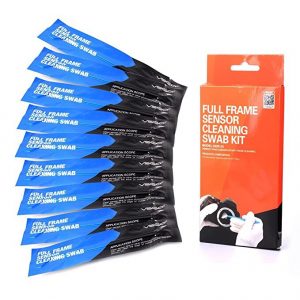 Last but not the least, this camera cleaning kit includes everything that you may need for maintaining your camera. It includes a package for each of its accessory that is designed to keep safe after every use. It cost less and serves its purpose for cleaning a camera.
Air blower, cleaning tissues up to 50 sheets, lens pens, and sensor cleaning pens
6. Movo Deluxe Essentials DSLR Camera Cleaning Kit PRO with LED Loupe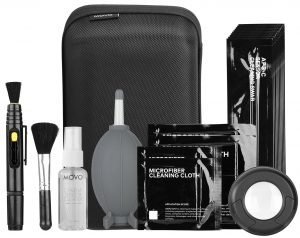 This kit is highly recommended for Amazing bundle for the price and effectiveness. Best for lens and sensor cleaning, Movo has all the kits you professionals should have:
Air blower, cleaner liquid, cleaning swab (x10), lens pen, plush cleaning brush, and 9 x 9″ cleaning clothes
7. Photosol Sensor Swab ULTRA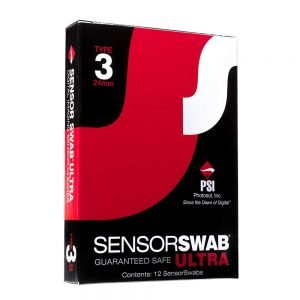 The Photosol kit is superb for CCD, CMOS, and optical. Got professional DSLR Canon EOS-1D X, 5D Mark III, Nikon D4, and Nikon D810? Dust would be gone. The kit will help you to do the job safely.
Type 3 sized swabs measure 24mm wide (12 pk)
Image Sensor Cleaning Tool
For 24mm-Tall/FX or Full-Frame Sensors
8. GLISTENY Sensor Cleaning Kit with Non-Toxic Alcohol-Free Sensor Cleaning Fluid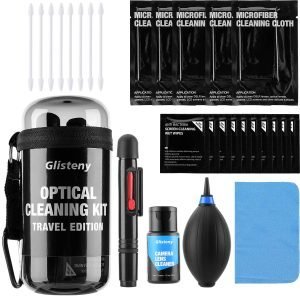 Everything in this kit can help you clean your DSLR and mirrorless cameras and lenses. It's the best cheap camera cleaning kit you should have.
9. Mouriv Professional Camera Cleaning Kit for DSLR Cameras and Sensors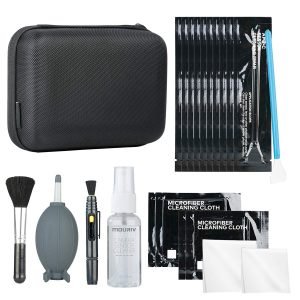 Ideally, you can have this Mouriv professional cleaning kit to clean oil, fingerprints, smudges and dirt for camera lenses, microscopes, telescopes, glasses, and other precision optical lenses.
 10. Nikon 8228 Lens Pen Pro Kit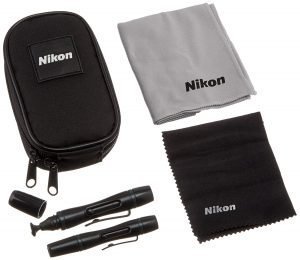 In this Nikon kit, you'll have the necessary tools like lens pen standard and LENSPEN, microDry anti-fog cloth, microfiber cleaning cloth, and zippered carrying case with belt loop. What's else can you ask for?
11. APS-C Frame (CCD/CMOS) Digital Camera Sensor Cleaning Swab Type 2 Cleaning Kit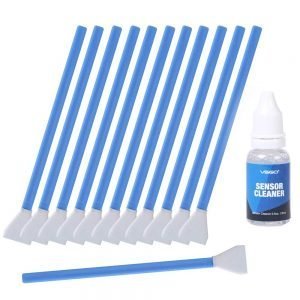 A top-rated cleaning kit to consider is the APS-C Frame digital camera sensor cleaning swap.
Soft and flexible swab head
Safe for both CCD and CMOS image sensors
Good to Know
That amazing feeling you posses when you have your own DSLR camera. Forget the cell phone camera when you deal with the professional camera. Think about all those techniques that you can use while doing a photo shoot. Having top rated cleaning kits for your expensive cameras and lenses is the first step to ensure that you'll be able to use maintain them.
Based on my experience and comments I get from other fellow photographers, I can highly recommend Altura Photo Professional Cleaning Kit for most people.