The Best Canon Lenses for Portraits
When it comes to portrait photography, finding the right lens can be a challenge if you're unsure of what to look for. But with the information provided below, we believe you'll have everything you need to find the best Canon lens for your portraits. Consider the features you're looking for in a lens and start canvassing to find the perfect fit.
Portrait photography allows photographers to get up close and personal with their subjects, capturing their personalities in full. One of the most important tools for achieving this is a portrait lens, and Canon offers some of the best options available.
Whether you're shooting indoor environmental portraits or traditional studio portraits, having the right type of lens is crucial for getting the best shot. In the article below, we'll discuss what to look for when searching for the best Canon lens for portraits and highlight the top 5 Canon lenses for you to consider.
So, what makes a good Canon lens for portraits?
When shopping for a Canon lens, it's important to know what features to prioritize. Here are some key elements to consider when searching for the perfect lens:
Quality materials
Canon lenses are known for their high price tags, but not all are created equal. Make sure the lens you choose is made from quality materials to ensure longevity and durability.
Compatibility with your camera
Before making a purchase, ensure that the Canon lens you're considering is compatible with your camera. This will save you the hassle of buying a lens that doesn't fit your camera and having to go through the return process.
Lightweight and compact
As a photographer, you'll likely be carrying your camera and lens around all day. A heavy lens can be tiring and hinder your ability to do your job well. Look for a Canon lens that is lightweight and compact, making it easier to move around and allowing you to be more productive.
By taking these factors into account, you'll be able to choose the best Canon lens for your portrait photography needs. Check out our top 5 Canon lens recommendations in the article below to find the perfect fit for your photography style.
A List of Top 5 Best Canon Lenses for Portrait
Canon EF 100mm f/2.8L IS USM Macro Lens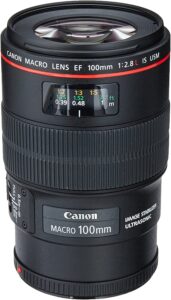 The Canon EF 100mm is the first macro lens that comes with excellent image stabilization. It has the highest optics, and they come with life-size close-up abilities and ultrasonic focusing. All these features don't need an adapter, and that makes this lens unrivaled. With hybrid image stabilization tech, you get both shift and angular camera shake when doing the close-up shooting. The main reason this lens was developed is so that it can give the user an expanded photographing range and allow its users to enjoy macro photography.
The lens is used when doing portrait photography and nature, product/close up, and even concert photography. The filter size is 67mm, and the closet focusing distance is 0.99 feet. The TheCanon EF100mm also has a 1:1 true magnification ratio. That means the size of the object you are photographing will be the same as the camera sensor size. The lens is very versatile and will ensure that portraits look great; hand-held movies will also turn out excellent. That's all thanks to its ability to reach shallow depth field and all that with beautiful bokeh. Its lightweight design and built-in image stabilization also help a lot.
Features and pros:
Optional full-time manual focus
Hybrid image stabilization
Inner focusing system
100 mm focal length
Lightweight design
F2.8 aperture
Cons:
Build quality can be better
Noisy IS
Canon EF 24-70mm f/2.8L II USM Standard Zoom Lens
Digital photography comes with many demands, and you need a great lens to meet them. The Canon EF 24-70MM is a redesigned latest update to the EF series. It can establish new standards when it comes to superb optics. The lens is a high-end aperture with durable construction and can perform well, just like other professional zoom lenses. Its focal length can feature a large aperture, which makes it very advanced in optical lens design. It can utilize the UD lens elements to minimize chromatic aberration in the wide-angle periphery.
It also reduces color blurring around the edges of the subject. The lens is also a combination of two aspherical lens types and is very helpful in reducing the spherical aberration through the free zoom range and the whole image area. The lens also has optimized coatings that help balance color and minimize ghosting. With the 9-blade diaphragm feature, you can achieve beautiful soft backgrounds. This lens has a very high-end construction that makes it very durable and able to perform well in professional zooming.
Features and pros:
18 elements in 13 groups
84° – 34° diagonal angle view
Rotating type zoom system
1:2.8 maximum aperture
24-70mm focal length
High-quality build
Cons:
Very expensive
A bit heavy
Canon EF 50mm f/1.2 L USM Lens
If you want a soft background with an ultra-large aperture, you need to get the Canon EF 50mm. It is a peerless standard lens that is loved by a lot of photographers all over the world. This lens is suitable for every type of shootings; the construction and lens coating alone make sure that ghosting is minimized and there is no flare. This lens is a very high-performing lens, and if you are a photographer who does portraits most of the time, you need it. It is designed to resist weather, making it very convenient in different shots and different places.
You will get the excellent image resolution that is expected in the canon series lenses. The focal length and maximum aperture of this lens are 50mm and F/1.2. When it comes to the closest focusing distance, you get 1.48ft/0.45m. You get AF with full-time manual focus and a 72 mm filter size. However, the lens is not zoomable like others, but another great feature that you get is the ultrasonic motor. Ensure that you register this product so that you can be eligible for repair or replacement when it gets destroyed.
Features and pros:
Focal Length 50mm & Maximum Aperture- F/1.2
1.48 ft. / 0.45m Closest Focusing Distance
Weather-resistant Lens
Ultrasonic Motor
72mm filter size
Cons:
Problem attaching to speed booster
Can lose focus in the dark
Canon RF 35mm f/1.8 IS Macro STM Lens
The above macro STM lens is a unique wide-angle prime that has the specialty of a 1:2 macro optic and a general wide lens versatility. It features a super spectra coating that is very helpful in controlling ghosting and flare when you are shooting in backlit and bright conditions. It is compact and lightweight in design, making it easy to carry it anywhere you go. The magnification ratio is o.5x, and a 0.56ft/0.71m close focusing distance. All these features ensure that you get to experience excellent macro photography. You also get five image stabilization stops ensuring that you get reliable performance.
It works well with a large 54mm diameter mount to give you remarkable sharpness on the edges. This lens can be used when shooting different types of subjects or in other places. Whether shooting minute details, landscapes, and everything in-between, the lens is very lightweight and capable of giving you great results anyplace and at any time. This lens is also compatible with canons Speedlight flashes, including macro ring lights and macro twin lights. They help give controlled lighting in any situation.
Features and pros:
0.56 ft./0.17M minimum focusing distance
Control ring for setting changes directly
Communication system-12 pin
Optical image stabilization
0.5x magnification Ratio
Compact macro lens
Cons:
Distortion at wide apertures
Canon RF 85mm F1.2 L USM Lens
The Canon RF 85mm, just like the name says, has an f1.2 wide max aperture and an 85mm focal length. It is not only great in portrait photography but also other types of photography. It is designed to produce great shots even in low-light situations, giving you soft, beautiful backgrounds that will make your client very happy. The autofocus is noticeably improved when compared to previous versions. It partners well with the AF eye detection feature in EOS RP and EOS R cameras, giving an excellent focus on the subject.
Another great feature is the blue spectrum refractive optics, it is responsible for reducing air sphere coating and chromatic aberration, minimizing ghosting and flaring. The lens also comes with a control ring that enables you to change settings with no problem directly. This lens is compatible with mirrorless cameras that are from Canon. They also have to be full-frame like EOS R6, EOS RP, EOS R5, and EOS R.
Features and pros:
2.79 ft. /0.85M minimum focusing distance
Blue spectrum refractive optics
Bright f/1.2 aperture L lens
One Aspheric element
High image quality
Control ring
Cons:
It can't be used on bigger canon lenses