So you've got a ton of digital photos from your trips? Or you have some family photos you'd love to see everyday? One of the best ways is to get a digital photo frame and put it on your desk. What makes the best digital picture frame? There are at least two main features to look into a decent frame, storage and display. Let's read on to find out the best digital photo frames before buying one.
Best Digital Photo Frames in 2018
NIX Advance – 8 inch Hi-Res Digital Photo Frame with Motion Sensor (X08E)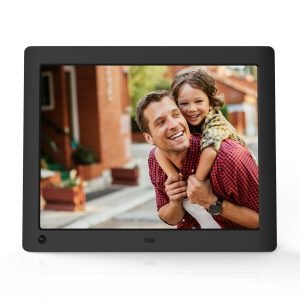 While it doesn't come with any internal memory or a memory card it has great picture quality and is very easy to set up and use. The integrated base makes it very stable in landscape mode. Since the SD memory card and USB both stick out at the back of the base you won't be able to use a USB drive that is very long with it. Quality? NIX is the global leading brand for Digital Photo Frames. In addition to displaying your stills photos, NIX Advance frames allow you to play HD videos and photos in the same slideshow with 720p HD Video quality. It can play MP4 (H.264 HD 720p AAC). The processor is fast, which allows you to view thousands of photos and videos from your inserted USB stick or SD/SDHC card.
Minidiva 12″ Digital Photo Frame
This digital picture frame has a good display performance. 12″ wide view angles,1024*800 high resolution, 16:9 screen proportion, LED screen. Minidiva digital picture frame provides you with a vivid, clear and comfortable screen display. It also comes with a remote control. It is easy to use and the picture quality is good. The image is clear and reflects the color well. Colorful pictures display well. The remote control is very helpful for you, too. you can hang it up on the wall, showing our family`s pictures.


Micca Digital Photo Frame
Micca NEO photo frames are ready to go right out of the box. No complicated setup, simply insert a SD card or USB drive with photos, turn it on, and it does the rest. All you and your loved ones have to do is sit back and relive those treasured memories. It's an excellent digital picture frame for the price. Actually, you might be impressed because it's got a nice look to it (not cheap plastic) that looks way more expensive than it actually is. The frame is fairly easy to use. Plug it in and add your storage device (USB or SD card) and it will automatically start.


OXA Digital Photo Frame
1024×768 high-resolution LCD screen is really nice to have in a digital photo frame. The 16G built-in storage can store thousands of photos, you can use the frame directly without buying U-disk; supports U disk, MMC/MS SD card, MP3 and other USB devices (not included) up to 32GB. You can quickly have your nice pictures up on the digital display. It's fairly straightforward to get running with a few pictures.


Related Reviews: