Top 10 Best Lens Bags
In addition to a camera bag, a separate lens bag is a great way to protect your lenses from dust and damage. A lens bag can also help you organize your gear and make it easier to find the lens you need quickly.
When choosing a lens bag, there are a few things to keep in mind:
Durability: The bag should be made from durable materials that can protect your lenses from bumps and scratches.
Waterproof: The bag should be waterproof to protect your lenses from rain and snow.
Size: The bag should be the right size to fit your lenses comfortably.
Price: Lens bags can range in price from a few dollars to hundreds of dollars. It is important to find a bag that fits your budget.
A List of Top Best Lens Bags
Lowepro Lens Case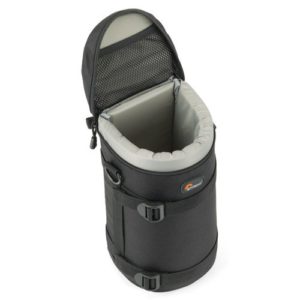 This 11 x 26 cm case by Lowerpro is one of many good choices. Lowepro has been known and trusted for good camera bags. So not surprisingly that I list and mention this Lowepro Lens Case, which made from good quality materials: thick & dense protective padding, solid zipper; clean & nice construction.
If you want a bigger case, there is another Lowepro Lens Case 13 x 32 cm, which would work well. This lens case fits tall telephoto lenses. It's the best case for carrying a larger lens.
What I like most about this Lowepro is it's thick & dense protective padding, solid zipper; clean & nice construction.
Adjustable shoulder strap
Dual zippers
Lots of padding and very well built
A bit expensive
Altura Photo Thick Protective Neoprene Pouch Set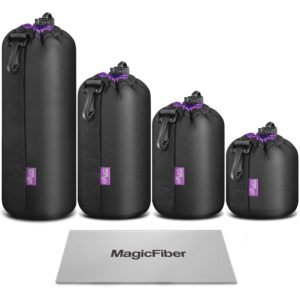 This camera lens bag can protect against moisture, sand, dust, and accidental bumps or scratches. It's made to stock lenses from Canon, Nikon, Olympus, Fuji, Pentax, Panasonic, Sony, Leica, Sigma, Tamron, and more. This Neoprene Pouch Set is a good choice for professional and travel photographers who need protection for their expensive glass and gear.
Ape Case ACLC8 Zippered Adjustable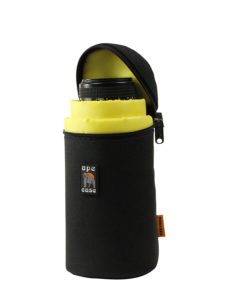 There is a nice pad for protection of your lens. With this Ape Case ACLC8, you have the options to change the interior size of your case. This case is ideal for most kit or "prime" zooms such as 18-55 or 18-70 mm. In addition to this, there is a removable liner to allow for wider lenses.
Well constructed and amply padded
Very durable
Too big for traveling with such mirrorless system
POLAM-FOTO 4 Pack Thick Lens Pouch Set for Protect DSLR Camera Lens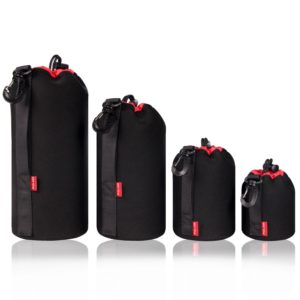 This short-time waterproof case can protect the lens from little rain, water, and moisture. The POLAM-FOTO 4 pouch makes you feel that you can keep your lenses safe.
Thick and soft fabric
Cheap
Koolertron Dslr Camera Insert Bag Purse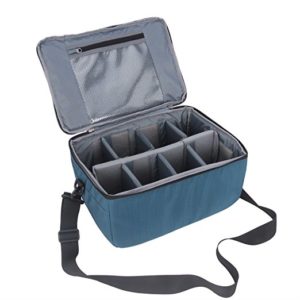 If you're looking for a better way to organize your camera bodies and lenses, this Koolertron bag is the best for your existing backpack or messenger bag. Made from Nylon Oxford EPE, the bag can keep your camera and lens from shock and scratch.
Deluxe Camera Lens Pouch Case by Altura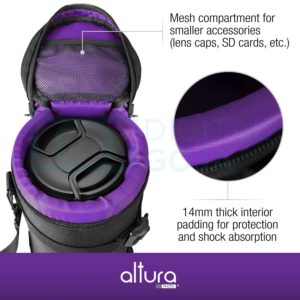 This lens case is made to fit telephoto and large camera lenses that are 11″ x 5″. The Deluxe Camera Case offers the best security for your camera lens. The Altura products never fail to impress photographers.
A quick-grab handle and a comfortable adjustable shoulder strap
Light and heavy duty lens case
SAFROTTO Lens Case Lens Pouch Bag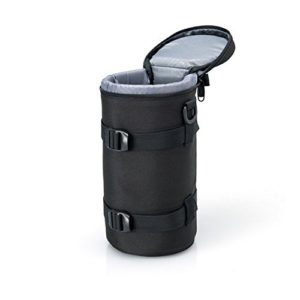 This is another water-resistant lens case that's light and sturdy. It's one of the best protections and shock absorption for your lens available in the market.
Excellent case for a large lens
Very nice and well made bag
JJC DLP-7 Deluxe Lens Pouch Bag Case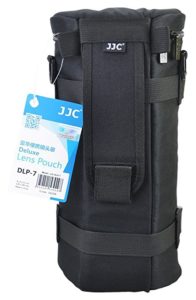 The external material was made for water-resistant. Inside the JJC DLP-7 Deluxe case, the mesh pocket inside lid for lens cap, and body cap. Some people even use this pouch for their JBL Xtreme. There is a good waist belt, too. Overall, it's a nice and professional looking lens case.
Very durable construction
Thick padded interior
Quality zipper
Kinesis E660 XX-Large Lens Pouch II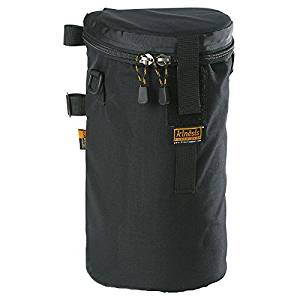 Zippered lids with a weather-resistant overlapping design
Made for durability
Not cheap
Made in the USA
Doesn't have a shoulder strap
Beta Shell Protective Hard Case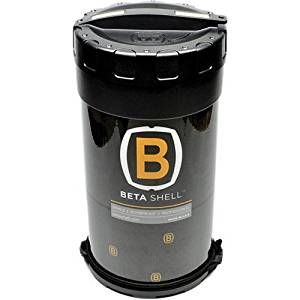 In this review, this is the only hard case here. This Beta Shell Protective Hard Case is crush-proof and absolutely waterproof. It's really ideal for photography lenses, video lenses, commercial optics, hunting optics, or even military optics.