So you've got a ton of digital photos from your trips? Or you have some family photos you'd love to see everyday? Please read my selection of the best digital photo frames you can buy this year.
The best digital photo frames should be:
high resolution display
with built-in wifi
easy to connect and transfer
A List of the Best Digital Photo Frames in 2018
1. Pix-Star 10.4 Inch Wi-Fi Cloud Digital Photo Frame FotoConnect XD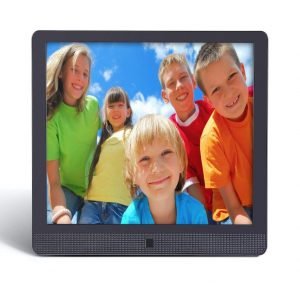 Probably one of the best gifts you can give to your loved one, this Pix-Star digital photo frame also has the ability to play music from a micro SD card, or via preset Internet radio stations of various genres.
Display size (diagonal): 10.4 inches – 26 cm
Display type/backlight: LCD/LED
Memory: 4 GB
Card support: SD, SDHC, SDXC, MMCUSB port
2. NIX Advance – 8 inch Hi-Res Digital Photo Frame with Motion Sensor (X08E)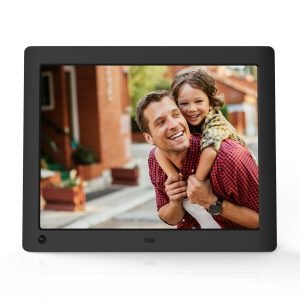 While it doesn't come with any internal memory or a memory card it has great picture quality and is very easy to set up and use. The integrated base makes it very stable in landscape mode. Since the SD memory card and USB both stick out at the back of the base you won't be able to use a USB drive that is very long with it. NIX is the global leading brand for Digital Photo Frames.
720p HD Video quality.
The processor is fast
USB stick or SD/SDHC card.
3. Minidiva 12″ Digital Photo Frame

This digital picture frame has a good display performance. It also comes with a remote control. It is easy to use and the picture quality is good. The image is clear and reflects the color well. Colorful pictures display well. The remote control is very helpful for you, too. you can hang it up on the wall, showing our family's pictures.
12″ wide view angles, 1024*800 high resolution LED screen
a vivid, clear and comfortable screen display.
4. Micca Digital Photo Frame

Micca NEO photo frames are ready to go right out of the box. No complicated setup, simply insert a SD card or USB drive with photos, turn it on, and it does the rest. All you and your loved ones have to do is sit back and relive those treasured memories. You might be impressed because it's got a nice look to it (not cheap plastic) that looks way more expensive than it actually is.
Plug and play
Easy to use.
5. OXA Digital Photo Frame

The 16G built-in storage can store thousands of photos, you can use the frame directly without buying U-disk. You can quickly have your nice pictures up on the digital display. It's fairly straightforward to get running with a few pictures.
supports U disk, MMC/MS SD card, MP3 and other USB devices up to 32GB
1024×768 high-resolution LCD screen
6. Amazon Echo Show

It's beautiful and smart. You'd get everything Alexa can offer. Watch video flash briefings, Amazon Video content, see music lyrics, security cameras, photos, and even weather forecasts. It's the future of a digital photo frame.
7" touchscreen
Dual-band Wi-Fi
Intel Atom x5-Z8350 processor
8. Sungale CPF1051 10″ Smart WiFi Cloud Digital Photo Frame

This is cloud-based photo frame. You can easily share photos from anywhere.
8GB of internal memory. Expand up to 32GB storage with SD card
Touchscreen interface
Remote management
Good to Know
In every photographer's home, the digital photo frames are great for family members and friends to see your work. Photographs are our memory. Having a digital way to display it on our desk in a living room relives our sweet moment in life. This list will give you the top selected digital frames you can buy. I hope you'll enjoy having one in your home or gift it your loved ones.
Related Reviews: