Best Green Screens for Streaming
Do you want to stand out among many streamers on the internet? Then it would be best if you thought about getting a green screen. A green screen is the only cheap way that you can be able to get great looking photos and quality videos. Green screens come in different shapes and sizes and costs differently depending on the features. If it is your first time choosing a green screen, it cannot be easy to know what to choose. This article will look at the five best green screens in the market and what you should consider before buying them.
Using a green screen for streaming is a tremendous lifesaver; it ensures that you get a professional-looking video or a photo without much.
What makes a good green screen for streaming?
Before you buy a green screen, especially if it is your first time, then there are several things that you should consider. Below are some of the factors you should consider before deciding to buy a green screen for streaming.
Material
If you want a non-reflective material, then you should be very careful about the material you buy. Different materials are used to make a green screen, like muslin, spandex, and nylon. Both of them have their advantages and disadvantages, and you should know what you need before choosing them.
Size
The size of the green screen is also essential, depending on your needs and preferences. Some screens come with stands that enable them to be adjusted in width and height. If you sit and talk, then a small screen is enough for you. However, if you move around a lot when streaming, then a bigger screen is essential.
Accessories
If you don't have any part of the kit, you should make sure that the one you buy comes with everything you need. Some things come with more than you may need, but the most important ones you will require include a stand for the backdrop, a light stand, and a bag for carrying them.
A List of 5 Best Green Screens for Streaming
LYLYCTY 4332282814 Green Screen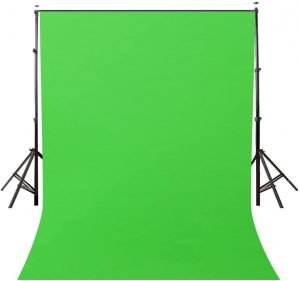 If you are a streaming enthusiast, then getting a green screen is vital in improving your video quality. The LYLYCTY is one of the best green screens for streaming that is also environment friendly. That is because it does not cause any pollution and is meant to be re-used. This screen is very lightweight and has a very small volume. It is easily foldable after use, which means it is straightforward to store and even travel with. You can use this screen for various occasions as it is designed to meet different kinds of needs. The material used to make this product is of very high quality, making it great for the low price.
Features and pros:
Environmental friendly
High-quality materials
Lightweight design
Easily foldable
Easy to clean
Cons:
It does not come with a stand.
Emart Photography Backdrop Background, Green Screen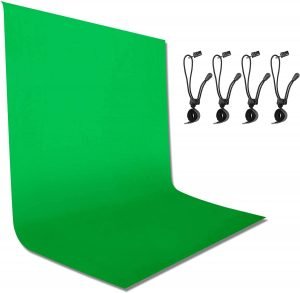 The second green screen that you should consider is the Emart green screen. This green screen is made of a very soft and durable material that is very lightweight. That means it can be easily folded for storage or when you are traveling for a job. It is made from 100% cotton, making it more light absorbent and no reflections. However, you have to do your part in taking care of the fabric if you want it not to have any wrinkles or shadows. Taking care of may include hanging, steaming, ironing, spraying, and even editing the photos. The edges of this material have been carefully finished, and that means there will be no tears; in case of a stain, you can machine wash it or dry clean it.
Features and pros:
Non-reflective surface
Soft and durable
Easily foldable
100% cotton
Lightweight
Cons:
Too small for full-body streaming
Neewer 10039506 Chromakey Green Collapsible Backdrop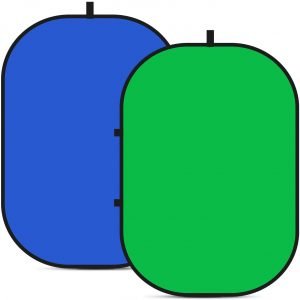 Unlike other types of green screens, the Neewer green collapsible backdrops come with a carrying bag so that you can easily carry them around. When you fold it, it becomes a compact disk that measures 63 inches and makes it easier to store in the storage bag. This screen is a double-sided blue-green design, and that means you can choose the color according to the type of video. There is also a durable metal frame that has been sewn into the fabric and helps maintain the fabric's shape. Depending on where you are streaming from, you can hang this green screen background from a door frame or even against the wall.
Features and pros:
Blue and green exchangeable backdrop
Durable metal frame
Multifunctional usage
Compact and portable
Durable construction
Cons:
Webaround Big Shot, 56 Inches, Chroma Key Green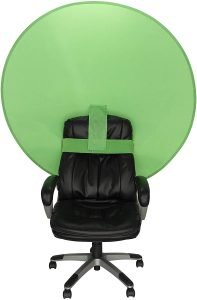 The Webaround green screen is one of the most straightforward streaming screens to set up and takedown. All you need to do is open the unit, tie it around the chair, and adjust the integrated stabilizer. You also get a storage bag so that you can fold it up and store it for the next streaming session when you are done. This screen comes in different colors and sizes as other people prefer different kinds of backgrounds. This screen is also designed to fit into any chair as it comes with adjustable straps. This product is excellent for those who are starting their careers, it is cheap and of high quality.
Features and pros:
It comes with a storage bag
Collapsible for easy storage
It comes in different colors
It fits on any chair
High-quality design
Cons:
It does not work with other laptops
LimoStudio Green Screen Background Support System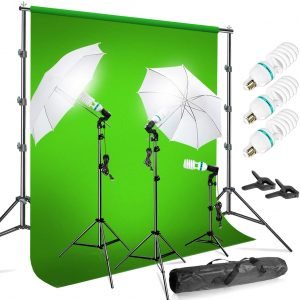 Whether you stream for fun or do it professionally, you need a backdrop system to improve your video quality. The LimoStudio is the perfect one for you, and it will be an excellent investment for your career. It comes with stands that are made of premium aluminum, and that means it is very lightweight. Being lightweight means that you can easily transport this kit whether you are doing an indoor or outdoor shoot. The material used to make this product is of very high quality, making it durable and sturdy. This green screen can be used for different occasions and is a great addition that is worth investment.
Features and pros:
Lightweight and compact
Multipurpose use
Interlocking Bars
Durable design
Cons: