The Best Fuji Lens for Street Photography
If you have a genuine interest in street photography, it is essential to equip yourself with the best Fuji lens suited for this genre. However, the process of finding the ideal lens can be quite challenging, requiring extensive research and an understanding of key camera terminologies, including image quality (IQ), focal length, and aperture. For beginners, the task of selecting the perfect Fuji lens can be even more daunting compared to experienced professionals. Since lenses can be quite expensive, it would be unfortunate to invest in a lens that doesn't meet your needs. Therefore, this comprehensive review aims to guide you in choosing the best Fuji lens specifically designed for street photography.
Street photography necessitates capturing candid moments and subjects in urban environments, often with limited time and space to compose your shots. Consequently, several factors need to be considered when selecting a lens. The focal length plays a crucial role in determining the lens's versatility and its ability to capture the desired perspective. A focal length ranging from 23mm to 50mm is generally considered ideal for street photography as it offers a natural field of view, allowing you to capture subjects without distortion while maintaining a comfortable working distance.
Additionally, the lens's maximum aperture is vital as it influences the amount of light entering the camera, enabling you to shoot in various lighting conditions. A wider aperture, such as f/1.4 or f/2.0, not only facilitates low-light photography but also allows for a shallow depth of field, isolating your subjects from the background and creating a pleasing bokeh effect. This can be particularly advantageous when you want to emphasize specific elements within a busy street scene.
When it comes to image quality, Fuji lenses are highly regarded for their exceptional optical performance. The sharpness, clarity, and overall rendering of the lens contribute significantly to the final image. It's worth noting that while prime lenses generally offer superior image quality compared to zoom lenses, the latter provides greater flexibility in framing your shots.
To assist you in your quest for the best Fuji lens for street photography, here are some highly recommended options:
Fujinon XF 23mm f/1.4 R: This prime lens is a favorite among street photographers due to its versatile focal length and wide maximum aperture, allowing for excellent low-light performance and beautiful bokeh. Its image quality is outstanding, capturing sharp and detailed images with vibrant colors.
Fujinon XF 35mm f/2 R WR: Another popular choice, this lens offers a slightly longer focal length, making it suitable for street portraits and capturing subjects at a moderate distance. With its compact size and weather-resistant design, it is well-suited for street photography in various conditions.
Fujinon XF 50mm f/2 R WR: This lens provides a slightly more telephoto perspective, allowing you to capture subjects from a greater distance. It offers exceptional image quality, compactness, and weather resistance, making it an excellent choice for street photographers looking for a versatile lens.
Fujinon XF 18-55mm f/2.8-4 R LM OIS: If you prefer the convenience of a zoom lens, this option provides a versatile focal range, covering wide-angle to portrait lengths. It offers good image quality, optical stabilization, and a relatively compact form factor, making it suitable for various street photography situations.
A List of Top 5 Best Fuji Lens for Street Photography
Fujifilm XF 27mm f/2.8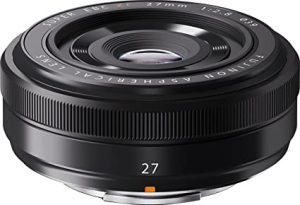 Most users refer to it as a pancake lens because it features a compact styling. Bear in mind that this product's design can cause inappropriate image sharpness and vignette. On the other hand, 27mm f/2.8 maintains its sharpness in the frame. This product has no aperture ring that is adjustable since it has a compact design. Additionally, it is a lightweight product because it has a thickness of 0.9 and a weight of 2.75 Oz. It also has a multi-layered high transmittance Electron Beam Coating (HT-EBC), on the glass surface to prevent it from scratching.
It also prevents you from losing the sharpness and contrast via incidental light scattering. Its field of view is 27mm, corresponding to a full-frame sensor of 41mm. Ideally, this product is perfect for street photography. Whether you opt to focus on a bigger scene or a single subject opt for this lens, it is also suitable for traveling and landscaping.
Pros
It maintains the sharpness in the frame.
This product is lightweight.
It features a multi-layered high transmittance Electron Beam Coating on the glass to prevent it from scratching.
It is a remarkable product for street photographers.
It is a perfect product for traveling and landscaping.
Con
This product is defective.
Fujinon XF50mmF2 R WR Lens – Black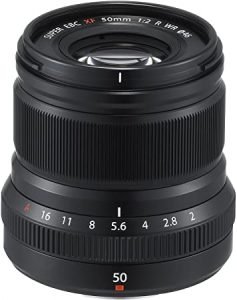 If you want a photography portrait, this is the effective lens you should aim for since not dust or water will impact your lens. It has a field of view of 50mm, which is equivalent to the prime lens of 76mm, especially when you are using a field view of a full-frame. Bear in mind that the field view of 76mm is a portrait terror. You will experience no distortion from your subjects.
This product is resistant to dust and weather; it can function quite well in low temperatures, such as ten degrees Celsius. You can confidently use it in different weather conditions. Additionally, it has a silent and fast focusing; it has an angle of view of 31.7 degrees and a maximum magnification of 0.15x. Therefore, grab this lens from your nearby camera store and enjoy your camera work.
Pros
This product is resistant to dust and weather.
It has a fast and silent focusing.
It is suitable for portrait work.
This product is worth the investment since it delivers extraordinary performance.
Con
It is a less quality product.
Fujinon XF35mmF1.4 R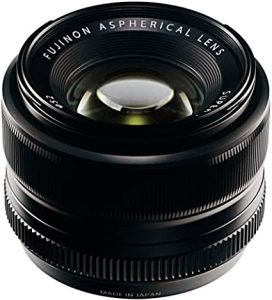 This lens guarantees you maximum performance standard plus an excellent definition; note that this also applies to shooting wide open. Furthermore, it gives you images with absolutely fantastic clarity; this happens when your aperture is wide open. During this product's focusing, the entire lens groups are usually moved together to reduce the aberration alterations; this applies everywhere, whether you are functioning on infinity, long shot, or even close-ups. You must know that this product has a special design, which has the maximum potential to deliver pictures when the focus is merged in combination with the smooth bokeh. This applies to whether it is out or in focus areas. Besides, its focal length is equal to 53mm in a film format of 35mm. In case you are an x-series owner, you must have this product or plan on purchasing it now. This product has exemplary features that have made it gain popularity in the industry.
Pros
This product offers you excellent definition and maximum performance.
It produces quality images with fantastic clarity.
It guarantees you a beautiful bokeh.
This product functions as advertised.
It is a quality product.
Con
Its focusing is very slow.
Fujinon XF10-24mmF4 R OIS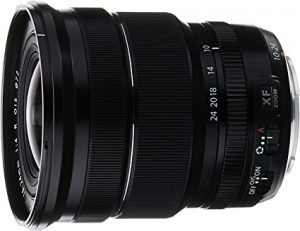 The Fujinon XF10-24mmF4 R OIS is the appropriate option for shooting maximum impact pictures and dynamic with remarkable detail, especially from your foreground to your far distance preference. The entire 2,4 x room range has the highest F4.0 aperture. This commences from the ultra-wide lens with a focal length of 15mm to its longest focal length of 36mm. It has a robust optical image stabilization system, which gives it maximum ability to function when handheld and when shooting in low areas its boosts the amount of light.
Furthermore, the improved inner focusing system guarantees you maximum-speed AF. This product uses lightweight internal lenses and stepping motors, ensuring that this product is silent during use. On the other hand, it comes with a 28cm minimum functioning distance; this allows you to capture wider surroundings and small forehead detail when using macro photography to earn the subject an excellent context. Most users love this product because it has excellent features that allow it to deliver maximum performance. Opt for this product, and you will experience absolutely zero disappointments.
Pros
It is a perfect choice for shooting maximum impact images and dynamic with great detail.
It features an improved inner focusing system, which guarantees you maximum-speed AF.
This product is silent during use since it uses lightweight internal lenses and stepping motors.
It delivers quality images.
It has an image stabilization system.
Con
It is not worth the value, but it is good.
Fujinon XF16mmF1.4 R WR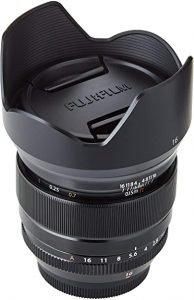 This product is resistant to weather, and it comes packaged with a fixed focal length that generates a superb image performance and a wide field of view. The F1.4 high apertures of this product offer you fantastic bokeh macro photography and outstanding image quality during low light conditions. This comes with a reduced functioning distance of below 6cm, especially for multiple possible creative photographs.
Besides, this product also has 0.11 seconds for maximum speed autofocus; it also has a dust and weather resistance structure, which can function appropriately in lower temperatures, such as 14 degrees. This product is compact, hence making its portability easy. Fujinon XF16mmF1.4 R WR features a depth of field scale situated on the focus ring. This is ideal for street and travel photographers, who need to shoot continuously, adjust aperture settings, and calculate distances. Therefore, if you require the best Fuji lens for street photography, opt for this Fuji lens model.
Pros
This product is dust and weather resistant.
It has a fixed focal length that produces a superb image performance.
It generates a classic image quality.
This product is portable because it has a compact size.
It is an excellent and versatile lens.
It is worth the value because it delivers incredible performance.
Con
This product is overpriced.