Best Light Modifiers
You may think that a flash is enough to produce a great photo, but if you want to achieve the best, you will need light modifiers. Light modifiers are a great way of shaping, coloring, and restricting the light coming from the flash. If it is your first time, then it cannot be easy to choose a light modifier, which is why this review will help. Below you will find a list of different types of light modifiers and what makes them great. There is also a review of each light modifier's best so that it can be easier for you.
Quality and portability are essential. A light modifier should be easy to move around the store. Easy to pack and lightweight should be what you look for.
What Makes A Good Light Modifier?
After choosing your first LED panel or Speedlight, the best thing you can do as a photographer is to buy a light modifier. Light modifiers are of many types and come in different shapes and sizes hence can be difficult to choose. Other modifiers have different looks and uses, and we are going to discuss what makes them great and how they work.
Umbrella light modifier
These are some of the cheapest light modifiers, and most photographers have more than one. They are simple to use and are great at providing you control over lighting. If you need to buy an excellent umbrella light modifier, then go for one that can give you a soft light with a crisp highlight. A reflective silver inside will get rid of shadows and ensure you get more light.
Softbox light modifier
The Softbox is also one of the best and most popular light modifiers in the market today, and any serious photographer should have it. The main feature that makes a good softbox is light softening. It may be more significant than an umbrella, but it is worth it. It can make the source larger and more diffuse. You can get softboxes in either rectangular shapes or octagon, and they can even be customized to adjust the quality of light depending on what you need.
Beauty Dish light modifier
Portrait photographers mainly love this type of light modifier. Therefore, if you are a photographer who mostly majors in portrait photographing, this is the modifier. Get a beauty dish that can bounce light from any deflector plate hence giving you a crisp and soft light with excellent contrast.
Grid light modifier
Grids are always associated with other types of light modifiers, but if you are a photographer, you know that it deserves to be classified separately. They are designed to help narrow down the angle of the light beam for a more controlled beam. This modifier is essential as it gives photographers a chance to choose the effect they want.
Gel light modifier
For a fancy color splash, then you need to invest in gels. They are translucent colored sheets placed in front of the light to help create special effects by changing colors. Color gels also help balance different fixtures so that they match. You can again go for diffusion light modifiers because they are almost the same.
A Review List of Top 5 Best Light Modifiers in 2021
1. LimoStudio, LMS103, Soft Lighting Umbrella Kit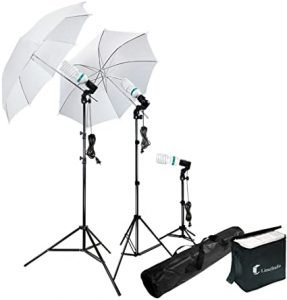 Whether you are just starting or a professional photographer, the Limo Studios Umbrella lighting kit is a must-have. Because of the high quality, it comes in, and it is one of the most loved studio sets that most photographers love. This lighting kit will help you diffuse light so that the camera can capture the full-color spectrum. With this kit, the camera will capture a great photo with soft, supple light and neutral skin tones. This lighting kit is also well known for spreading out light evenly and great for beginners.
Another feature that you will benefit from this light modifier is softening of light and natural shadows. You can see a difference between a photo without this lighting kit and one where a lighting kit has been used with this feature. With this 33 inches white umbrella, you will get a neutral color that will make each photo bright and natural-looking. The material used to make this lighting umbrella is high-quality nylon, which means it will last long before you may need to replace it.
Features and pros:
It comes with an instruction manual
High-quality construction
3 Solid safety legs
Even light spread
Continuous light
Energy saving
Lightweight
Cons:
Made for beginners
2. Altura Flash Diffuser Light Softbox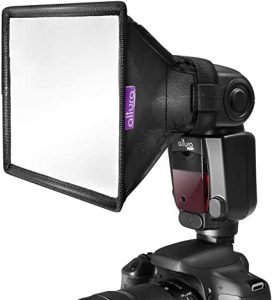 Altura is one of the best brands, and when it comes to their light modifiers, you will not be disappointed. The Altura light Softbox is one of their best sellers that comes with great reviews from photographers. The material used to make it is a high-quality diffusion material with the interior made of reflective silver, ensuring that you get a product that you will love. This light modifier will ensure that you get evenly spread light that will get rid of harsh shadows. This flash diffuser comes in a compact design so that you can easily carry it around and use it whenever you want.
You can use this modifier in different situations, including both indoor and outdoor shoots. When you buy this product, you will also get a carry pouch to help you carry it around without any problem. It fits most on-camera shoe-mount units and comes with two layers of diffusion so that you can get a soft quality of light. With a reflective silver interior, your light output will be maximized so that you can capture perfect photos. You also get Velcro straps that are elastic to get a secure fit around the flash head.
Features and pros:
High quality and durable construction
Portable and collapsible design
Rubberized mounting grip
Reflective silver interior
Elastic Velcro strap
Even lighting
Cons:
Works better indoors
Needs attention when shooting
3. Neewer Conical Snoot Kit with Honeycomb Grid and 5 Pieces Color Gel Filters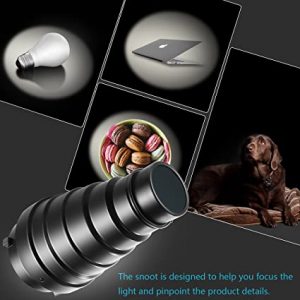 Neewer conical kit comes with five color gel filters and a honeycomb grid and will be great for achieving great pictures. You should know that the stand and outdoor flashlight are not included, so you will have to buy them separately. Ensure you remove the film from the filter before using it, not to think it is not working. This light modifier is designed to help you focus light and point to the details when you are using it. It is made of high-quality aluminum alloy, making it very durable and robust.
The five-color gel filters include yellow, blue, green, red, and transparent to help you create effects using different color temperatures. This gel light modifier is best used as a backlight modifier, dramatic accent light, or hair light. It does not matter whether you are a beginner or a professional; you will surely need this light modifier if you want your customers to keep coming back. Because of its high-quality construction, you will be sure that it will last a very long time. With the five color gel filters to choose from, you will have different options and will not be limited to just one color.
Features and pros:
High-quality alloy construction
Five color gel filters
Light focusing
Black in color
Cons:
Gets very hot
4. Neewer Octagon Flash Softbox with Grid
You should note that this product does not come with a light stand and strobe head as some customers usually think it does. You will have to buy this item separately so that you can have a full kit. This light modifier that comes with a grid is specially designed to diffuse any strobe flash, giving you much better lighting. The interior of this Softbox is made with a silver reflective color material, and the face is a flush front.
This light modifier is a must-have for anyone serious about being a good photographer. It is 32 inches in diameter and is shaped like an octagon to give out a great modern look. The mount type is Bowens, and the ring adaptor is made out of aluminum to last a long time. When you buy this light modifier, you get one octagon Softbox with a grid, one inner diffuser, one outer diffuser, and one mount speed-ring. You will also get a carrying bag to carry it around with you wherever you go.
Features and pros:
External and internal diffuser
32 inch Softbox with grid
High-quality material
Large in size
Cons:
Hard to assemble
5. Glow EZ Lock Collapsible Silver Beauty Dish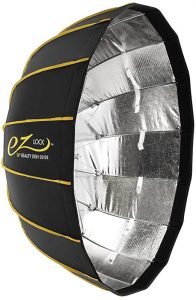 The beauty dish light modifier is mostly used by portrait and fashion photographers. The Glow EZ beauty dish is specially designed so that you can have more glamour and help your clients pop out more. It comes with a unique double reflector system that not only softens the flashes twice but also ensures that your client's features and facial curves are highlighted using an attractive light. This 34-inch silver beauty dish is excellent at glamourizing photos and will ensure that you get the quality you have always longed for.
It does not matter whether you are shooting in tight spaces or not; this light modifier will still shine bright, making it more effective than umbrellas and softboxes. With an aluminum framework construction, it is effortless to carry around this beauty dish, and the high-quality construction is also why it is very durable. The framework also makes it very easy to set up this Dish and easy to break it down for transportation. The fabric used to make the diffusion panels are natural and unbleached nylon will soften the light without tampering with the temperature's color.
Features and pros:
Quick and easy EZ lock system
More dramatic contrast
Translucent diffusers
Premium Fabrics
Built to Last
Cons:
Low-quality snaps