Want to take your iPhoneography to a higher level? I've got a list of the best lenses for your iPhone. The iPhone high-resolution camera has changed the way you live, view, and capture the best the moments in life. But what if you could add something extraordinary to the current iPhone? It's not a big deal to buy an iPhone lens to take our iPhone photography to the next level. Did you know that having the right lens can transform an ordinary, ho-hum snapshot into a memory that lasts a lifetime? In this review, you've got a good list of the best lenses for iPhone 5, 5s, 6, 6s, 7, and 7 Plus that help you decide which one is ideal for your need.
Also: The Best Flashes for iPhones
The Best iPhone Camera Lenses in 2018
1. AUKEY Ora iPhone Lens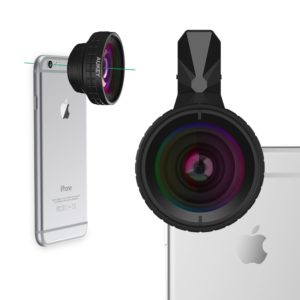 We know that Moment's Tele and Wide mobile-photography lenses are the best and more expensive. They look very very similar but the performance of the Moment lens is overtly better, including corner sharpness. With AUKEY Ora iPhone Lens, you could save a lot of money while getting nearly the same great quality. They offer image quality as good as that of anything we tested Crafted with aluminum alloy and multi-element coated glass, the build quality of this AUKEY Ora iPhone Lens helps minimize ghosting, reflections, lens flare, and other artifacts. It is a nice looking lens and I do love the integrated case design; I especially like the screw in design. One piece of advice, you'll need to remove your phone case to really get the most out of the lens. Incredible bang for the buck!
2. Amir 3 in 1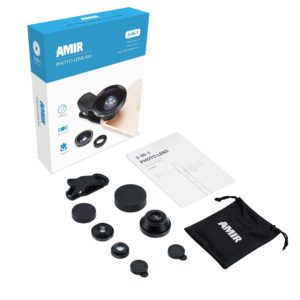 Made of high-quality glass, professional HD lens reduces glass flare & ghosting caused by reflections, Amir 3 in 1 HD camera lens was designed for iPhone users. It's very portable and universal. This means that it can be used with a wide range of smartphones. There are 3 types of lens you'd get when buying the Amir 3 in 1 HD camera lens, fisheye lens, wide-angle lens, and macro lens. The fisheye is super cool, but expect a small black ring around the picture. The macro is useless to me, but works. You essentially have to place the camera on the object you want to take a picture of. I've got an iPhone 7 Plus, and it takes a bit of fiddling with the clip to get the lenses to be centered over the main camera lens, and yes, the fisheye isn't completely circular on the phone camera, but pretty close. But again, you're paying under $20 for this set, and if anything it's fun and it's a great way to decide if you want to move up to something more pricey.
3. olloclip Active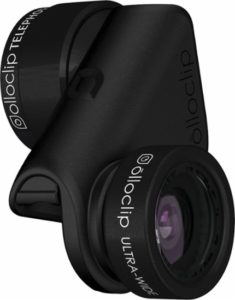 Designed primarily for iPhone 6 and 6 Plus only. This olloclip lense is compatible with front- and rear-facing cameras. It comes with the telephoto and ultrawide lenses; 2x magnification; wearable pendants; precision-coated ground glass optics. olloclip's telephoto lens allows you to shoot distant subjects and isolates a small field. Most camera smartphone lacks this type of lens. For those who love taking landscape photos, the ultrawide lens for wide angle shots is the best option to have. Overall, olloclip Active Telephoto and Ultrawide Lenses is lightweight, compact design that works on both front and rear-facing cameras. Two best things about this olloclip product are that you can wear the lenses around your neck and the precision-coated ground glass optics.
4. Luxsure universal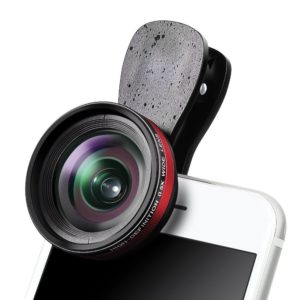 This is a 2 in 1 camera lens kit, which includes 140° Wide Angle Lens & 15X Macro Lens and is perfect for landscapes, cityscapes, and even selfies. This is one of the best lenses on the market because it's well crafted with a high-quality aluminum alloy that helps reduce damage from accidental drops. It's coated with frosted paint that is non-slip and feels great! Dust cap protects lenses from dust. The packaging for these was quite premium it came with all the accessories you would need. The wide-angle lens was wide enough so that you could take whole family photos without any trouble or asking them to move around. The macro lens also did a perfect job of taking close-up shots of plants and insects. All in all, you'd be very happy with this is probably the best lens for an iPhone.
5. Holigoo 2 in 1 HD

The Wide Angle Lens is super wide, extremely low distortion, so you can shoot beyond what you saw! The Macro lens is best for close-up shots, catch the details of everything. The lens holder is actually made of metal. It is not a cheap plastic product. By having metal made lens, you get a more durable and stable lens for long time uses. The Holigoo lens is perfect for travel, selfie, a group of people in different campaigns, such as party, celebration, wedding and so on, take down the beautiful moment in daily life.
7. Fuleadture HD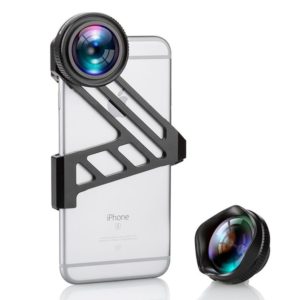 This lens was made with superior grade glass optics and strong aluminum construction for enhanced durability. This means that the lens will not be scratched or damaged easily. The HD glass minimizes lens glare, reflection, ghosting and other artifacts. The aluminum bracket with ultra soft lining is well fit. Fast and easy lens swap. This Fuleadture lens gives you the capability to capture faraway subjects in high resolution with 3x the magnification of your iPhone. Bring long distance subject matter up close and vivid. This lens is also perfect for nature photography. Take it with you for a Grand Canyon trip, you'd be impressed. The Fuleadture lens works just great on an iPhone 6s. It's also easy to use.
Conclusion
We use our iPhone each and every day to capture some of the most beautiful moments. We've got our iPhone with us at home, at work, or for our travel. You may use your iPhone to take a lot of photos. The reason is simple. The smartphone is with you, in your pocket, most of the time. There are times when you leave your digital camera at home. With the lens for your iPhone, I believe you'll take much better photos than ever before.
Disclaimer: All recommendations are impartial and based on user experience, with no bias to the products or the brand. The products in this post contain affiliate links which help support SweetMemoryStudio.com.