The Best Macbook Pro Docking Stations
Laptop, MacBook Pro, and tablet owners understand the limitations of these devices in terms of connecting multiple accessories at the same time. To overcome this limitation, MacBook Pro docking stations were created. These docking stations come in different specifications and functionalities, and below are some of the best ones available on the market. When looking for a docking station, it's important to find one that provides value for your money and offers a variety of connectivity options for your MacBook Pro or PC laptop.
A List of Top 10 Best Macbook Pro Docking Stations
StarTech.com Dual 4K Thunderbolt 3 Docking Station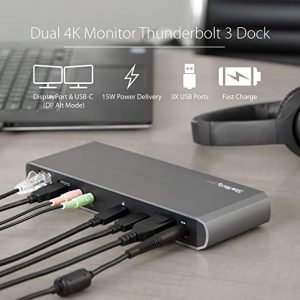 Equipped with a 520mm thunderbolt 3 cable, the starteck thunderbolt docking station is compatible with all thunderbolt 3equipped MacBook Pro and pc laptops with window 7 and above. It features a display port and a thunderbolt 3 port that supports two 4k ultra HD monitors to achieve high definition graphics (3840 x 2160p or 4096 x 2160p) and quality videos on both monitor displays. However a single 5k monitor can be supported by the thunderbolt 3 port only. It also has a Type-A port that supports smartphone and tablet charging.
Landing Zone Dock 15″ Secure Docking Station for MacBook Pro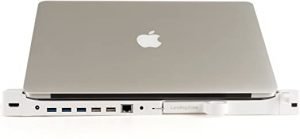 The landing Zone docking station is only compatible with the MacBook Pro model A1398. It has a built-in security slot that's compatible with the Kensington laptop locks. It supports single-step dual monitor Retina display and is compatible with apple thunderbolt display, non-thunderbolt monitors and thunderbolt devices. It also features a 5 port USB, gigabit Ethernet hub, headphone port and an HDMI port.
CalDigit TS3 Plus Thunderbolt 3 Doc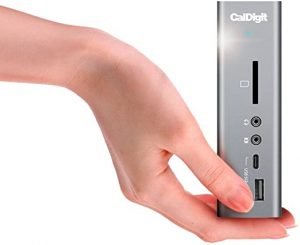 The Caldigit MacBook Pro docking station features 15 ports of connectivity namely : 2x Thunderbolt 3 40Gb/s, DisplayPort 1.2, 5x USB-A & 1 USB-C 3.1 Gen 1 (5Gb/s), 1x USB-C 3.1 Gen2 (10Gb/s data only), Gigabit Ethernet, UHS-II SD Card Slot (SD 4.0), Optical Audio (S/PDIF), 3.5mm Stereo Audio In & Out. It supports both the dual 4K extended display and 5K monitor display that is via a thunderbolt 3 port. It's a fast card reader with a speed of up to 312MB/s. It has an improved 87W power delivery that will charge your PCs and other devices. Constructed with the sleek aluminum exterior and an integrated sink in that prevents overheating.
Belkin Thunderbolt 3 Dock Pro

The Belkin thunderbolt 3 docking station has been equipped with the Intel chipset/controller that makes it compatible with macOS and Windows USB-C laptops. It features a single thunderbolt 3 cable that when connected to your PCs will be able to give you, Ultra-High Definition monitor support, up to 40 Gbps data transfer rates, 85W of upstream charging to your laptop and other devices, and support for multiple peripherals. It has an SD card reader with a high-speed SD transfer of up to 312 MG/s.
CalDigit USB-C Pro Dock – 85W Charging, Thunderbolt 3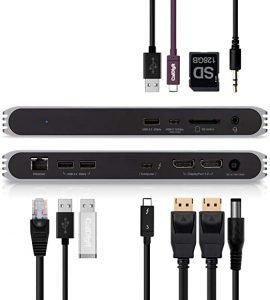 It features a developed single USB -C Pro dock that efficiently supports any Type-C port laptop, iPad Pro, Windows USB-C phones/tablets and Android USB-C phones that it's connected to. The MacBook Pro docking station supports dual 4k extended monitor display and a powerful 85W laptop and other devices charging. Its 10 port connectivity includes: 1 x Thunderbolt 3 , 2 x DisplayPort 1.2, 3 x USB 3.2 Type-A (5Gb/s), 1 x USB-C 3.2 Gen 2 (10Gb/s Data Only), Gigabit Ethernet, UHS-II SD Card Slot (SD 4.0), 3.5mm Combo Audio Jack.
Kensington SD5000T Thunderbolt 3 Docking Station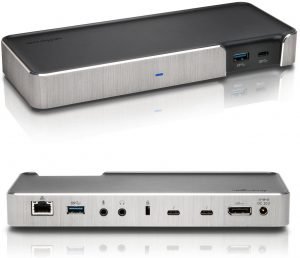 The Kensington MacBook Pro docking station comes with a security slot that allows you to implement a cable lock to your devices protecting you from cyber theft or potential related damages. It supports 4K Ultra HD simultaneously on two monitor's displays, (4096 x 2160 30-bit color @ 60 Hz) via a full-size DisplayPort and Thunderbolt 3 port to support 4K @ 60Hz with the help of multi-stream support. It contains 85W Power delivery to power your laptop while working and it's compatible with any VESA mounting plate.
OWC 14-Port Thunderbolt 3 Dock with Cable

THE MacBook Pro docking station supports two monitor displays with up to 4K resolution and the 5K display monitor. It features 14 ports of connectivity i.e.: USB 3.1 Gen 2 / Gen 1, Thunderbolt 3, microSD Reader, SD Reader, mini DisplayPort, Gigabit Ethernet, S/PDIF, Combo Audio jack, and comes with 4 cables namely: OWC Thunderbolt 3 Dock, Thunderbolt 3 cable, External power supply, and power cable. It has an 85W charging speed to host devices and a transfer speed of up to 312MB/s.
Elgato Thunderbolt 3 Dock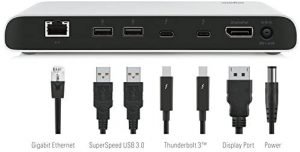 This docking station is designed for Macs (macOS Sierra 10.12), PC (Windows 10)supporting the Thunderbolt 3 features which include four USB-C ports. One of the two thunderbolt ports acts as the main host. This is where you get your Mac to connect to other accessories. You will take advantage of the remaining one 3.1 USB port to connect audio devices, external hard drives like flash drives and screens. Two of the four USB-C ports will give you the chance to connect high-speed external devices. Among other key features of Elgato Thunderbolt 3 dock, you will find a 3.5mm earpiece, gigabit ethernet interface point and a display port. Also you'll find two Micro SD slots for your memory card device options. The rear has your power connect for the docking station's power supply.
Wavlink USB 3.0&usb c ultra HD/5k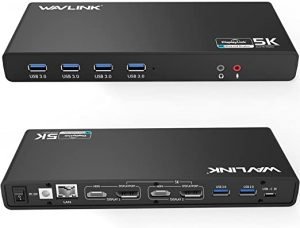 Super HD display on the current 5K technology with a resolution of about 5120 x 2880 when connected to a 5K screen monitor. Sharp vision capability is also guaranteed on its 4K platform. Connect to your screen via 5k and 4K HDMI ports. Super-fast 6 USB 3.0 ports will aid in transfer files and data with a touch of a button. Wavlink docking station comes with a gigabit ethernet port for your Wi-Fi and internet connectivity requirements. Audio input-output and mic delivers clear sound and recording functions This docking station is compatible with the following system requirements; laptops with processing speed of about Core i7, 4GB RAM, Windows 10 8,8.1, 8, 7 and XP. It also designed for Mac OS.
Hyperdrive Pro 8-in 2 docking station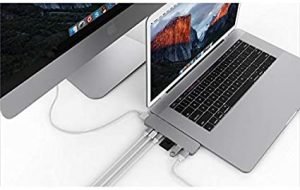 This is a USB-C docking station that turns your two MacBook pro laptop and turns them into an HDMI, a micro SD slot, a Thunderbolt 3, a Mini Display port and Two USB A and C ports. The HDMI cable comes in handy when connecting to a projector or a monitor screen. It is worth noting that the HDMI features a 4K HDMI port for top quality video output experience. The four-port USB hub will act as your array for connecting such accessories like keyboard, mouse or an external hard disk drive. This docking station offers a cool design. The hyperdrive pro is made from aluminum and compliments MacBook Pro. Depending on your preference, you can either go for space gray or silver. The small size of 7.5 x 3.6 x 1 inch will allow you to work anywhere and while on the go.