Top 10 Best Monopods for Video (2022)
Do you want to advance your video shooting passion? Get the best monopod for video shooting for your DSLR camera. If you are looking for sharp shots from long focal lengths, using a monopod (or unipod) to support your DSLR camera is the way to go. If you don't want to carry a tripod around, you should get a lightweight monopod instead. Are monopods good for video? A good monopod is an essential tool for video or still photography.
How to use a monopod when travel:
Expand it until the camera is level with your eyes
Firmly hold your monopod with your hand with the wristband
Always keep it vertically.
You should expand from the thickest tube to achieve the best stability.
A monopod is a very useful gear to have for most travel photographers. Ideally, it's a great alternative to a travel tripod for sports, wildlife, street photography, and more. Similarly, a top rated monopod will give you the level of stability as a tripod. It's even faster and more practical to use. This is a one-legged tripod that is smaller, lighter, compact and easy to set up. These features also make monopods great for photographing fast moving objects.
It is also a great photography gear that's popular among traveling and landscaping photographers. This list will assist you to make an informed decision before buying this cool accessory.
Let's take a look at the best monopods available on the market this year. Whether you're shooting stills or video or both, the top best monopods for video should be:
fast and lightweight: made from carbon fiber
strong and sturdy for travel, wildlife, sports photography, and video for heavy lenses
A List of Top 10 Best Monopods for Video
Sirui P-326 Monopod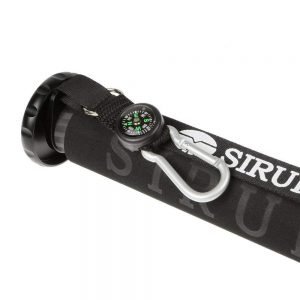 It is a great accessory which can be obtained for an amazing price. A very high quality lightweight, the Sirui P-326 Monopod is very sturdy for support in stream crossings. The product features include:
Weighs approximately 0.9 pounds
Supporting up to 22 lbs
6 leg locks
Pros
Easy to adjust
Good design and build quality
Cons
A little short and unstable for tall photographers and heavy camera
Gitzo GM-2562T Series 2 Monopod

This is a lightweight and compact monopod considered to be an excellent travel companion. Canon photographers can use this with EOS 5D mark III fitted with 100-400 lens or 70-200 lens.
Pros
G-Lock leg logs for extra strength
Strong and light carbon fiber tubes
Rigid Carbon eXact tubing
Support weight up to 12 kg
Weighs up to 405 g
Cons
Not cheap
Durability: average
Manfrotto XPRO MPMXPROC4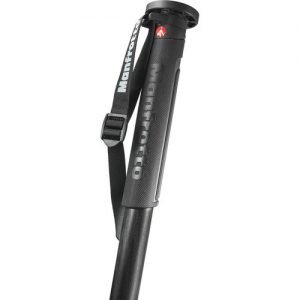 This is an awesome all rounder monopod. You will find the best combination of performance and portability. That's what to look for in a top-rated monodpod.
Pros
Very light, strong, and sturdy: rock solid
User serviceable quick extension clamp
Push and Pull clamp design
Quality embossed rubber grip
Cons
Dolica WT-1003 Monopod

This is an excellent choice when looking for a monopod that is extremely lightweight. This monopod is the best choice for a mirrorless camera. The Dolica WT-1003 Monopod will give you the most beneficial purchase to your photographic hobby.
Support weight up to 6.7 lbs
Weighs up to 0.8 lbs
Extended leg reaches 67 inches
Pros
Ultra-light weight aluminum alloy material
Built-in adjustable wrist strap
Cons
Benro Adventure MAD49A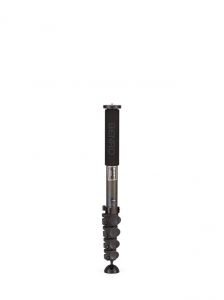 This is a quality brand that is designed to allow you outstanding reach and rigidity at a considerable cost. This monopod is perfect for studio use.
Pros
Heavy leg weighing over 200g
The tallest stand of all monopods on this list
Sturdy and rigid aluminum tubing
Cons
AmazonBasics Carbon Fiber Monopod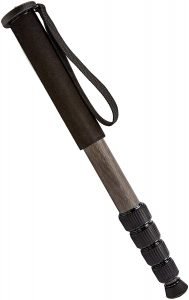 AmazonBasics Carbon Fiber Monopod is the most affordable choice for most travel photographers. Overall, it's light and durable comparing to the more expensive monopod. You'll be amazed by its durability and how it provides rock solid support.
Pros
Lightweight 8X carbon fiber
Cons
Extender Tube is not quite reliable with a heavy camera and lens attached
Weak alkalies heel
Vanguard VEO 2 AM-234TU Shooting Stick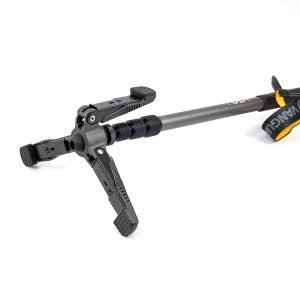 You should not wait if you can afford to this under $100 monopod. Like other Vanguard products, this VEO 2AM-234TU is the best monopod for travel for its price.
Pros
Easy to fold and lock
Soft rubber handle
Cons
Heavy weight
The bottom portion is not strong
Manfrotto Compact Extreme 2-in-1 Monopod & Pole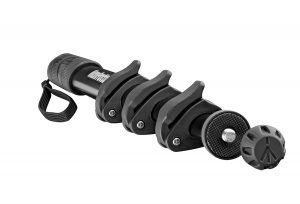 This Manfrotto monopod is the best for mirrorless camera and Gopro camera photographers. It's quite handy and light, although the head should have been much better. Its thumb screw on the head jiggles and makes noise. The product also works great with a 360 camera.
Pros
Sturdy aluminum
Best for small cameras
Amazon's Choice
Cons
DIGIANT MP-3606 Professional Camera Monopod 70″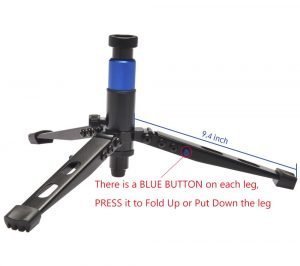 This professional heavy duty monopod is the best product for any DSLR camera with heavy lenses. In addition to this, you can rotate the monopod 360 degree on the tripod base when you release the blue part. What's else to like about this? Well, its smooth tilt and panning are essentail. It's easy to manipulate quickly for some best shots. I also love the quick release camera attachment.
Pros
Smooth tilt and panning
Strong and sturdy
Best for the money
Cons
FOSOTO Portable Travel Walking Stick Carbon Fiber Camera Monopod Unipod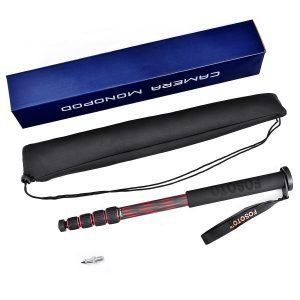 This carbon fiber monopod is for stabilizing SLR and compact cameras. It's very ideal for outdoor photography. If you want the best lightweight monopod for hiking, then you shouldn't have to look further. One of the reasons we recommend this product is because we love how easy it is to use this monopod.
The monopod comes with a convenient screw-in metal spike that is easy to install and provides great stability on dirt and grass. Made of carbon fiber, this monopod is lighter than aluminum, yet its strength is higher than that of steel. It also owns corrosion resistance and high-efficiency shock absorption.
Pros
Lightweight
Shock absorption
Carbon fiber for stability
High quality mount
Cons
Not very sturdy as expected