The Best Nikon Lenses for Wildlife Photography
Wildlife photography is an exhilarating experience that requires the right equipment, including the perfect lens to complement your camera. Whether you're capturing lions in Africa or birds in flight, the quality of your lens can make all the difference in achieving the perfect shot.
When selecting a top-rated lens for wildlife photography, it's crucial to consider features such as image stabilization, as you'll be capturing most photos from a distance to avoid disturbing the animals. A high-quality lens with a long focal length that performs well in low light conditions is also essential for capturing stunning wildlife photos.
Nikon is renowned for its innovative technology in the photography world, and they offer an impressive range of lenses for wildlife photography. We've compiled a list of the best Nikon lenses for capturing those thrilling moments in the wild.
Remember, the quality of your lens is more important than your gear, and selecting the right lens can make a significant difference in achieving the perfect shot.
Also recommended: Best Bird Photography Lenses
A List of Top 10 Best Nikon Lenses for Wildlife Photography
Nikon 70-300mm f/4.5-5.6G VR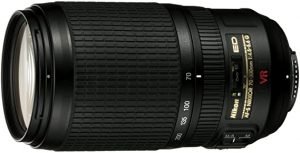 The Nikon 70 300mm telephoto lens with f/4.5 -5.6 maximum aperture is best for Nikon digital SLR cameras. It boasts 2 focus modes with fast auto, silent focusing with a minimum focus range of 4.9 feet. More so, it has a focal range of 70-300mm. The effects of camera shake are minimized by vibration reduction VRII.
Pros
High-quality image, at shorter focal lengths
Efficient image stabilizer
Reasonably priced
Cons
At longer focal lengths, lateral chromatic aberration is visible
Sharpness lags at the edges at full opening and the center at longer focal lengths
Nikon 70-200mm f/2.8G VR II
The Nikon 70-200mm f/2.8G has 7 Extra-low Dispersion elements to provide sharpness in the widest aperture. Also, its Nano Crystal Coat reduces ghosting and flaring. The vibration reduction technology enables shooting over up to 4 shutter speeds slower. The silent wave motor enables fast, precise, and quiet autofocus. While its Flower-shaped lens protects it from image degrading light.
Pros
Sharp throughout the zoom range
It doesn't extend when zooming
Focus limiter switch
A built-in vibration reduction
Cons
Some pincushion distortion
Close focus is limited to 4.6 feet
Expensive
Nikon 300mm f/4 AF-S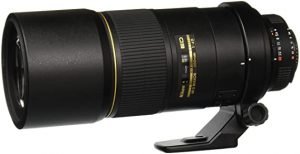 The Nikon 300mm f/4 AF-S is a compact, elegant telephoto lens ideal for wildlife photography. It boasts silent wave motor tech that is quiet and fast. Besides, its high resolution and high contrast photos are made possible by its ED glass elements. More so, its M/A mode enables switching from manual operation to autofocus seamlessly. Lastly, the autofocus elements achieve a natural blur due to its 9 blade rounded diaphragm.
Pros
It Covers Full-Frame Sensor
Tripod Collar
Built-in autofocus
It comes with its hood
Cons
Nikon 300mm f/2.8G VR II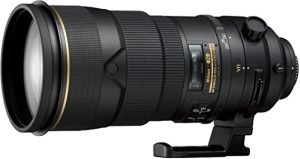 The Nikon 300mm f/2.8G VR II is a professional telephoto, high-performance lens. Firstly, Its images are super sharp. Its color correction is effective, thanks to its 3 low dispersion elements. Second, its image clarity is superb due to its Nano crystal coat that reduces ghosting and internal flare. Thirdly, it promotes image integrity by eliminating comas and aberrations. Fourthly, its autofocus memory recall function returns to a predetermined focus point with the push of a button. Finally its rugged build is moisture and dust resistant. And its tripod detection mode compensates extra vibration from the tripod.
Pros.
It has a wide aperture
Its images are quite sharp
Image distortion is minimal
Quality build materials
It has a rotating tripod collar
Compatible with teleconverter
Cons
Nikon 400mm f/2.8G VR
The Nikon 400mm f/2.8G VR will take your photos to a whole new level. Its edge to edge sharpness is unmatched. Vibration caused during shutter release is counteracted by its vibration reduction system. It will detect tripod mount and adjust its stability accordingly. Its silent wave motor increases autofocusing speed.
Pros:
Images are sharp even a focal length of 2.8
It has a quick focus capability.
Cons:
It's heavy for new users.
You can feel the VR kick.
Nikon 500mm f/4G VR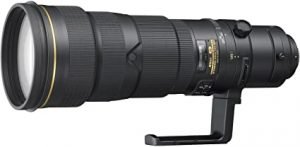 The Nikon 500mm f/4G VR combines nano crystal coating and a meniscus protective glass element to minimize ghosting and flare. The lenses have been optimized to deliver edge to edge sharpness. Shutter release vibrations are easily eliminated by its new tripod detection technology. This compliments the already existing vibration reduction minimizing the effects of camera shake. Autofocusing is precise and powerful.
Pros:
It delivers sharp images.
It has exceptional Fast focus
It easy to use on the go.
F4 is fast enough in low light conditions.
It offers an excellent narrow depth of field.
Cons:
It's expensive.
It is difficult to handhold for long
Sturdy tripod and a high-quality mount
Nikon 600mm f/4G VR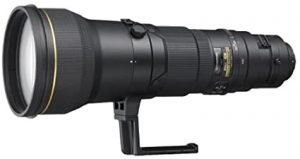 It's the best lens for wildlife photography. The superb NIKKOR 600mm f/4G telephoto lens brings distant objects up close with clarity. Nikon Vibration Reduction image stabilizer provides of blur-free handheld photo shooting. It can deliver sharp still images and High Definition videos. Advanced Nikon lens technology outputs impeccable results in super difficult situations. And it's highly rugged build extra durability.
Pros.
It offers a long focal length.
It works on all kinds of sensors.
It has a built-in autofocus motor
It includes a lens hood and a tripod mount.
Cons.
It doesn't have a built-in image stabilizer
Its not very rugged
Its heavy
Its costly.
Nikon AF-S FX NIKKOR 400mm f/2.8E FL ED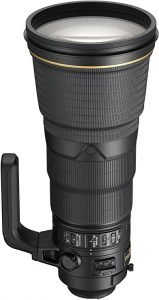 The NIKKOR 400mm f/2.8E FL ED will capture some of the most thrilling moments. Light and rugged, photographers find it easier to use yet get excellent images. Whether it is in low lights, conditions, clarity, and precision remain impeccable. Its unique diaphragm maintains consistent exposure at high-speed shoots. Its pro-grade dust and moisture sealing improves its outdoor capability.
Pros
The optical quality is outstanding.
It has super-fast focusing
Virtually has no distortion
It has an excellent build quality
It is light.
It has an effective VR system
It usable in harsh conditions.
Cons
Nikon FX NIKKOR 200-500mm f/5.6E ED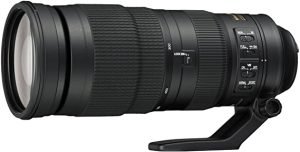 The Nikon FX NIKKOR 200-500mm f/5.6E ED has a unique fast F/5.6 aperture. It can take stunning autofocus backgrounds and performs even in low light conditions. It is compatible with optical TC 14E teleconverters and DSLRs. Its compact design is ideal for bird watching and wildlife photography. The Zoom power on the fx format DSLR of 500mm is equal to 750mm on the dx format with a focus distance of 2.2 meters and a focal length of 200-500mm.
Pros.
It has sharp optics.
Vast telephoto reach.
It has optical stabilization.
The removable tripod collar is included.
Cons.
It outputs soft edges at 200mm.
It is not compatible with some older D-SLRs.
Nikon AF-S FX NIKKOR 800mm f/5.6E FL ED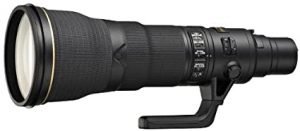 The Nikon AF-S FX NIKKOR 800mm f/5.6E FL ED is the pinnacle of performance in the Nikon wildlife photography lens. This 800mm prime marvel optical design has a magnesium alloy body that is water and dust resistant. And its lightweight fluorite lens improves performance and handling. An AFS TC 800 increases the focal length to a staggering 1000mm bringing the wildlife closer.
Pros
It has a high performing VR & Autofocus
Its lightweight, thus it easier on your hands.
It has extra-long Focal Length
Precise and extreme focus speed.
It has high-performance optics.
Cons