Best Pancake Lenses
Pancake lenses have a fixed focal length and are barely seen on the camera's body. They have become very common, and that is mainly because of their small size and lightweight design. Pancake lenses have advanced with age, and depending on the manufacturer, you can get a wide-angle type.
Pancake lenses have made it very easy to configure a complete camera kit that is very easy to carry with you wherever you go. Pancake lenses nowadays are very versatile and come with great features, and this article will help you find the best.
What Makes A Good Pancake Lens?
A pancake lens is used in almost any kind of photography, from taking professional photos to capturing memories when on holiday with your family. Pancake lenses are very light and compact in design, and that means it is more preferred to other types of lenses. Before buying a pancake lens, there are things that one has to look at to ensure you get the best.
Price
This is the first thing that you should look at when buying a pancake lens. Most pancake lenses are made of cheap materials and don't have much glass. That means you should buy them at a low price considering that you already bought the body. If the pancake lens is too pricy, then you should look for another cheaper one.
Durability
Even though most pancake lenses are made of plastic, ensure that the lens is set in a place where it is protected. That way, even if it gets knocked off and falls, the lens will not get destroyed. This is an essential factor when buying a pancake lens.
Size and weight
A pancake lens should have a slim and lightweight design. Ensure that the lens you buy is light enough that you can comfortably travel with it anywhere. The size also makes it easier for those who are starting in the photography industry.
A List of Top 5 Best Pancake Lenses
Nikon AF FX 2137 NIKKOR 50mm f/1.8D Lens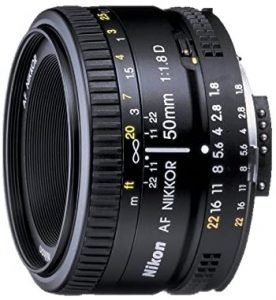 The Nikon 50mm lens is a must-have for any photographer that majors in standard portraits. It is excellent for everyday use, and it is one of the lenses that will always surprise you. It features a fast f/1.8 aperture and a 50mm focal length that will ensure you capture stunning pictures.
With this pancake lens, you are guaranteed pictures with a shallow depth of field, making your subjects stand out no matter the background. This lens is very lightweight, which means it is effortless to carry it with you wherever you go. It will allow you to capture brilliant pictures even if there is a very low light ad that makes it one of the best.
Features and pros:
Quick and precise focusing
Natural background blur
Super integrated coating
Works with minimal light
Lightweight design
High-speed lens
Cons:
It does not come with directions
Requires you to focus manually
Canon Cameras US 6310B002 EF 40mm f/2.8 STM Lens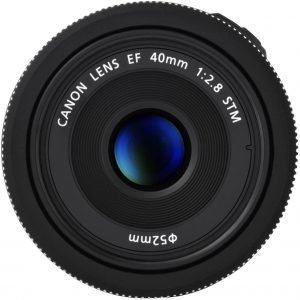 With a lightweight and slim design, the Cannon 40mm is one of the great lenses in the photography industry. It is very compact and guarantees a high-quality photo because of its advanced lens configuration. This lens's outstanding features include a bright 2.8 aperture, aspherical element, and optimized coatings.
The optimized coatings are responsible for minimized flare and ghosting, hence providing exceptional color balance. The small size of this lens helps not overwhelm the photographer's subjects like the big lenses do. The lens is also great when shooting sensitive subjects without compromising the performance.
Features and pros:
Unique and lightweight design
Advanced lens configuration
High-quality images
Inner focusing system
Compact in size
Cons:
Fujinon 16401581 XF27mmF2.8 – Black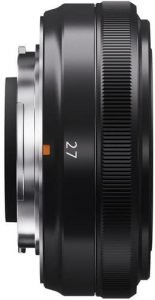 If you are looking for a clear lens and can provide you with high fidelity performance, then the Fujinon XF27mmF2.8 is the one for you. It has a lightweight design, and that makes it an excellent partner for the X-M1. With a focal length of 41mm, which is just like the view of a human eye, you are guaranteed great pictures.
The Fujinon lens is designed to perform well in various types of landscapes and portraits. This lens also has high precision and speed, which means that any fast moments will always be captured. This lens is excellent and will be an excellent addition to any serious photographer.
Features and pros:
High descriptive performance
High speed and precision
Lightweight design
41mm focal length
Super EBC coating
Cons:
PANASONIC LUMIX H-H020AK G II Lens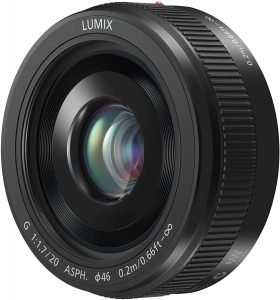 The Panasonic Lumix is a sharp, compact lens that comes with F1.7 brightness. It is very lightweight, and that is why it has become trendy in the photo industry. It is compatible with Panasonic Lumix g cameras and is designed to work well with the micro four-thirds standard lenses.
With a new and improved metal finish, this lens has a very durable metal mount that makes it look very premium. This lens will give you excellent performance with the two aspherical lenses. You also get a multi-coated lens so that you can minimize flaring and reduce ghosts.
Features and pros:
Bright optical performance
Two aspherical lenses
Durable metal body
Multi-coated lens
Ultra-compact
Cons:
A bit noisy
Slow to focus
Sony 35mm F2.8 Prime Fixed Lens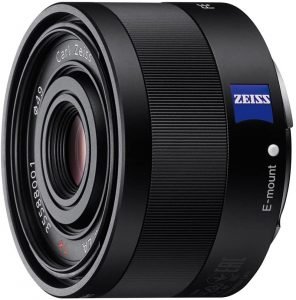 This Sony pancake lens is on this list because of its 35mm focal length and continued outstanding performance. It is a tremendous wide-angled lens that is capable of providing you with great photos. It comes with three double-sided aspherical elements so that you can maintain the resolution and contrast.
The t-lens is also well known for maintaining the natural color of the subjects, and that reason alone is enough to get this lens. This lens also has an F2.8 maximum aperture ensuring that you get the best performance. Due to its lightweight and slim design, you will be able to take this lens with you while traveling, and you can use it to capture all those great moments.
Features and pros:
Outstanding optical performance
Dust and moisture resistant
Bright maximum aperture
Compact dimensions
Cons: