The Best Portable Photo Scanners
Did you know that you can preserve your valuable old photos without fear of losing them? With the help of portable photo scanners, you can safely and efficiently transfer and archive your old photos onto your computer or smartphone. These devices enable you to scan old photos and documents on the go, producing high-resolution images while removing blurs and scratches. You can then easily share these digital copies of your photo memories with friends and family, without compromising the original prints.
Using a portable photo scanner is a great way to preserve your precious memories and ensure that they are not lost over time. Plus, by digitizing your old photos and documents, you can also save the planet by reducing the need for paper copies and the cutting down of trees.
To help you choose the best portable photo scanner for your needs, we have compiled a list of the top 10 options available on the market. With a portable scanner, there's no excuse for losing your precious memories, and you can easily transfer them to a modern digital platform for safekeeping.
A List of Top 10 Best Portable Photo Scanners
Doxie Go SE Portable Scanner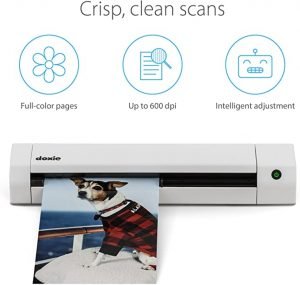 The Doxie Go SE is a battery-powered go-anywhere portable scanner that will solve your simple scanning requirement. It is the size of a rolled-up newspaper and will scan 400 full-colour pages on a single charge at 8 seconds per page. However, it doesn't need a computer to do so, making it an independent reliable scanner which can also store 4000 pages on its memory. To top it up its award-winning ABBYY OCR technology can create pdfs from text recognized from the scanned pages. A doxie app is available, enabling easy synchronization and sharing of the scanned docs and photos digitally.
Pros.
It doesn't need any additional drivers.
It's compact.
Fast high-resolution scans.
Cons.
It's difficult to identify different thumbnails as they look alike.
Epson V370 Photo Scanner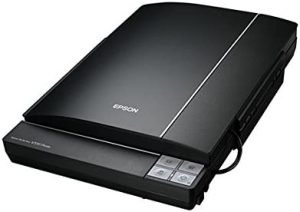 The Epson v370 is one of the best performing photo scanners. It will scan photos directly into cloud services such as google docs and also has a single button scan to your email. Its built-in transparency enables photo enlargements, and it can achieve clarity of 4800 x 9600 dpi. Equally, it doesn't need any warm-up and comes with a scan and stitch software that enables it to scan oversized artwork. Also, it features easy fix technology to restore your faded family photos and clear dirt particles using digital dust correction. More so its 180-degree lid makes it possible to scan 3D objects books and albums.
Pros.
Its 180-degree cover enables scan of bigger objects and books.
It gives you value for money with its dust removal and scan and stitch technology.
It can fix faded areas and crop and enlarge photos.
It doesn't need a computer or extra software to work
It doesn't need any warm up time.
Cons.
The default settings are too dark or too bright.
It is a bit larger for a portable scanner.
Brother Mobile Color Page Scanner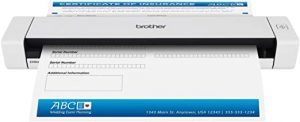 The brother page scanner is a fast lightweight scanner. Despite it just standing at 12 inches and weighing less than a pound, it will scan 8 pages per minute while getting its power from your laptop through the USB port. Additionally, it can scan both coloured and black and white pages as much as small odd shaped photos and even plastic cards. It comes with a ready scan software and standard driver for all operating systems that enable it to work seamlessly with any computer.
Pros.
It is compact, thus ideal for tight spaces.
This unit does not need a wall power outlet
Fast scans of up to 8 pages per minute.
Cons.
The power cord design is oddly positioned.
Brother Portable Desktop Scanner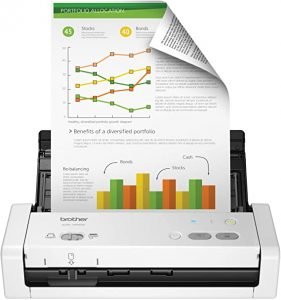 The Brother portable desktop scanner is a fast, portable scanner with a double-sided scanning capability. Uniquely it also has a plastic card dedicated slot as well as a 20 plus page automatic feeder comes in handy for when scanning multiple pages. Besides, it can connect both wirelessly or through the 3.0 micro USB slot. The scanning software comes pre-installed, so you just plug in a start scanning. Finally, its automatic colour adjustments, detection, image rotation, bleed trough prevention, and text enhancement will optimize your images and text to perfection. It can scan up to 25 pages per minute.
Pros.
It has double side scan capability.
It is compact and lightweight
The versatile design allows for wireless scanning to PC
It has a page feeder system for multiple scanning.
Cons.
Wireless transmission is slow during large size transmissions.
Avision Portable Scanner (Is15+)
The Avision IS 15+ boasts an inbuilt auto-crop function paired with deskew advanced tech to offer the best results. It's hardware automatically processes the photos, and you can save them at your place of choice, such as USB flash or memory card. Nevertheless it works entirely independently without the need of a pc due to its inbuilt image processor that can handle anything from a business card to a small memo. Ultimately the automatic feeding system will provide the pages, and you will receive 300dpi resolution images on the other end.
Pros.
It has an auto-crop function.
The photos and cards get scanned quickly.
It scans and saves photos in jpeg effortlessly.
It offers Portable storage
You can save the photos on your place of choice.
Cons.
It doesn't produce the best scan from poorly lit old photos.
Plustek Photo Scanner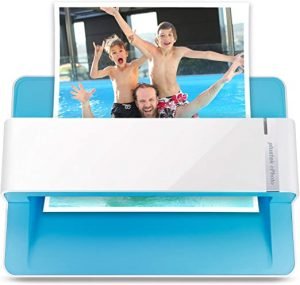 The pluster photo scanner is a fast, compact scanner that can handle up to an A4 size paper and outputting an image of up to 600 dpi. Ultimately it's super fast as it can scan a 4×6 photo in two seconds, turning it into a digital file for you to share with your family and friends. Obviously, all you need to do is insert a photo on one side, and it does the rest. It has a pre-installed efficient image enhancement option to restore and enhance the old photos. In essence, it is compatible with all mac books and windows 7 to 10 platforms.
Pros.
It is easy to operate.
It's a high-quality build.
It scans photos fast.
Its delicate to photos thus causes minimal damage.
Cons.
It doesn't have an automatic auto-correct function.
It doesn't have an automatic feeder system.
Doxie Flip – Cordless Flatbed Photo Scanner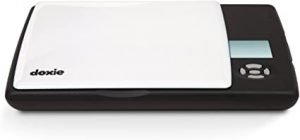 The doxie flip is a modern lightweight, portable flatbed scanner. Whether you want to scan your old photos, sketches, pocket notebooks, it will handle them efficiently. Uniquely it has a removable lid that enables it to be flipped to scan the photos below it. Notably, its transparent scanning window allows you to witness the scanning in real-time. Ultimately its doxie software enables you to save, organize, and share the scanned images to social media platforms, and emails. Also, you can sync them into your apple products. Finally, an SD card slot is available to save your scans while cloud storage offers extra space.
Pros.
It is highly portable as it's battery-powered and compact.
It is compatible with a pc
It offers both SD card storage and cloud storage.
Cons.
It can't scan large books due to its small size.
It has a short battery life of just 200 images per charge.
It only saves in jpeg format.
Epson Workforce Portable Scanner ES-300W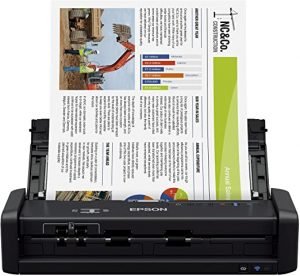 The Epson ES-300 will scan your photos wirelessly onto your smartphone, tablet, or pc. It offers cloud storage and is compatible with both macs and windows. Also, its single-step tech scans both sides in a single scan while averaging 25 pages per minute. Power supply options are plenty, as you can use the internal battery, AC, or USB power. An auto feeder of 20 pages will give you time to relax as it does its job. Auto naming, preview, and object recognition are possible due to its smart scan software. Its optical character recognition creates an editable word, pdf, and excel files of the scanned documents. Its versatile 2 sided scanning capability and its auto-correction and adjustment of the images top it all for the Epson ES-300.
Pros.
It is pre-installed with very intelligent software.
It creates searchable and editable PDFs, word, and excel files.
It has an efficient feeder system.
It has excellent battery life.
It's wifi integrated.
Cons.
The wireless mode is not very efficient.
Its images from uneven documents are not immaculate.
Vupoint Magic Wand Portable Scanner ST470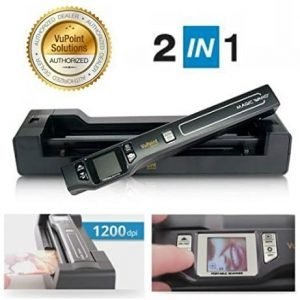 The vupoint magic wand is a unique scanner with a 1.5 " LCD screen where you can preview your scans. It doesn't need a pc as it scans and stores into its 32g micro SD. It will output 1200dpi resolution images while its optical character recognition crates editable texts. Power is well catered for by its lithium polymer battery, which scans up to 400 pages on a full charge.
PROS.
It doesn't need a pc.
It boasts an automatic feeder system.
It comes with a 32GB micro SD card.
The LCD screen enables easy quality control.
Cons.
It only outputs JPEGS and PDFs.
ClearClick Photo & Document Scanner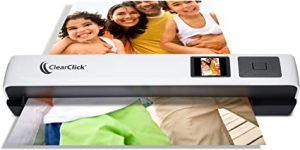 The clear click photo scanner is a small compact, and sleek. It has a 1.45″ LCD screen, which lets you preview the scan as it happens. It outputs high-resolution images of up to 1200dpi. Although the output images can be JPG or PDF, which is made possible by its OCR software, which is preinstalled in the scanner. Lastly, its auto feeder system feeds the scanner at the right speed to produce the best results. A 4GB pre-inserted micro SD card will save all your photos as it doesn't need a pc to function.
Pros.
It is easy to scan and save documents.
It's sturdy and durable.
It gives you value for your money.
Cons.
The battery doesn't last very long during large scans.