The Best CFexpress Cards
If you're a professional photographer or a videographer, you know that capturing high-quality footage is paramount. CFexpress cards are an excellent investment for ensuring the longevity and safety of your work. With SanDisk's introduction of the CFexpress cards, they set the standard for reliability and speed.
These cards are designed to withstand harsh conditions, ensuring your data remains safe and secure. The high writing and reading speeds make them an ideal choice for 4K and 8K video. Additionally, the card's resilience and design make them a top choice for those who need to transfer large files quickly.
One of the significant advantages of CFexpress cards is their backward compatibility with firmware support CFexpress. The low latency feature enhances the recording process's speed, leading to optimal workflow efficiency. CFexpress 2.0 boasts two new card formats, including "type A," which is more compact, and "type C," which is bigger and thicker, and has four lanes, allowing for up to 4 GB/s data transfer.
The compatibility of XQD and CFExpress cards is another notable feature. For instance, after updating your Nikon Z6 or Z7, you can use XQD and CFExpress cards interchangeably. Furthermore, these cards help you save time and money by creating digital backups of your photos and videos, eliminating the need for paper copies.
When making a choice, it's essential to consider the best CFexpress cards available. With their superior speed and resilience, CFexpress cards are a reliable investment for preserving your valuable work. Don't settle for just any memory card, choose the best for your camera and gear.
A List of Top Best CFexpress Cards Every Photographer Should Have
SanDisk 128GB Extreme PRO CFexpress Card Type B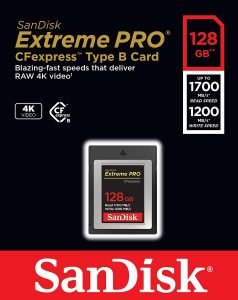 You might be in need of shooting a video where the action is. Now there is nothing that will be better than having the best card to use. You might wonder how Type B will be of use to use to you. Designed to unleash the RAW performance at all times, it delivers the fast speed. Overall, we highly recommend this as the top best CFexpress cards for most photographers.
Made to deliver fast speeds, both writing and reading. The reading speeding goes all the way up to 1700MB/s. Capable of reading videos faster than others, it can also write to a tune of 1400MB/s. Overall, The SanDisk CFexpress card once again can capture 4K videos without your worry.
Read speed of up to 1700MB/s and 1400MB/s write speeds
Low latency during high-speed recording
Smooth, RAW 4K video(1) | (1)4K video (4069x2160p)
Backwards compatibility with select XQD cameras
RescuePRO Deluxe Recovery Software included
SONY Cfexpress Tough Memory Card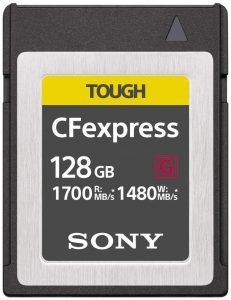 Designed with the latest ultra-fast writing speed that go up to 1480 MB/s, it will work in any environment without it dying out. Designed with a media scan utility, it's able to monitor the condition of the card and also its storage limit. It is a product that has the ability to just work without suffering any errors. That is one great thing that will ensure better work at all times.
Durable, the Sony CFexpress card offers fast writing and reading speed. Capable to capture the 4K videos and continuous type of recording, the card can work well in extreme temperatures.
Tough and rugged, the card is about 3x stronger than any other that you might have come across. When things have gone wrong, you can still be able to rescue your items with the use of this downloadable software. The software will recover all the accidentally deleted files with ease.
3x greater than the CFexpress standard of bending
Capable of withstanding 15 feet drops
Extreme temperatures, X-rays, electrostatic and intensive UV sunlight
High read speed of up to 1700 MB/s
Media Scan Utility
Memory Card File Rescue available for download
Includes USA Manufacturer Warranty
ProGrade Digital CFexpress 120GB Memory Card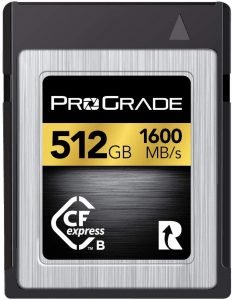 If you are in need of capturing 4K, 6K and more type of videos, this is the kind of CFexpress card that will just work out for you. With a strong write speed of 1000 MB/s, you can have flawless capture. You don't have to worry of your photos crumbling and videos getting lost. Its 2TB capacity card offers up to 1,700MB/s read speeds, but only guarantees a sustained write speed up to 400MB/s.
Backward compatible with XQD devices with firmware update
Available in capacities from 120GB to 1TB
Delkin Devices 1TB Power CFexpress Type B Memory Card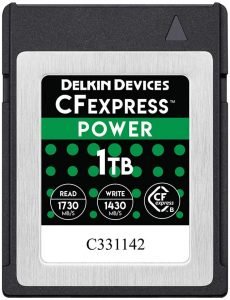 Delkin Devices says each of its cards undergoes "extensive testing to ensure full functionality and performance" using the latest CFexpress compatible camera systems.
Records 8K, 6K & 4K Video at High Frame Rates & Bitrates
RAW Continuous-Burst Ready
Read/Write Speeds: 1730/1430 MB/s
Backwards-Compatible with Select XQD Supported Cameras
Lexar Professional CFexpress 128GB Type-B Card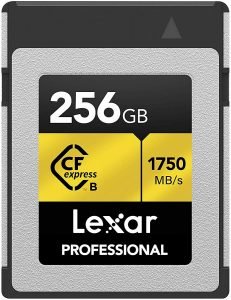 With superior performance, the Lexar Professional is another affordable choice to make it on this list recommendations.
Transfer speeds of up to 1750MB/s read
Sustained write speeds of up to 1000MB/s
PCIe 3. 0 and NVMe protocol