The Best Smartphone Camera Rigs
Modern technology has enabled smartphone cameras to capture stunning, striking, and vibrant images. However, despite their impressive capabilities, smartphone cameras are still unable to produce the same epic, professional-grade photos and videos that dedicated cameras can. To achieve this level of quality, camera rigs and grips are essential tools for capturing photos, videos, and filmmaking. These rigs and grips are invaluable additions to any smartphone video kit.
A List of Top 10 Best Smartphone Camera Rigs
Shoulderpod Handle Grip for Smartphone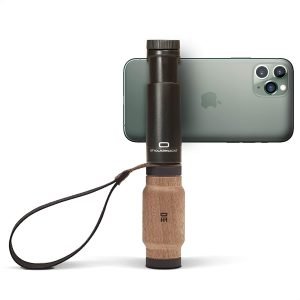 Shoulderpod S2 is a portable handle grip that comes with a tripod stand. It also has a handle for filmmakers and a stand for travelers. It fits most mobile phones and is made with quality materials that are lifetime durable.
Specifications
Adjustable to fit your Smartphone
3 in 1 quality grip
Secure with rubber pads
Professional tripod stand
Pixlplay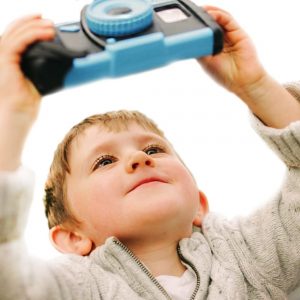 This award-winning product is mainly created with kids in mind. It is made with a rubber grip in the shape of a traditional camera, including a shutter button. It is cheap, and it will keep your phone safe from drops with all the rubbery material used.
Specifications
Child resistant latches
Comes with screen protection
Dirt protection
Connects to WIFI
Has no Bluetooth connectivity
ShutterGrip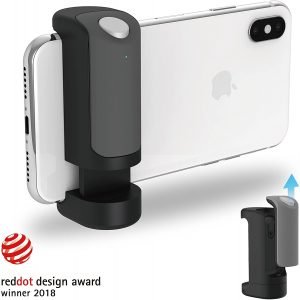 This device transforms your Smartphone to a professional camera as soon as you attach it. It uses a tensioned grip that can connect to many phone brands. It is comfortable to use and comes with a Bluetooth shutter button.
Specifications
Tripod stand support
One hand control
Bluetooth shutter button
Adonit Photogrip Qi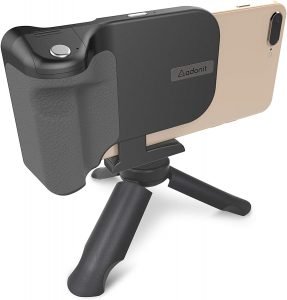 The photograph takes a lot of power, and they drain batteries fast, but with Adonit, you don't have to worry about your battery because it comes with its battery plus it will charge yours as well. This rig is very cool looking and very practical as you can remove the shutter and use it remotely.
Specifications
Weight is around 130 g
Made from silicone rubber
Has a removable shutter
3000mah battery
Pictar Mark II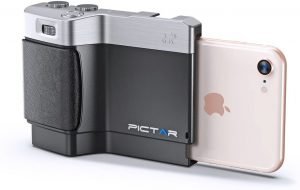 This rig allows the user to have unprecedented control. Pictar comes with a beautiful, user-friendly app. It comes with a smart wheel for switching presets and shooting modes. It's accessories also includes a zoom ring.
Specifications
Exposure lock
Shutter button
Compatible with Android and IOS
Zoom ring
Shoulderpod X1 Pro Rig for Smartphones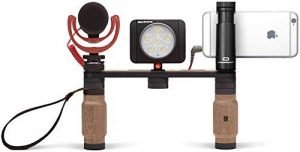 This is an advanced production rig based on the Shoulderpod S2 best suited for video bloggers or mobile journalists. It was made in Barcelona from polymers and sapeli wood. It comes with two handles that are similar to the S2.
Specifications
Modular system(can be modified)
Compatible with other photo equipment
Mic available
Joby GorillaPod Mobile Rig (JB01533-BWW)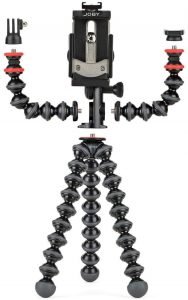 The camera rig is made with content creators in mind. You can attach your Smartphone, mics, and lights with the rig. Vloggers can stand it or grip it with ease. It also includes two cold shoe mounts.
Specifications
Switch portrait to landscape mode
Can add up to three devices
GripTight mount which can be locked
K Multimedia iKlip A/V Broadcast Audio/Video Mount & Pre-Amp For Smartphones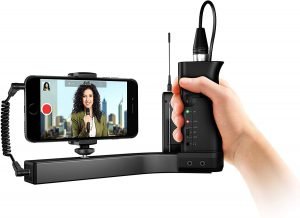 The emphasis with iKlip is audio quality for broadcast professionals who work on the go. It can be mounted on a standard tripod, and users can plug their preferred microphones. It has dedicated support for a wireless receiver.
Specifications
Wireless mic receivers
Adequate room to mount more accessories
Thread to attach a tripod stand easily
DREAMGRIP Evolution MOJO Universal Transformer Rig for Smartphones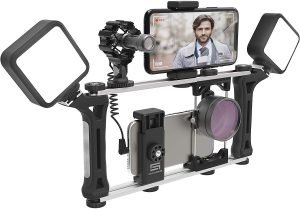 The camera rig has a kit to enhance and improve the quality of videos and photography professionally sufficiently. It can fit all necessary accessories in the rig and can also accommodate a power bank or another Smartphone as a monitor or second camera.
Specifications
36 LED lights
Pointed gun microphone
Aluminum rig frame
Beastgrip Universal Lens Adapter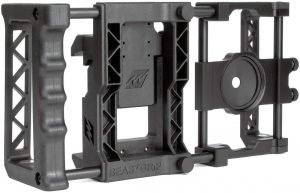 The rig with no limits and sturdy enough for professionals. Almost all smartphones can work with this versatile, designed rig. The Beastgrip is fully adjustable, durable, and uses film industry-standard lens and mounts. You can use it as a simple tripod mount. Universally compatible with most smartphones, this product also works with virtually any camera phone on the market. We like how easy it is to access to phone buttons, USB and charging ports.
Specifications
Includes a shoe mount
Works with or without a phone case
Five standard supportive mounts
Modular design with removable lens mount assembly and handle
Simple and convenient in use, works with or without protective phone case
Top 10 Best DSLR Shoulder Rigs