Top 10 Best Strobe Lights for Photography
Strobe lights are specialized lights that are synchronized with cameras to provide flash lighting when taking pictures. They are available in different sizes, outputs, and speeds, and are compatible with various camera models. In this article, we present the top ten strobe lights for photography available in the market today, which are perfect for both studio and outdoor photography.
If you're a professional photographer looking for a reliable flashlight strobe that provides excellent lighting intervals for quick and stunning images, this list is for you. We've provided detailed reviews of each product to help you choose the perfect strobe light for your needs.
A List of Top 10 Best Strobe Lights for Photography
Godox AD200 200Ws 2.4 G TTL Flash Strobe 1/80000 HSS Cordless Monolight with 2900mAh Lithium Battery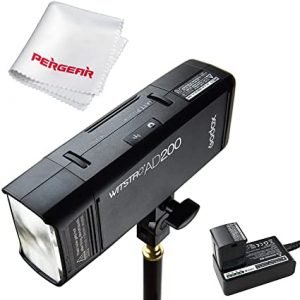 Although this flashlight strobe is a bit pricier than other models, it is quite reliable in providing the best light for both indoor and outdoor shots. It is powered by 2900mAH lithium battery that empowers the light to capture up to 500 flash images. It is compatible with different models of cameras including; Canon E-TTL, Nikon TTL and even Sony TTL to name a few. The presence of the 2.4 G system triggers the device to integrate with Godox X1 flash trigger set at 100 m away to capture great portraits. There are 8 levels of power adjustment depending on the area you are shooting at. The flash head is removable in case you want to change it for better-focused beams.
Neewer Visions5 400W TTL for Sony HSS Outdoor Studio Flash Strobe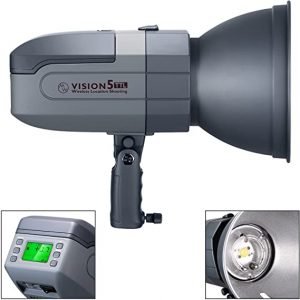 This is another reliable model from Neewer light strobe ideal for Sony cameras. This flash strobe is ideal for people taking shoots on the outdoor since it provides an excellent light display on different areas. It is powered by a powerful and durable lithium battery that empowers it to take up to 500 flash shots. The strobe is equipped with an LED light that offers excellent and stable light temperatures depending on the areas you use it or the area you take the pictures from. It is an energy-efficient light strobe as the light is dimmable to save on the power consumed in between the shoots. It offers short flashes to enable you to take multiple pictures within the shortest time, and the power can adjust depending on the areas you use. The light strobe comes with one year warranty for quality assurance.
Godox AD600BM Bowens Mount 600Ws GN87 High-speed Snyc Outdoor Flash Light Strobe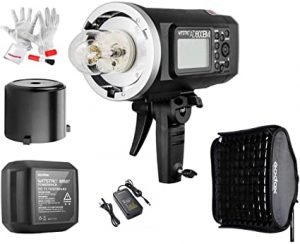 This Godox flashlight strobe for photography has a high syncing power and is compatible with Canon Nikon cameras or Sony Fuji Olympus. It is light in weight for comfortable holding when taking images even for long hours. 10 LED model lamps provide warm and balanced light temperatures depending on the areas you are shooting at. The light has a large LCD for easy viewing when controlling the settings. The equipped 8700mAh lithium battery delivers up to 500 full shots with a relying time of 0.01 to 0.5 seconds. The pack comes with lens cleaning paper to ensure clarity when taking pictures.
PIKA200 A200 200Ws TTL Pocket Flash BD-07 Barndoor Kit Fresnel Speed lite Bare Bulb High-Speed Sync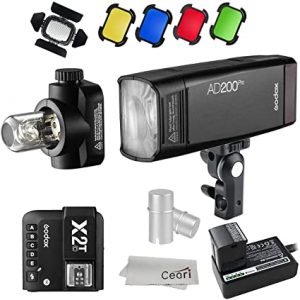 This is a versatile flashlight strobe for taking photos indoors and outdoors. It has an interchangeable flash head to ensure you achieve different light styles. The recycling time is super-fast as it ranges from 0.01 to 2.1 seconds. The light provides a high-speed flash of up to 1/13000 seconds to save on energy use and ensure you get great shots. This light consists of LED middle lights with a total of 8 stop power range. This light strobe is powered by a lithium battery and one is provided with a charger.
Neewer SK-40011 Studio Strobe 400W 2.4 G Wireless System GN65 5600K Monolight with Bowens Mount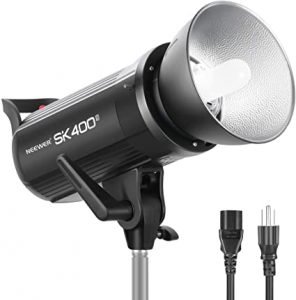 This is one of the top best models for shooting either on indoors and outdoors. With a power output of 150, this light strobe provides a great light illumination of up to 5600k. There is no need to keep on adjusting the light as it automatically adjusts the light depending on the area you use it. This light has an automatic save setting of 3 seconds to help you recover your photos in case of a power outage. It also has a fast recycle time range of 0.1 to 1.0 seconds. The light features a buzzer to guide you on when to take the next shot and it is also compatible with the flash trigger for guiding you as well.
Godox AD200ro 200W 2.4G TTL HSS 1/8000s Pocket Flash Monolight Double Head Strobe
There is a wide range of colour temperatures on this light to ensure you achieve clear and well-balanced shots. It comes with a carrying bag for easy storage and carrying around. It features 100k colour change range that automatically changes depending on the area you are taking the images from. It has a powerful lithium rechargeable battery that offers speedy recycling time of 0.01 to 1.8 seconds. Note that this light is compatible with various devices such as Godot TTL cameras and flashes TTL. The headlights are interchangeable and changing it takes a few minutes. The light has a large LCD for easy viewing when changing the settings.
CITI600 600Ws AD600BM Manual Battery-Powered Monolight Strobe Flash Built-in Receiver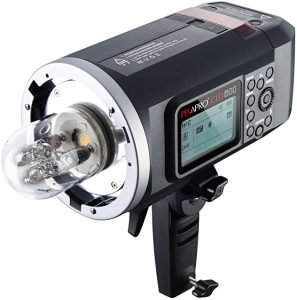 Get the best outdoor shots with this amazing flashlight strobe. It is quite light in weight for comfort when carrying around, and for holding when taking your images. There is the 2.4 GHz ST-111 radio receiver that provides excellent and fast flashes duration to enable you to get the perfect images. The light has a large LCD for easy making or changing the settings. This light also has a fast recycling time that ranges from 0.01 to 2.5 seconds. Note that this light has a freezing mode to enable you to take great slow shots in special events.
Neewer 600W Studio Strobe Flash Photography Lighting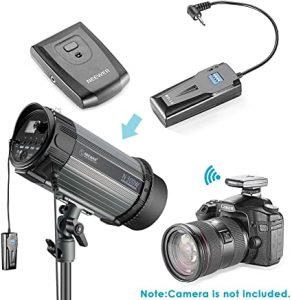 This is a great and reliable flashlight strobe recommendable for use on indoor areas such as studios. The pack comes with all the necessary parts such as the 300W moonlight, softbox and a wireless trigger to enable one to get the perfect shots. This light can also be used for taking videos as it comes with a 33-inch translucent umbrella. This light has a high syncing power as you can work from a far distance of up to 30 metres. The light strobe is flexible since you can opt to mount it or hold with your hand when taking shots. The recycling time ranges from 0.3 to 1.8 seconds at a distance of around 10 meters away.
Neewer 250W 5600k Photo Studio Strobe Flash Light Monolight with Modeling Lamp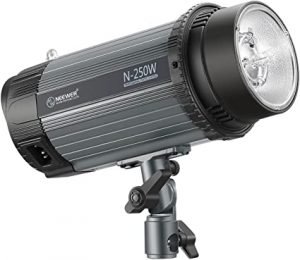 If you are looking for a studio light for professional photography then this is a great model to consider getting. It features an LED panel that provides excellent and accurate light precisely to enable you to take spectacular effect portraits. It has a high syncing power of around 10 metres with a flash duration of 1/2200s.The presence of the 250W flash makes it easy to take images even on the poorly lit area. This is also a flexible light that you can either mount or hold with hand when taking images. The light features a 75 W modelling lamp that you can adjust in three flash modes.
Neewer Visions5 400W TTL for NIKON HSS Outdoor Flash Studio Flash Strobe with 2.4 G System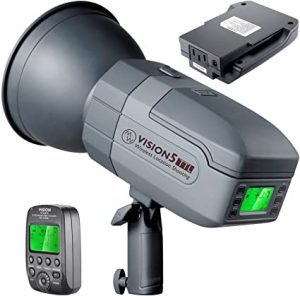 This is an advanced light strobe for those involved in professional photography. It is ideal for outdoor as it features a flash mechanism to ensure you get quality pictures even in poorly lit areas. The light is compatible with a wide range of NIKON cameras only. The pack comes with two lithium battery that provides up to 500 full power flash and high speed recycle time as well. This strobe has a dimmable mode to reduce power usage from 400 W to 13 W. The light also features a 2.4 G system that consists of up to 8 channels for receiving the images. It is sold with a one-year warranty for quality assurance.