Best USB Audio Interface
Audio interfaces are one of the key components in the music industry, whether professional music studio or home-based music. There are many USB audio interfaces in the market today, and this turns out to be a challenge for some people especially beginners. This article will provide you with the best 10 USB audio interfaces (2021). The following are the best 10 products.
A List to Top 10 Best USB Audio Interface
Focusrite Scarlett 2i2 USB Audio Interface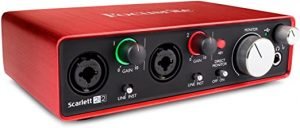 Focusrite 2i2 USB audio interfaces by Focusrite is an ergonomic audio interface with two channels for podcasting, recording among others. It comes with two audio inputs as well as two audio outputs and two integrated Scarlett preamps convenient for drums, guitar and anything else.
Focusrite Scarlett USB 2i2 features an 'Air' button which when engaged, adds more air and sonic quality to your voice or to your instrument thereby producing a more bright and open sound. The wired analog circuit protects the inputs and output from the interface power surges. The instrument also consists of a direct monitor circuit switch which provides extremely low latency hence easy monitoring.
Pros:
– Extremely low latency.
– It consists of an " Air" button for more openness and brightness.
– Safe and convenient to use.
Cons:
– It uses USB-C type cable.
Arturia AudioFuse 8Pre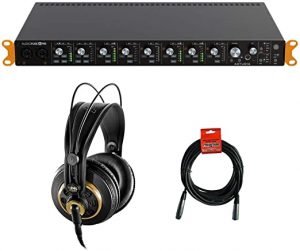 This is a great audio interface instrument with small and compact design with 8 channels and 8 discrete pro preamps for clean sound production making it ideal for modern studios. Arturia 8Pre uses a USB-C type connection for easy and faster computer connection. The instrument is also ADAT compatible allowing you to use two 8Pre interfaces hence 16 inputs. The product package consists of Arturia's creative suite software pack, analog lab software lite version, talkback microphone, clear metering lights, and mini filter plugin.
Pros:
– It does not add noise or any other bad impact, hence clean and clear sounds.
– USB 2.0 compatible.
– ADAT compatible.
Cons:
– It is less portable.
Universal Audio APLTWDII Duo Apollo Twin MKII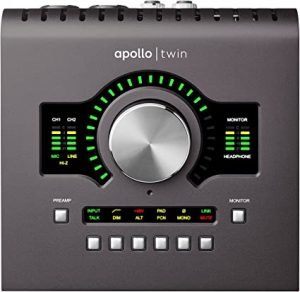 This is the best USB audio interface for your music production and one of the world's top-rated USB audio interfaces. The instrument features high-end converters with all plugins on board. Despite the compact design, it is a whole mixing console, that provides exclusive monitoring and wide dynamic range controls. The ergonomic external sound card makes it the best for music production. Duo Apollo Twin MKII has an inbuilt UAD processing for analog, rich, and warm sound production while mixing and tracking, as well as Unison mic preamp technology.
Pros:
– PC and MAC compatible.
– Unison mic preamp technology for popular sound recreation.
– Talkback built-in microphone.
Cons:
– Expensive
Steinberg UR22C USB 3.0 Audio Interface

This is an ideal instrument for professional music by Steinberg with monitor inputs, TRS headphone output, combined TRS instrument inputs and microphone, and MIDI inputs. The machine is designed to use a USB 3.0 and USB-C type connections to allow the use of a MAC, PC, or any IOS device. It also features a dual microphone, phantom power, and line inputs. The MIDI inputs and outputs also allow you to easily transfer MIDI information from other devices including your computer. Steinberg UR22C audio interface comes with five outputs compatible with studio monitors. The product package also comes with Cubase A1 and Cubasis LE for use with your computer and iPad respectively.
Pros:
– ASIO, Core Audio, and WDM compatible.
– It comes with Cubase AI and Cubase LE.
– MIDI inputs and outputs.
Cons:
– Weaker mic preamp compared to others.
Apogee ELEMENT 46 Audio Interface with World-Class Mic Preamps

This is a versatile audio interface for recording and collaborating in home studios or professional studios. Apogee audio interface features 12 inputs and 14 outputs for world-class music production as well as 4 world-class mic preamps. The world-class input-output channels include 4 analog inputs and 6 analog outputs. It also consists of adjustable phantom power compatible with condenser microphones. The audio interface allows super-fast audio recording and transfers into your DAW using a thunderbolt connection. It is also compatible with ADAT, S/PDIF, SMUX using some optical inputs and outputs.
Pros:
– It consists of an Apogee Control Software for Mac.
– It allows remote control for both IOS devices and computers.
– Capable of supporting multiple units.
Cons:
– It is only compatible with IOS and MAC devices.
PreSonus AudioBox iTwo USB 2.0 Audio Interface for IOS, PC/Mac

PreSonus music audio interface by PreSonus features a bus-powered USB 2.0 for MIDI and iPad audio interface. It consists of 2 combo mic line inputs, class-A mic preamps, and 2 phantom power that include TRS main and headphone outputs both 1/4 inches. It also comes with a Capture Duo app for iPad recording and a Studio One Software for music production with MAC and Windows computers as well as easy and fast wireless songs transfer. The PreSonus AudioBox Software also includes 4 virtual instruments, 27 native effects, and 6GB beats and sample content.
Pros:
– Compatible with most recording software for iPad, Windows, and MAC.
– Cheap and affordable.
– Two instrument inputs.
Cons:
– It is not so durable.
Roland Rubix 24 USB Audio Interface
The Roland Rubix 24 Interface is designed in a compact and sleek design with high-quality sound production and long-lasting construction. It consists of two inputs and 4 outputs with extremely low noise and great headroom for a perfect recording. This music instrument is compatible with IOS, MAC, and Windows devices. It is made of metal construction with exclusive shielding as well as ground lifts to protect the device from being interfered with, by other electromagnetic fields. Roland Rubix 24 USB Interface also has of an inbuilt limiter and compressor to regulate the vocals and instrument dynamics thereby preventing distortion of the signal.
Pros:
– Built-in limiter and compressor.
– Cheap and affordable.
– Compatible with IOS, MAC, and Windows devices.
Cons:
– None found.
Mackie Onyx Producer 2-2 Audio Interface

This is a versatile device with high-resolution converters and analog circuitry for great sound delivery, hence ideal for content creators and singer-songwriters. The mic preamps are designed to provide a high-quality and dynamic range for recording and performing as well as the headroom. The product also consists of 2 XLR and instrument inputs and outputs for recording, without using other adapters and cables that may lower the sound quality. The direct monitoring in this device has extremely low latency and also comes with a headphone output making it convenient to record.
Pros:
– MIDI ports for recording with MIDI as well as MIDI information transfer.
– Easily portable.
– Tracktion T7 software for mixing, recording, and editing.
Cons:
– It uses a USB 2.0 connection only.
Tascam USB Audio/MIDI Interface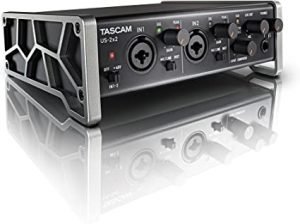 Tascam USB Audio/MIDI Interface is an ideal USB audio interface for home studios with 2 high gain preamps microphones for easy recording as well as a gain knob for every channel. The device is compatible with Windows, Mac, and IOS devices. The gain knob, impedance switch, and the signal volume indicator enhance quality recording when directly using the guitar and other devices. The product also features an HDDA preamp with extremely low self-noise hence providing a crystal clear audio.
Pros:
– It features phantom power for versatility.
– Study with metal construction.
– Compatible with MAC, IOS, and Windows devices.
Cons:
– Special drivers are required for installation.
Behringer UMC404HD U-Phoria 89
Behringer U 89 is a USB audio interface with a 24-bit/192kHz resolution and 4 preamps with MIDAS design. It has a wide control complement with easy and amazing performance. It consists of 4 TRS/XLR combo line inputs, 1/4 inch headphones, and 4 inserts with 1/4 inch sizes. Behringer U 89 also uses +48V phantom power for convenient usage with extremely low latency monitoring. Behringer UMC404HD features a bus-powered USB interface hence portable mixing for both mobile recording and home studios. It is cheap and reliable.
Pros:
– Easily portable.
– 4 preamps with MIDAS design.
– Affordable and reliable.
Cons:
– Not ideal for beginners as it lacks instructions.