Top Best Light Reflectors for Indoor Photography
Photography is also about light and lighting. It's not just solely about the camera and lens. The creative use of lighting is a significant step to produce best photography work. A folding or collapsible light reflector is very handy for most studio photographers. So with the best light reflectors or disks, you can magically light your subject in your studio.
While it's easy to pack and carry with you, professionals use the light reflectors "5-in-1" for the following purposes: The silver and white are ideal to fill light and to reduce the contrast at a sunny day. The black surface adds contrast so that it can shield any fill light from clouds or nearby bright areas. Gold? It warms your subject up. And the translucent fabric.
This list of the best light reflectors is hours of my work to create. I hope that after reading this, you'll be able to pick the best one that will suit you requirements.
In indoor photography, the top best light reflectors are one of the must-have lighting equipment and accessories for most modern studios and photographers.
Also: Best Portable Photo Studio Kits
A List of Top Best Light Reflectors for Indoor & Studio Photography
Westcott Eyelighter 2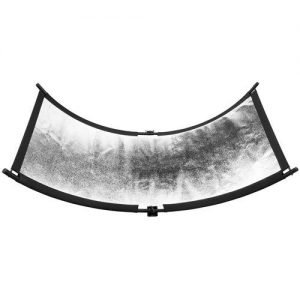 If you want to create beautiful lighting with a seamless curved catchlight, then this redesigned base with locking tilter will adds versatility and greater lighting control. With this high quality reflector, it's really easy to setup for quick on-location photographing. You can add a more glamorous feel to the image.
curved reflector for portrait and headshot photography
Reflective silver surface bounces studio or ambient lighting
Insignia – 32″ Collapsible Light Reflector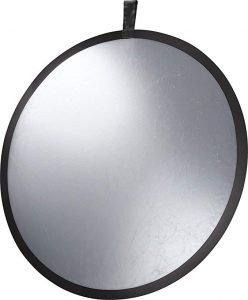 This light reflector can enhance your 1-2 person portraits, still-lifes and macro setups. I like the quality textile material used for this collapsible light reflector. It's quite durable.
Modifies indoor and outdoor lighting
White side: Reflects soft, natural light
Silver side: Offers bright, clear light
Neewer 43-inch / 110cm 5-in-1 Collapsible Multi-Disc Light Reflector with Bag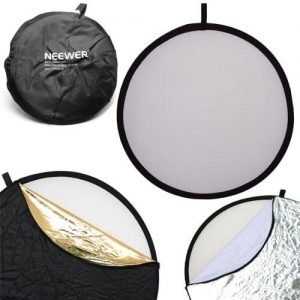 This is the best collapsible light reflector for under $20. However, you won't be disappointed by the quality. Furthermore, this Neewer reflector is light and easy to carry for outdoor photography session. This reflector fits any standard reflector holders.
Good quality material at a good price
Durable and flexible steel spring frame
Easy spreading and closing
Folds into a easy
Impact 5-in-1 Collapsible Oval Reflector (42 x 72″)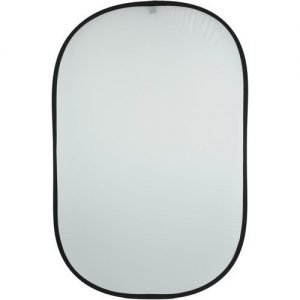 For some photographers, this reflector is not very easy to fold, unlike the others mentioned in this review, so I'd recommend that you consider this for in studio use.
Tear resistant
Lightweight fossil style
Come with a nylon carrying pouch
Eyelighter, TriFlector, Clamshell Light Reflector/Diffuser for Studio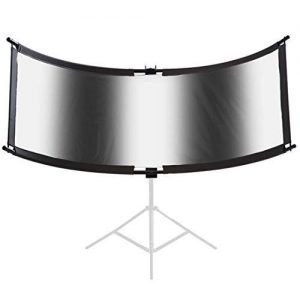 A good glamour style lighting for professional studio photographers, the Eyelighter light reflector can function well. The durable zippered carry case is really useful. Doing portrait photography? Get this. For most professional photographers, this is one of the best folding light reflectors for use during head shot sessions.
Durable all metal construction stands
Handcrafted from aluminum extrusion
Very easy to use
Etekcity 24″ (60cm) 5-in-1 Light Photo Reflector for Studio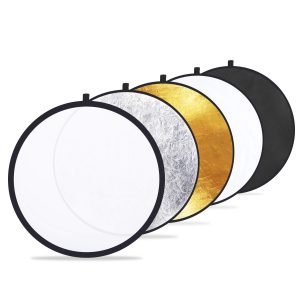 Etekcity stands out as the best reflector for outdoor shooting. A set of a nice size reflectors!
5-in-1 Lightweight Kit: Gold, Silver, White, Black and Translucent
Collapse disc into a portable size for travel
Selens 5-in-1 43 Inch (110cm) Portable Handle Round Reflector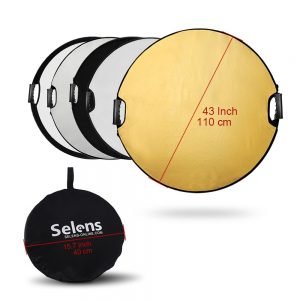 The light reflector can help create catchlight and increase the exposure of the subject. Essentially, it's one of the best solution for portraits and animals photo shooting.
Portable and easy to use
Made from quality material for durability