In an ideal world, having the best studio kits means that you can easily get the best result from your work. There are many portable photo studio kits available in the market. But in this review I will cover 10 best additional instruments, which would be useful for photographers and studio owners. We will discuss such categories as portable studio kits and lightning kits for both professional and home studios.
The Best Portable Photo Studio Kits in 2018
1. LimoStudio 16″ x 16″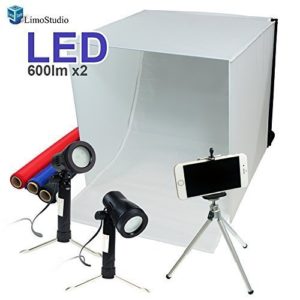 This one is probably a winner product of the year 2017, coming with a full list of high-quality and unique features. It sets up easily and by the light of nature (even though it comes with manual instructions). Comfortable handling is provided alongside with probably best-quality result. This instrument will handle everything that depends on studio kit.
This kit is complete. And it means it contains everything, except the camera. And this whole set works just as it has to. Tripod works great, when steading your camera, light bulbs will be an excellent source of professional daylight and the whole kit is easy to set.
2. MyStudio MS20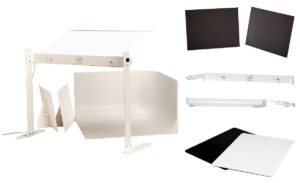 MyStudio MS20 is another high-quality professional kit designed to turn amateur pictures into professional shots. A first interesting feature of this product is the fact that it is waterproof. Also, its form and the whole design were adjusted to add some professional outlook into its user's photos. And its design by itself surely looks professional and will please its owner's eyes.
MyStudio MS20 has proved itself perfect for capturing jewelry, shoes, handbags, etc. The reason for that is the high-quality material and already mentioned design. The material also lets this kit to be cleaned easily. However, few things still need improvement. For example, lamp holders appear to be fragile and the light source by itself is quite weak. A cool bonus is an additional DVD instruction that will help you to understand how to use this kit, in case you will be stuck while setup.
3. StudioPRO 24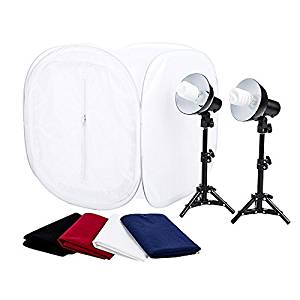 ″Photography, on its technical side, seems to enter its golden age nowadays. And one of the best examples for this statement is StudioPro 24″. Its light weight, steady backdrop (attached with Velcro Straps) and protective latches on sides and front can provide you with professional photo kit of high mobility.
In their reviews, existing customers pleasantly admit that every last word of the manufacturer was true and they are fully satisfied with the product they got.
This kit will be mostly suitable for capturing small objects in different places. Its mobility is also acquired by polyurethane tables.
4. Neewer 60×60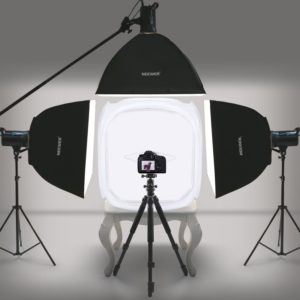 The 60×60 size of this kit will make studio photography as easy as possible. This would be a great choice if you seriously considered the question of purchasing a studio kit. Lightbox is made of high-quality fabric nylon and nylon velour and the kit is supported with 4 large colored sheets (white, black, blue and red) which will help you to model spot space. This kit also includes additional front covering for a full surrounding of the shooting object. The material is light diffusing by itself which will help you to get bright and professional shots.
5. Elviros professional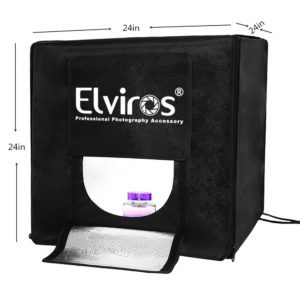 This kit was designed for home-made photo studios in order to provide the best quality possible in a space which is not intended for photography. The lightbox is provided with a unique woven silver reflector, heat resistant and able to get rid of reflective glare and harsh shadows. And it can still provide you with great illumination. Two color backgrounds (black and white) and two shooting holes will let you use different shooting angles and create different spots which will suit every object perfectly.
Related Reviews: