Top 10 Best Portable Photo Printers
Do you enjoy taking photos of foods, adventures, friends, and pets with your phone? With the best portable printer, we can easily take it with us and print instantly. In this list, I will discuss the top rated portable photo printers available this year. I picked the best portable printers (ideal for a business trip or just a trip across town) for your camera or smartphone. Read on to find out more! The best portable photo printers (from handheld to high-tech professional grade options) should be:
Easy to install and use with Android smartphone and iPhone
Built-in rechargeable battery
Very mobile and lightweight
Also: Best Inkjet Photo Printers for Photographers
This list will certainly help you find the best pocket printers you can instantly print from iPhones and most Android smartphones using Bluetooth connectivity. As you've been through my list of the best wireless photo printers, both HP Sprocket X7N07A and Canon IVY Rose Gold are top of the list.
I highly recommend that you should buy the HP Sprocket X7N07A portable photo printer for its lightweight and small footprint. Quick (super easy to install and use), great quality printing (better than the Polaroid printer) via Bluetooth. You'll also love the special effects!
With the best portable photo printer, you can instantly print your favorite photos to decorate your room. These compact yet effective devices are the latest form of swift gratification. Thanks to professional quality passport photos, the best mini photo printers are popular all over the country.
A List of Top 11 Best Portable Photo Printers for Photographers
HP Sprocket X7N07A Portable Photo Printer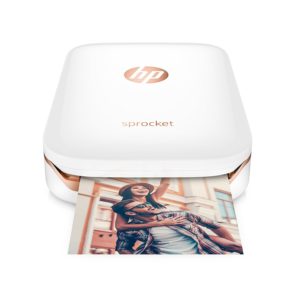 With the HP Sprocket X7N07A printer, it has never been simpler to print off your photos from the smartphone. Simply connect your account to the free HP application and make those virtual pictures into colorful editions. What's more? You can add emojis, borders, and text to customize each photo for your friends. The package comes with a setup card, 10 sheets of photo paper with backed sticky, a micro cable for USB, and the HP Sprocket printer.
Why we love and recommend this HP Sprocket. Well, it's very fast! The spool up time to print is a full 20 seconds less than the Polaroid Zip. Also, the quality is yet better (Polaroid Zip prints are generally much too dark). The HP app is much more user friendly than the Polaroid.
Seamless Bluetooth connectivity
Compact design for easy transportation
Vibrant and glossy colors
Kodak Instant Mini Portable Photo Printer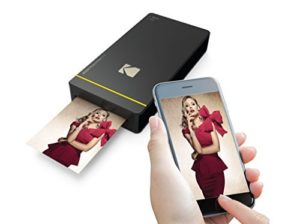 Kodak is certainly one of the most well-known brands in photography. This photo printer allows you to wirelessly and instantly print favorite photos from your smartphone without any cables. All that you need to do is to download the Kodak app on Android and rung the NFC One-Touch feature to perform this task within seconds.
In addition, this model comes with card templates, stickers, cropping, filters, and many fun features to give you the best opportunity to personalize your pictures. The Kodak portable printer is available in gold, white, black, and is also compatible with iPad or iPhone if there is a Wi-Fi connection.
Free Kodak app to use
Combined color ink and paper for easy maintenance
High-quality photos
Print instantly and wirelessly
Polaroid Mini ZIP Printer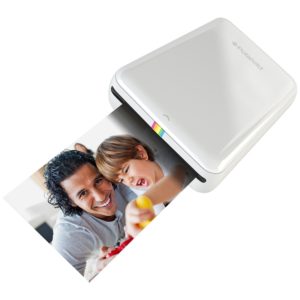 Originated as a no-waiting photos brand, now Polaroid creates this ZIP printer to help you produce fun snapshots from a smartphone or tablet with NFC technology or Bluetooth. While purchasing, you will get a free version of the Polaroid app for Android and iOS. The package comes with sticky papers to print smudge-proof and 2×3-inch photos with decorations, cards, and stickers.
Above all, this device is only 6.6 lbs in weight, making it easy to store in your pocket and bag.
Compatible with iOS and Android devices
Directly print via NFC technology or Bluetooth
Work with high quality papers
Provided sticky paper
Colorful and high quality photos
Canon IVY Rose Gold Mini Photo Printer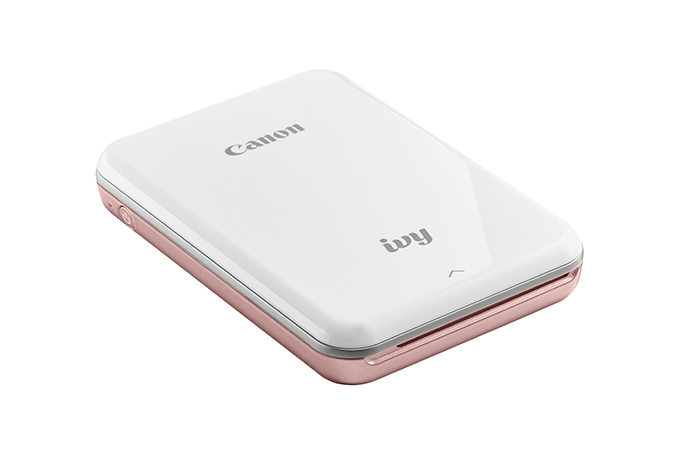 The very first thing you can with this IVY Rose Gold Mini printer is that you can customize your photos before you print them. For example, you can add frames,emojis, stickers, filters, text, tile print, collage print and more.
Print from social media
Print instant 2″x3″ photos
Very portable
No ink needed
Also: Canon TS3122 US Wh/Blk Pixma Wireless Inkjet All-In-One Printer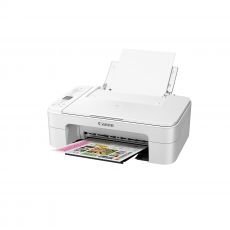 If you're looking for a budget portable photo printer, the Canon TS3122 is one of the best product available this year. Surprisingly, this Canon portable printer works well with my iPhone or any of my computers.
Auto power on/off
Hybrid ink system for quality photos
instax SHARE SP-3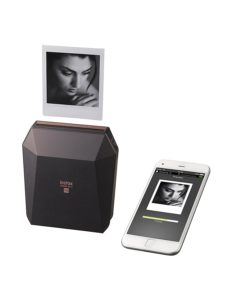 Want to print directly from your smartphone? This is the portable printer built for that purpose. For With FUJIFILM digital camera owners, you can make instax prints by sending the images directly from your camera to "instax SHARE". Very convenient! You can easily print from photos from to your Instagram, Facebook, Google Photos, Flickr and Dropbox accounts.
High-speed printing in 13 seconds
Weighted at 312g (without battery and film pack)
LG Pocket Photo Printer PD261 Portable Mobile Photo Printer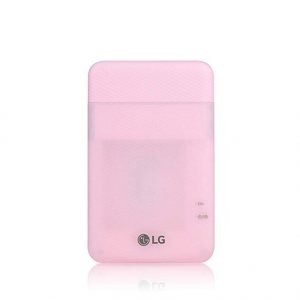 You'll love the collage option in the app. The LG Pocket Photo Printer is convenient to quickly print photos for journaling.
Bluetooth or USB connectivity
Compatible with Android OS, iOS
Battery Type: Li-Polymer (7.4 V, 470 mA)
HP Sprocket Plus Instant Photo Printer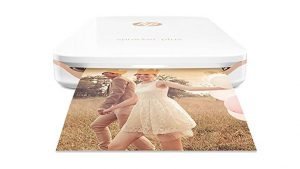 This HP printer is capable of printing 30% larger than the original Sprocket's. It's amazing how a small printer like this can print up to 30 photos in a single charge.
Fits into a pocket or backpack
Bluetooth 4.0 connectivity
Media sizes supported (inches): 2.3×3.4
Kodak Mini 2 HD Wireless Portable Mobile Instant Photo Printer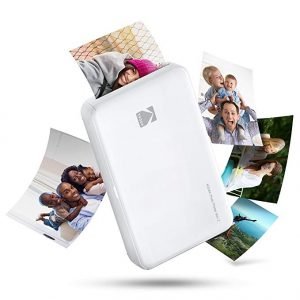 With this Mini Smartphone Printer from Kodak, you can print 2.1 X 3.4" photos direct from Android or iOS device.
Easy to use: no cables or buttons
Quality prints that last
Canon SELPHY CP1300 Wireless Compact Photo Printer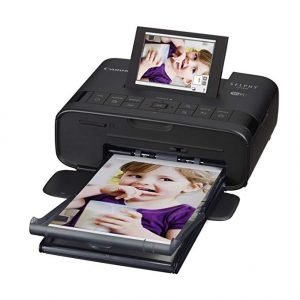 The Canon Selphy is like a personal portable photo kiosk or booth. It's very ideal for use at home and on the go. Instragrammers also love its Instagram Prints feature.
optional battery
wireless and compact
HP Blue Sprocket Portable Photo Printer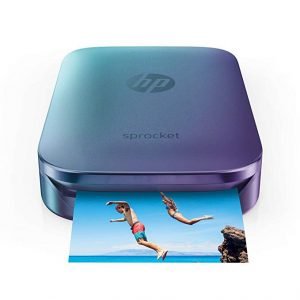 I have to include this HP Blue Sprocket printer in this top best selected list. It's the number one best seller for Amazon.com because it's more like a Polaroid camera than a photo printer. It's also one of the best gift to give to photographers.
Lightweight
Bluetooth connectivity
Battery life (per charge): 35 photos