Do you enjoy taking photos of foods, adventures, friends, and pets with your phone? You can make printed editions of these pictures more quickly now than ever before to decorate your room or share with your friends, thanks to a portable photo printer. Those compact yet effective devices are the latest form of swift gratification. All that you need to do is connecting the printer to your social media account or smartphone and instantly print those pictures in real time. In this list, I will review top 3 best portable photo printers on the market. Thanks to high-quality photos and affordable price, they are used popularly by many people all over the country.
Best Portable Photo Printers in 2018 Reviews
1. HP Sprocket X7N07A Portable Photo Printer
With the HP Sprocket X7N07A printer, it has never been simpler to print off your photos from the smartphone. Simply connect your account to the free HP application and make those virtual pictures into colorful editions. This device applies seamless Bluetooth connectivity, meaning that you can easily install it at events or parties so anybody can print the favorite moments right from their tablets or smartphones. What's more, you can add emojis, borders, and text to customize each photo for your friends. The package comes with a setup card, 10 sheets of photo paper with backed sticky, a micro cable for USB, and the HP Sprocket printer.
Key features:
– Seamless Bluetooth connectivity
– Added emojis, borders, and text
– Free HP application to connect with smartphones
– Compact design for easy transportation
– Included 10 sheets of sticky-backed paper
– Vibrant and glossy colors
2. Kodak Instant Mini Portable Photo Printer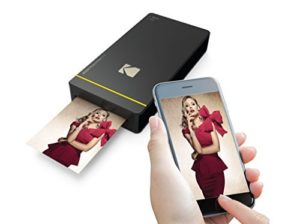 Kodak is certainly one of the most well-known brands in photography. This photo printer allows you to wirelessly and instantly print favorite photos from your smartphone without any cables. All that you need to do is to download the Kodak app on Android and rung the NFC One-Touch feature to perform this task within seconds. In addition, this model comes with card templates, stickers, cropping, filters, and many fun features to give you the best opportunity to personalize your pictures. The Kodak portable printer is available in gold, white, black, and is also compatible with iPad or iPhone if there is a Wi-Fi connection.
Key features:
– Free Kodak app to use
– Combined color ink and paper for easy maintenance
– High-quality photos
– Print instantly and wirelessly
– Compatible with Android and iOS devices
3. Polaroid Mini ZIP Printer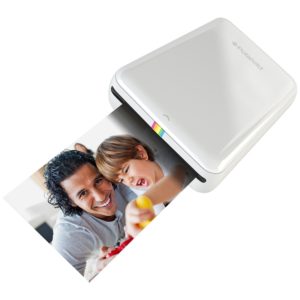 Originated as a no-waiting photos brand, now Polaroid creates this ZIP printer to help you produce fun snapshots from a smartphone or tablet with NFC technology or Bluetooth, While purchasing, you will get a free version of the Polaroid app for Android and iOS. The package comes with sticky papers to print smudge-proof and 2×3-inch photos with decorations, cards, and stickers. Above all, this device is only 6.6 lbs in weight, making it easy to store in your pocket and bag.
Key features
– Compatible with iOS and Android devices
– Directly print via NFC technology or Bluetooth
– Work with high-quality papers
– Provided sticky paper
– Colorful and high-quality photos
More Reviews: