Top Best 4K Camcorders for YouTube
Are you searching for the best 4K camcorders for YouTube? It doesn't seem like very long ago where camcorders were all the rage, but they went out of vogue with the advent of the smartphone. However, they are quickly making a comeback, especially since they are able to give you full HD videos that are top of the line because of the 4K quality.
Best Cinema Cameras for Filmmakers
What kind of camcorder do YouTubers use? Most YouTubers love producing high quality videos for their audience. Now you can not only get high resolution images and videos, but are able to transfer your files to your computer or tablet. The price has dropped to a point where just about anyone can afford one to use at the next play of their child, sporting event, or while on vacation. If this intrigues you, here are the best 4k camcorders for live streaming you should buy this year.
With the best 4K camcorders and good gears, we can record and share our videos with the world audience through YouTube. The top best cameras for YouTubers should be:
Easy to use
Affordable
Record good enough quality, at least full HD if not 4K
Good battery life
In this list, you'll find my selection of the best digital cameras and camcorders for YouTube and Vimeo. From the best cheap to the 4K cameras, you'll have the options based on your budget.
YouTube has changed the way we watch and share videos. Having the best video camera is essential to get started and succeed as a YouTuber. The list of the best video camcorders for YouTube will help you either a beginner or a professional. Even a built-in webcam allows most YouTubers to record video lectures for online teaching and learning purpose.
Whether you are a professional or someone who just loves taking videos, there is something in this list for everyone. You will truly love how camcorders have grown.
A List of Top Best 4K Camcorders for YouTube
JVC GY-HM170-4KCAM Compact Professional Camcorder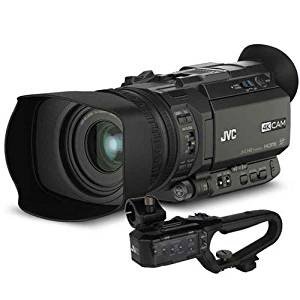 Despite looking big, the truth is that this is one of the best compact camcorders you will find. It comes at an affordable price, but part of that price reduction comes at the expense of no bundle included. You will get great quality images at 4K and 30 frames per second. Images easily transfer to an SD card and it comes with a small LCD screen which offers HD view.
Panasonic H.C-X1000-4K Professional-Camera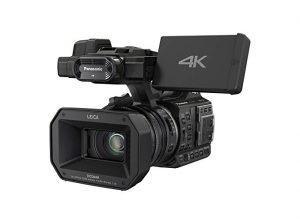 If you are looking for a bit more sophisticated camera, this Panasonic will be perfect for you. Many are turned off by the larger size, but this actually works in your favor. The truth is that the size is necessary, as this is a magnificent design that allows you to take professional quality images and audio. You get a lot of amenities and you will love how easy it is to use. In fact, the look will make you feel like a true professional.
JVC GY-HM170UA Ultra 4K HD CAM Compact Professional Camcorder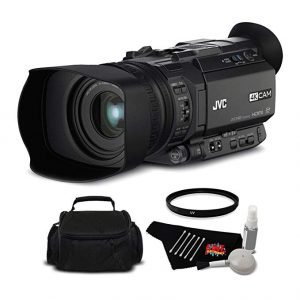 This is one of the most compact professional camcorders you will find. It does not come with a bundle, which is something that turns many off, but the performance is spectacular. It comes with a 4K capability at 30 frames per second, and your images and videos will come out with incredible quality. The small LCD Screen is top notch is allowing you to easily follow the action and there are multiple image filters to give you greater control of the look of your output.
Panasonic HC WXF991K 4K Ultra HD Camcorder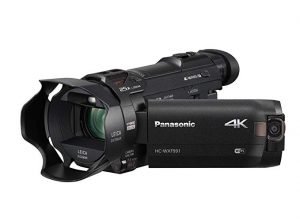 This is the least expensive professional camcorder option you will find, but cheaper in price does not mean cheaply made this is a great option, that is capable of recording 1080p images and videos. You will love that you can actually use the device itself to edit your work. This allows you to do somethings without needing a computer, so you can upload or turn over files to others without the need of a computer at all.
Sony FDR X1000V/W 4K Action Cam4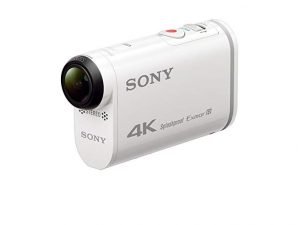 Sony has long been recognized for their outstanding electronic equipment, and they have quickly established themselves in the camera and camcorder arena as well. This camcorder is a great option, as it is incredibly compact, making it easy to carry with you anywhere you go and has fantastic 4k resolution. It does not come with an LCD display screen, which is a major negative, but the price and size has made it one of the more popular models you will find.
Sony F.D.R-AX-40-TI-4K Video-Camera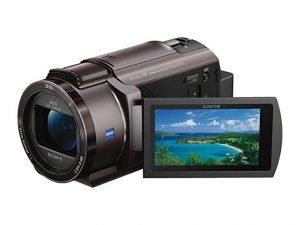 If you are a person who simply loves to take great shots, but you aren't a professional, then this Sony is just what you are looking for. This is specifically designed for the everyday camera buff, the person who has lots of personal events that they would love to record. The camera comes with a 20x magnification zoom and there is also a baby monitor function to it. It is a great feature for sure which only adds to the powerful bundle and performance this camcorder provides.
Sony F.D.R-AX100/B4K Video Camera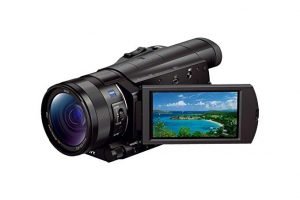 If you want a Sony camcorder, but want something with a lot more bang for your buck, then this is the camcorder you need. This is arguably the most popular product on the market, not only because of pure sales, but also because of how it is reviewed. You get a great LCD screen, there is an optical zoom that can magnify 20x and the 14 megapixel sensor records 4K images at 30 seconds per frame.
Canon XF705 4K, HD Recording Professional Camcorder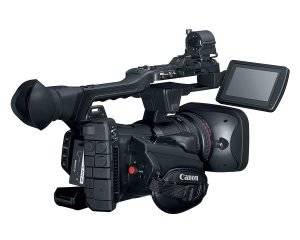 The XF705 is Canon's flagship pro camcorder with attractive features.
UHD 4K up to 60 fps, 1080P to 120 fps
1″ CMOS sensor, 13.4MP
Panasonic HC-V180K Full HD Camcorder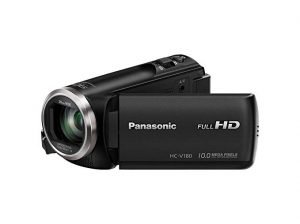 This is an excellent camera for the price range for most beginners who want to start a YouTube channel.
Sharp Full HD 1080p recording
Hybrid Optical Image Stabilization
Great battery life
Sony 4K HD Video Recording FDRAX33 Handycam Camcorder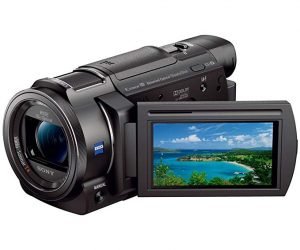 If Full HD video is not what you want to share with your fans, then you should consider this Sony 4K Camcorder. It performs better than some 4K DSLRs for live video blogging.
Capture 4k/30p video that far exceeds HD resolution
Built-in Wi-Fi
Sony PMW-300K1 XDCAM HD Camcorder
The ability to use cinematic lenses with the full frame sensor make virtually every shot feature film quality. This Sony camcorder performs well in low light. I recommend this Sony camera for its awesome picture quality and ultimate flexibility in shooting options. The only downsize is the battery.
Key features:
3.5″ 960 x 540 Color LCD Viewfinder
1/2″ Exmor Full HD 3CMOS Sensor
MPEG HD422 at 50Mbps
Pros
Great viewfinder
Sturdy and solid housing
Excellent in low light settings
Cons