For most filmmakers, choosing the best cinema camera is a tough task. With many key features, it's time consuming to find the ideal cinema camera for filming. Unlike cameras for YouTube and Instagram, commercial studios and professional filmmakers use top class cameras to produce video content, films, and documentaries.
The best cinema camera should be:
able to record 4K RAW
have dual memory card slots
full-frame
within your budget range
In this list, you'll find the best video cameras for filmmakers:
A List of Top 10 Best Cinema Cameras For Filmmaking in 2018
1. Canon EOS C100 Mark II Cinema Camera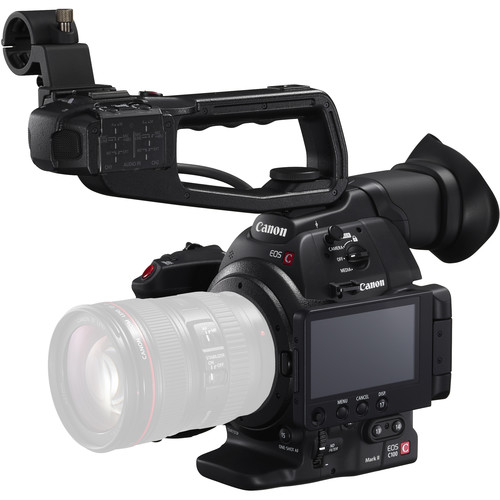 This advanced Canon EOS C100 Mark II version is the most popular cinema camera for indie film and documentary. This camera can work well with any EF-mount lenses of Canon, making it a good option for professional videographers. What's more? With a bigger EVF, it comes with a built-in dual pixel for fast auto-focus.
Key Features:
Built-In Dual Pixel CMOS AF Hardware
Super 35mm 8.3MP CMOS Sensor + EF Mount
3.2″ 1.62m-Dot Touchscreen LCD Monitor
2. Canon EOS C200 EF Cinema Camera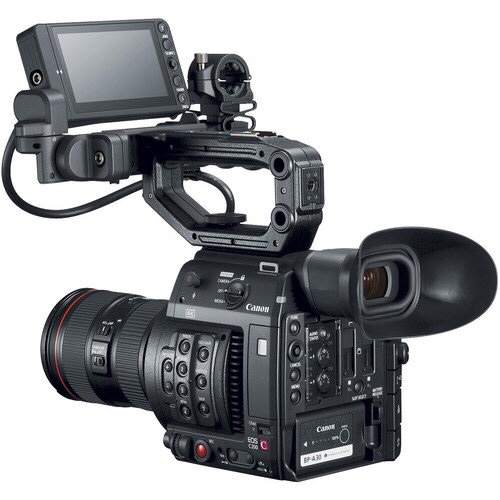 Along with the Canon EOS C200B, the C200 model is the latest version of EOS cinema camera with many advanced features. It allows a cinematographers to shoot high-quality footage and movie clips. To provide more flexibility, Canon EOS C200 EF Cinema Camera can be attached easily to drones, gimbals, and other stabilizer systems.
Key features:
35-mm CMOS sensor
2 XLR audio connectors
RAW light feature
3. Canon EOS C300 Mark II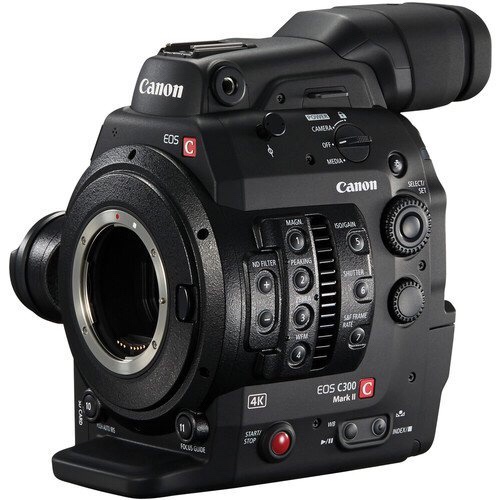 The Canon EOS C300 Mark II is a much better improvement over its popular predecessor. With advanced technologies such as a perfect 35-mm sensor and great image processor, the EOS C300 is another top choice from Canon for filmmakers. The solid and great build, the camera body is ideal for bigger lenses. The C300 Mark II cinema camera offers a bigger and faster AF phase detection as well as higher recording bit-rate.
Key features:
2 XLR audio connectors
Fast/slow motion recording
Dual CMOS technology
Also: Top 10 Best Accessories for DSLR Cameras
4. Blackmagic Design URSA Mini Pro 4.6K Camera with EF Mount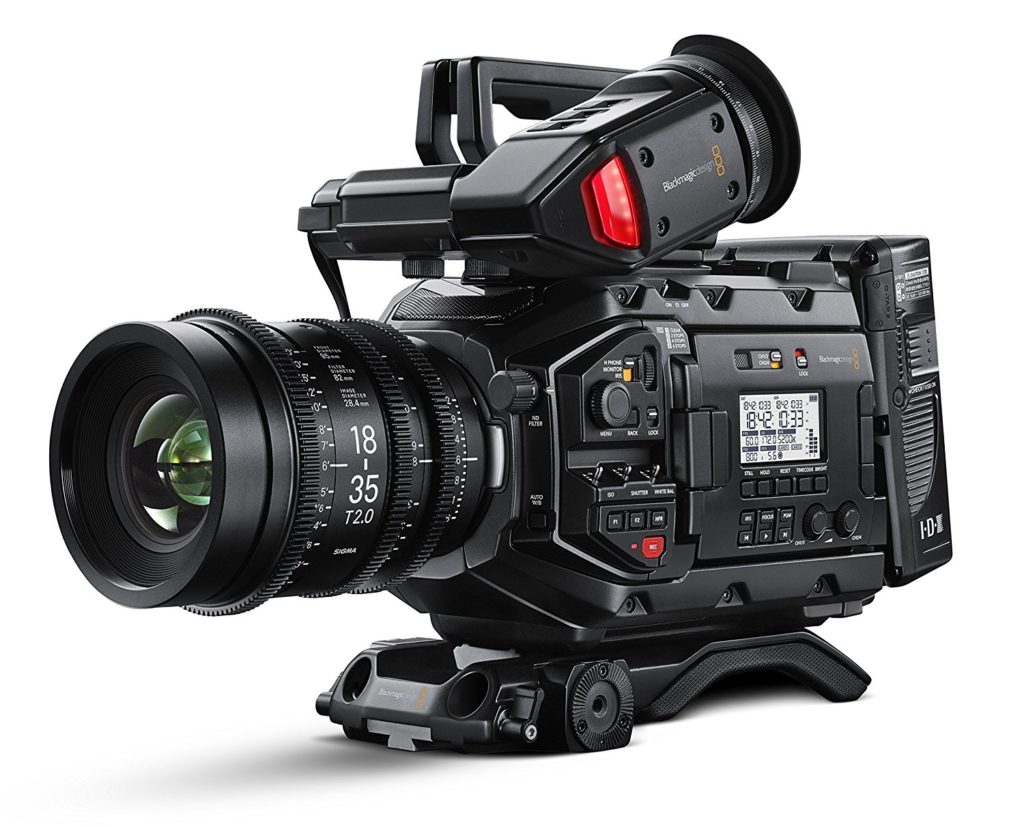 For those who switched from Sony and Canon DSLRs, the Blackmagic Design URSA Mini offers you the cinematic quality. What differentiates the Blackmagic from the rest is its super 35mm 4.6K sensor block. Its ability to capture cinematic images is unbeatable. Please read this for a list of the best Blackmagic camera accessories.
Key features
Super-35mm CMOS Sensor
4608 x 2592 Video up to 60p
Compressed Raw Recording
5. Sony PMW-300K1 XDCAM HD Camcorder

The ability to use cinematic lenses with the full frame sensor make virtually every shot feature film quality. This Sony camcorder performs well in low light. I recommend this Sony camera for its awesome picture quality and ultimate flexibility in shooting options. The only downsize is the battery.
Key features:
3.5″ 960 x 540 Color LCD Viewfinder
1/2″ Exmor Full HD 3CMOS Sensor
MPEG HD422 at 50Mbps
6. Panasonic Lumix GH5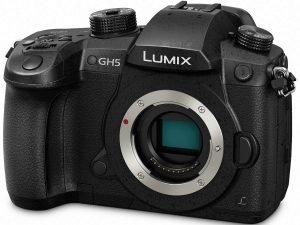 Panasonic Lumix GH5 4K offers over 28 Lumix and Leica compact lens options. Its "mirrorless" design makes it a lighter, more compact camera body. The stabilization has changed the way you can film weddings. It's a thing of beauty to use a 70-200mm lens on a monopod for wedding toasts. The dual card slots is great to have. As one memory card runs out of storage, it switches to the next. The GH4 does everything you want from a DSLR camera.
Key features:
20.3MP Micro Four Thirds sensor
Variable video frame rates
7. Canon EOS 5D Mark IV DSLR Camera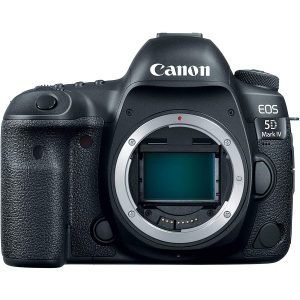 This is Canon's improved version of the 5D series. Creative videographers have been excited about the high-resolution 4K video of this EOS 5D Mark IV. By featuring an ISO range of 100–32000 (expandable to 50–102400), the EOS 5D Mark IV camera is best for low-light movie shooting.
30.4 MP full-frame CMOS sensor
61-point AF system
DCI 4K Video at 30 fps; 8.8MP Still Grab
See also: Top Best Accessories for Canon EOS 5D Mark IV
8. Nikon D850 Filmmaker's Kit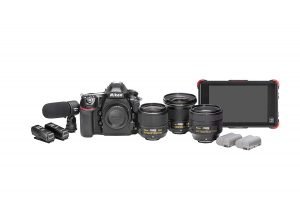 Nikon D850 is the best DSLR camera this year. It's also the top favorite among most photographers. That's the ultimate reason why Nikon has this complete D850 Filmmaker's Kit. It's a total game changer to shoot film using a high-end DSLR camera with all the accessories and lenses.
4K UHD Video Recording at 30 fps
Multi-CAM 20K 153-Point AF System
Native ISO: 64-25600, Extended: 32-102400
9. Olympus OM-D E-M1 Mark II 4K Mirrorless Camera

Not surprisingly, this year's mirrorless cameras is getting more and more popular for filmmaking on a budget.
New 20.4 Megapixel Live MOS Sensor
121-Point Dual Fast AF with Cross-Type On-Chip Phase Detection focusing
10. Panasonic AU-EVA1 5.7K Super 35 Handheld Cinema Camera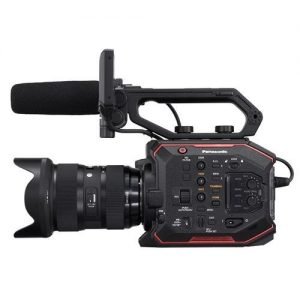 If you're searching for a flexible camera system for documentary, cinema, and live event production, I'd recommend that you take a deep look into this Panasonic AU-EVA1 camera.
Super 35mm 5.7K Sensor
EF Lens Mount
Records 4K up to 60 fps
Good to Know
Digital cinematography is on the the rise. And it will continue to dominate the film industry for years. Although Canon is leading the DSLR market, it doesn't stop there. The best cinemas are ideal for shooting high definition video, cinema, and film quality. With the 4K cinema cameras, professional filmmakers can produce world class quality of cinematic images and videos. They use the cameras to create television commercials, music videos, and feature films.
To choose the best digital cinema camera, you must identify your primary use. The best cinematography camera is the one that serves the story it's helping to tell. As a cinematographer you should always make something good out of what is available to you.
More Camera and Accessory Reviews: