No matter if you are a professional or amateur videographer, selecting the best cinema camera is always a challenging task. With so many brands and products out there, along with various advanced and unique features, make it time-consuming and confusing to choose the right camera for filming. With high-end cinema cameras, you can expect world class quality of cinematic images. Television commercials, music videos, and feature films are captured with a digital film camera before being rendered by professional video editing software. I will show you top, latest cinema cameras available on the market. They are widely used by many studios, professionals, and filmmakers all other the world, who need to produce high-quality video content, films, and documentaries. These film cameras are the best for those who look for shooting and producing video, cinema, and film. Professional digital film cameras were built for a particular purpose, producing the best video and film. In this review, you'll find out some of the best video cameras for filmmakers.



A List of Top Best Cinema Cameras in 2018
1. Canon EOS C100 Mark II Cinema Camera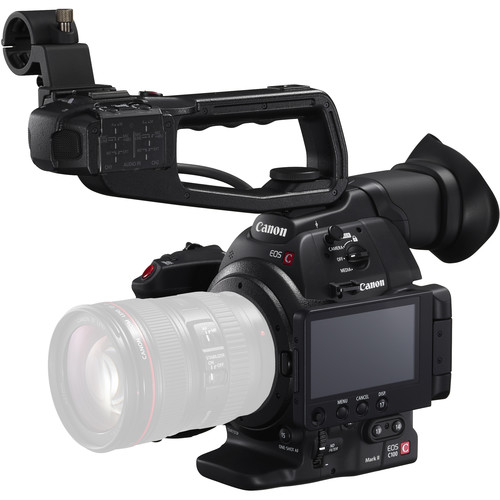 This advanced Canon EOS C100 Mark II version is considered one of the most popular cinema cameras for indie film, events, and documentary production. This device can work well with any EF-mount lenses of Canon, making it a good option for professional videographers.Unlike its predecessor, Canon EOS C100, this Canon cinema camera features many advanced technologies, including interchangeable lenses, built-in microphone, to  meet the requirements of even the most serious professionals. What's more, it is designed with a bigger EVF that has a dual pixel to allow for quicker auto-focus. In addition, you can use it to film in any areas with low lighting thanks to an extended range of ISO. This Canon C100 is designed for event videographers, documentarians, and independent filmmakers. Although Canon is leading the DSLR market, it doesn't stop there. This Canon EOS C100 Mark II Cinema EOS camera has everything you'll need from built-in filters to dynamic range. Furthermore, it's very compact! The downside is that it doesn't support 4K quality. This camera is one of the best cinema cameras in this price range. If you are a documentary filmmaker, event/wedding videographer, or a dSLR filmmaker that wants to upgrade to a video camera, the C100 would be a great option. If you need a great low-light, ergonomic camera that can do audio and picture well, this is one of the few cinema cameras at this price point.
Key features:
2 audio connectors
Wide gamma and Cannon log
HDMI output
Dual SDXC/SDHC card slot
3.5-in OLED panel
8,3MP 35-mm CMOS sensor
Compatible EF mount
2. Canon EOS C200 EF Cinema Camera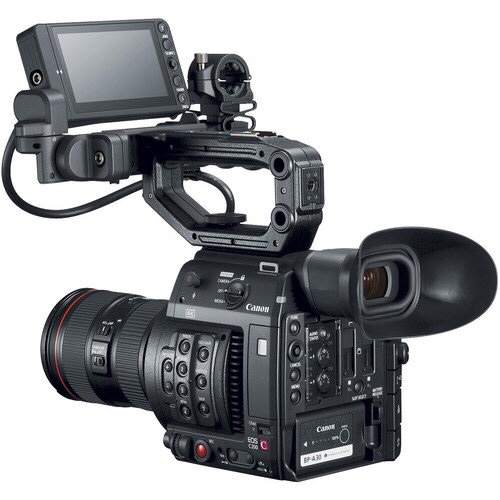 Along with the Canon EOS C200B, the C200 model is the latest version of EOS cinema camera with many advanced features such as UHD formats, 4K DCI, extreme versatility, and an image processor.
As a standalone model, the C200B camera is highly customizable, streamlined, and much lighter. It allows a videographer to create high-quality footages and clips. In addition, you can select your own handgrip and handling accessories, LCD monitor, and electronic viewfinder. To provide more flexibility, this device can be attached easily to drones, gimbals, and other stabilizer systems for the cinema camera.
Key features:
35-mm CMOS sensor
2 SD card and 1 CFast card
2 XLR audio connectors
MP4 video format
RAW light feature
UHD recording
3. Canon EOS C300 Mark II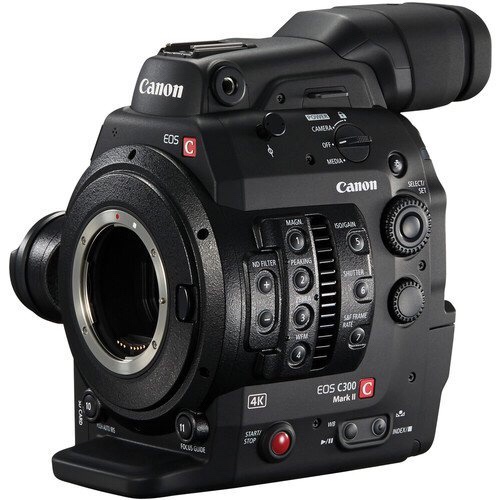 The Canon EOS C300 Mark II is a much better improvement over its popular predecessor, Canon EOS C300 with many advanced technologies such as a perfect 35-mm sensor and great image processor. As a result, professional videographers can use this device to record 24p video with 4k resolutions.
In spite of its portability, this camera comes with a more solid and heavier body, making it a good choice for carrying heavier and bigger lenses. In addition, you can even use it with rigs or brushless gimbals inside a moving car. Although it is quite similar to the C100 Mark II version, the C300 Mark II cinema camera offers a bigger and faster AF phase detection, as well as higher recording bitrate, which leads to higher-quality movies with less compression.
Key features:
1 SD card, 2 CFast
2 XLR audio connectors
Canon Log gamma
Continuous AF lock setting
Fast/slow motion recording
Dual CMOS technology
4. Blackmagic Design URSA Mini 4.6K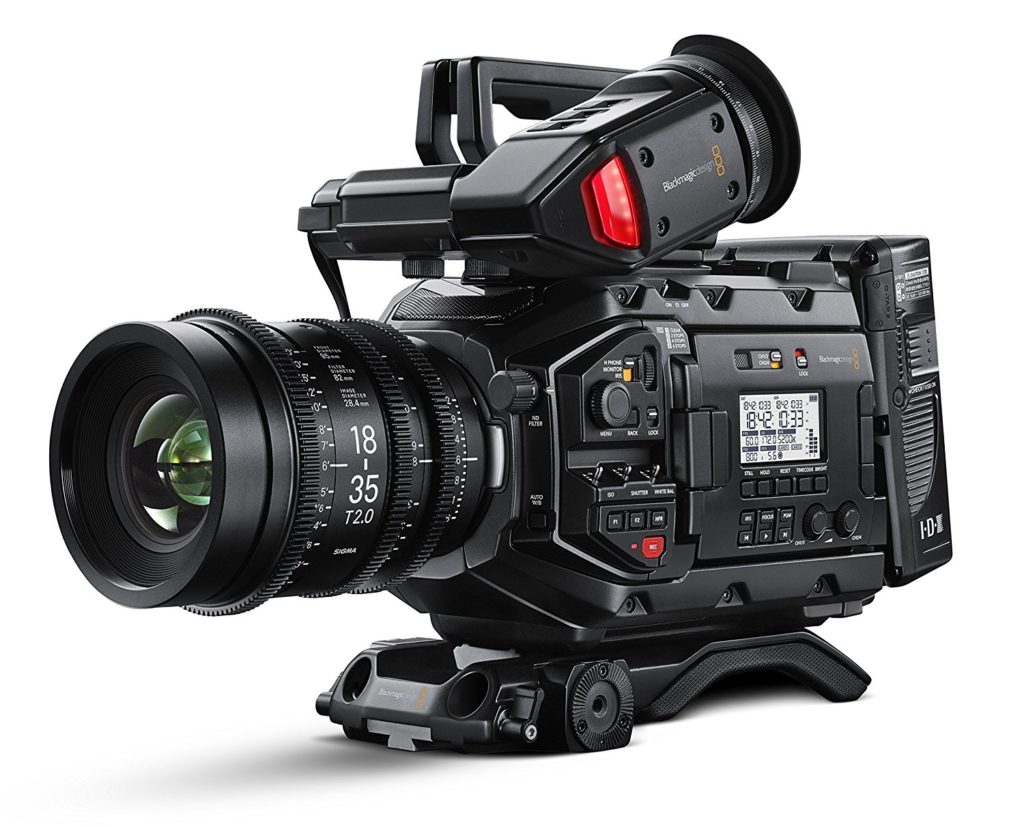 First thing first, let's take a look at the technical specifications of this Blackmagic Design Production Camera 4K (PL Mount). In just a quick glance, you'll see the huge difference between a video camera and a cinema camera, designed for filmmakers. This Blackmagic Design URSA Mini 4.6K Digital Cinema Camera (EF-Mount) is the best camera out in this price point. It's really easy to get great looking pictures from this camera. For those who moved from Sony and Canon DSLRs, the Blackmagic Design URSA Mini offers you the cinematic look. In addition to this, this Blackmagic Design cinema camera is very easy to use while it's also highly configurable for what you are looking to do.
Key features
Super-35mm CMOS Sensor
4608 x 2592 Video up to 60p
Compressed Raw Recording
Ready-to-Edit ProRes 444 + 422 Recording
Dual CFast 2.0 Memory Card Slots
12G-SDI Output, Timecode and REF Input
1080p Flip-Out Screen
5. Sony CineAlta 4K PMW Series HD Camcorder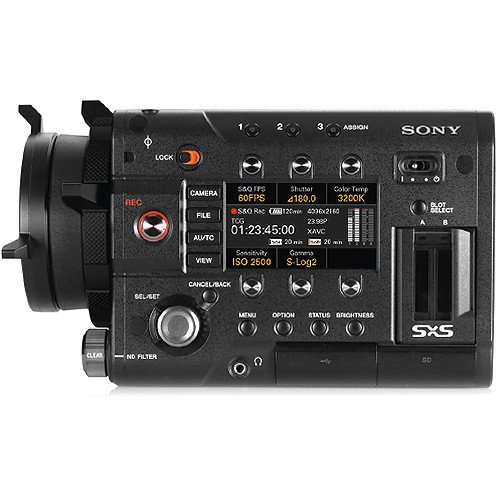 The pictures are stunning and the scope with those pictures is truly amazing. he ability to use cinematic lenses with the full frame sensor make virtually every shot feature film quality. It's not cheap, though. But with Sony 4K sensor, you get super-sampled HD, 2K and 4K quality videos. Or top notch image quality.
In this Sony camera, you've got 8.9MP Super 35mm CMOS Image Sensor, Internal 4K/2K/HD Recording, Electronic Global Shutter, Highly Modular Design, and Optional 4K/2K RAW Recorder. This is the best camera on the market that offers multiple functionalities. You can shoot MPEG, 2K and 4K without difficulty. We recommend this Sony camera for its awesome picture quality and ultimate flexibility in shooting options.
Key features:
8.9MP Super 35mm CMOS Image Sensor Internal 2K and HD Recording
4K/2K RAW Recording to Optional Recorder 2K RAW up to 240fps; 1080p up to 180fps
SStP SR at 4:4:4 Internally 14 Stops of Dynamic Range
Built-in 10-Bit 4:4:4 at 440 Mbps Native FZ-Mount and PL-Mount Adapter
SxS Pro+ Media Cards
Panasonic Lumix GH5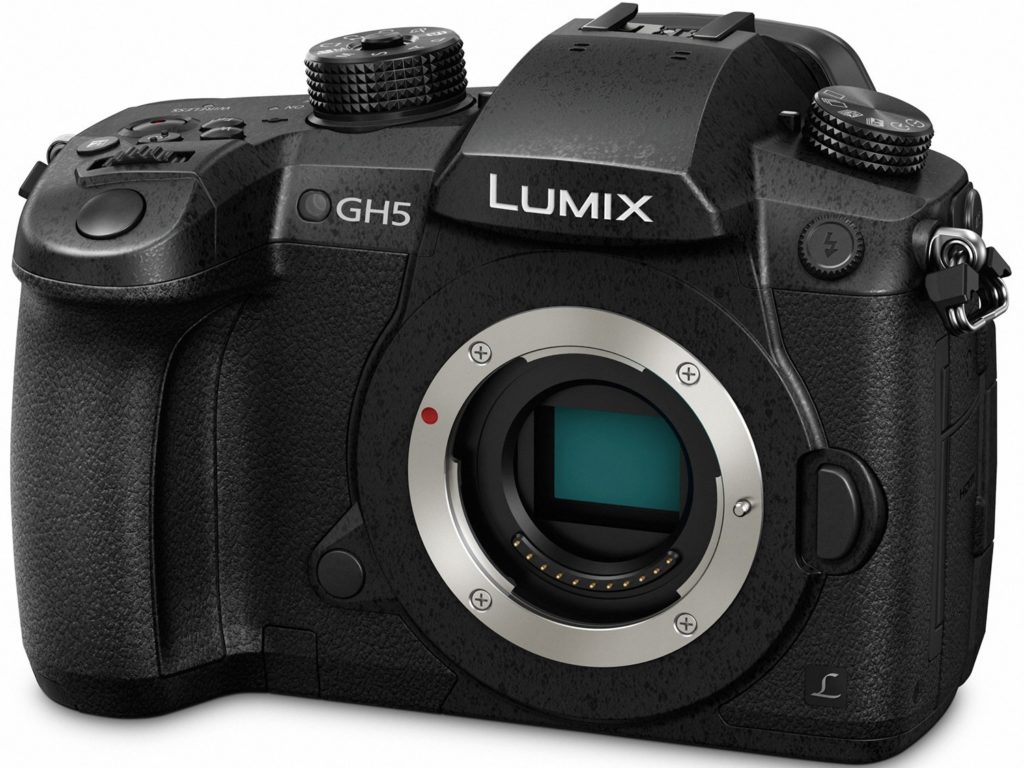 The professional grade Panasonic lumix GH5 4K mirrorless camera offers over 28 lumix and Leica compact lens options. Its "mirrorless" design enables a lighter, more compact camera body. The stabilization has changed the way you can film weddings. It's a thing of beauty to use a 70-200mm lens on a monopod for wedding toasts. The dual card slots is great to have. As one card runs out it switches to the next. The GH4 does everything you could want from a digital camera in a very small package. Despite still being expensive, the price is a pittance compared to the competition. If you are a true professional filmmaker who is specialized in one area and really needs top of the line equipment, then this is the cinema camera you need.
Key features:
20.3MP Micro Four Thirds sensor with no low pass filter.
4K video: internal recording at 4k60/50P (4:2:0 8bit) & 4k30/25P/24P (4:2:2 10bit).
Variable video frame rates 4K: max. 60Fps & FHD: max. 180Fps.
5-Axis photo/video Dual I.S.. 2.0 up to 5 Stops with compatible LUMIX MFT lenses,
Conclusion
Therefore, having the best cinema camera, you can shoot the latest TV commercial, feature film, music video or video documentary, pre- and weddings or even corporate videos. What cameras are used in the world of indie filmmaking, and which should you choose? To choose the camera that's best for you, you must identify your primary use. Good cinematography camera is the one that that serves the story it's helping to tell. These cameras has their individual purpose,as a cinematographer you should always make something good out of what is available to you.
More Camera and Accessory Reviews:
Disclaimer: All recommendations are impartial and based on user experience, with no bias to the products or the brand. The products in this post contain affiliate links which help support SweetMemoryStudio.com.