Top 10 Best Canon EOS R Lenses
Canon launched EOS R in October 2018. And the company is making significant impacts along with its competitors, Sony and Nikon. This new EOS R series comes with a full format 24 x 36 autofocus and a CMOS Dual Pixel sensor. It's because of this high-grade technology that gives this camera a high reactivity of development. Not only does it record high-resolution images, but it also takes just 0.05 seconds. So what are the best lenses for Canon EOS R? We've written this list of the best lenses for Canon EOS R.
Its autofocus feature offers about 5655 collimators which ensure clear focus when taking your pictures or videos. Furthermore, it has an 8 cm touch screen and records in both Jpeg and Raw format. Because this camera is mirrorless, the distance between sensor and lens is reduced hence increasing reactivity. This speedy communication between the camera and its lens is what makes EOS R stand out.
Canon has designed specific lenses with excellent qualities for this new camera. But note that one can mount EF and EF-S lenses with an adapter on this new model. Although it's always wise that you use dedicated lenses.
That marks the end of our top 10 best lenses for EOS R. With EF lenses, you have to use them with an EOS R adapter to work on your camera. Also, Canon is launching other RF lenses compatible with this camera. When shopping for a Canon lens R, you should always consider your style of photography and features like weather sealing.
A List of Top 10 Best Canon EOS R Lenses
Canon RF 24-105mm f/4L IS USM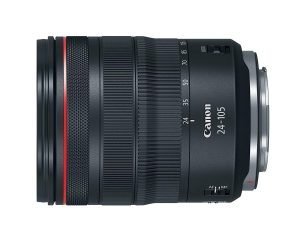 If you are shooting for various situations, this lens will perfectly suit you. It's shorter and lighter compared to other EF models, and it comes with an enhanced optical IS which ensures extended shooting even in low light. And one can comfortably use it outside since it's weather-sealed and light enough.
Additionally, Nano USM small chip AF ultrasonic motor supports speedy focus, precision, and silent operation. And in instances where one wants artistic play, RF 24-105mm is equipped with manual focusing for that.
Some users, however, find it slow at the wide end due to its aperture. Also, as RF 24-105mm extends when focusing some people might see that as a drawback.
Compact, high-quality Lens with broad zoom range for the EOS R system
Bright, constant f/4.0 zoom Lens
First L-Series Lens with Nano USM
Lens construction (elements/groups)- 18/14Control ring for direct setting changes
Optical image stabilization at up to 5 Stops* of shake Correction
Canon RF 28-70mm f/2L USM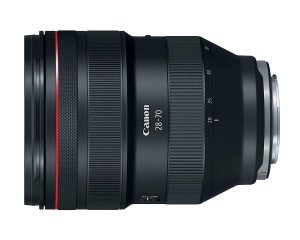 If you're shooting in events, portraiture, and landscapes, this new selection will be a perfect fit. RF 28-70mm is widely known for its wide aperture and earns a reputation as a high-speed lens at wide ends. Compared to other EF USM lenses, it's speedy and sharp.
The lens is weather sealed, hence, it can be used for outdoor photography. Many users praise its ability to contrast their sharp subject with a dreamy background. And again, the lens's ultrasonic motor is fast and silent.
However, some people find this model heavy and quite expensive. And some don't like its extension when focusing. Also note that handheld shooting can at times be tricky as it doesn't have IS.
Canon RF 35mm f/1.8 Macro IS STM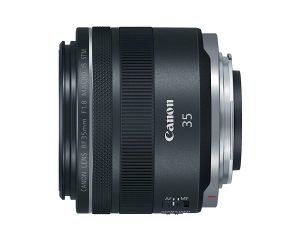 No matter your photography style, you'll benefit from this lens that features f/1.8 and f/22 maximum and minimum apertures, respectively. RF 35mm allows focus of 1.7cm and a reproduction ratio of approximately 1:2. An STM engine ensures smooth transitions, especially in video.
This lens allows individuals to take sharp pictures. It's therefore useful in street photography, portraits, and close-ups. It comes with a sun visor, and because it's small, that allows easy mobility.
Note that it's equipped with a ring which looks similar to the one used for focusing. Although these two rings have different finishes, sometimes they can be confusing. Also, it has no waterproof treatment.
Canon RF 50mm f/1.2L USM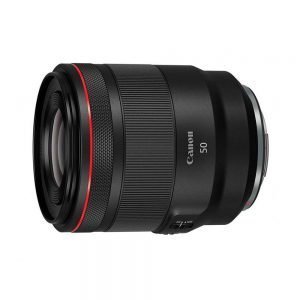 Canon refers to this lens as ultra-wide, and we can't agree more. It still delivers even in low light situations. As such, you can use the lens in places of worship and where shadows and light can be dappled. Weather sealing makes RF 50mm great for outdoor photography.
Another excellent quality of this model is its ultrasonic motor AF system that supports silent operation. And we love the fact that it's very accurate, one may never need to focus before shooting even though it has manual focusing. To reduce flares and ghosting, RF 50mm features Air Sphere Coating (ASC) technology.
However, some people find it expensive. As there are no settings on its exterior, you may find that inconveniencing at times.
Canon EF 85mmf/1.8 USM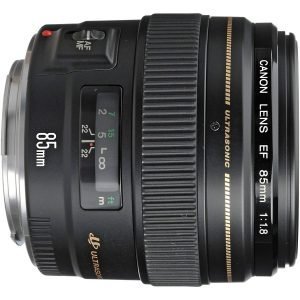 Although it's an older lens, it can be used on EOS R. Its wide aperture of 1/8 makes it great for portraits. Also, with an ultrasonic ring motor that ensures silent operation and 5mm filter thread, this lens is an excellent choice to any kind of photography.
Ring-type ultra-sonic monitor (USM)
Natural angle of view and perspective is ideal for portraits and natural images
Designed to produce beautiful background blur; weighs 15 ounces
Measures 3 inches in diameter and 2.8 inches long; 1-year warranty
Lens not zoomable
Canon EF 14mm f/2.8L II USM Lens + Adapter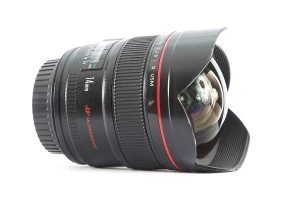 This is one of those EF lenses which work well with the EF-EOS R adapter. It's best suited for landscape nature and interior photography. Wide-angle prime, optical design, and internal focusing mechanism make it an excellent choice for indoor photography. Not to mention, EF 14mm has super spectra coating to minimize flare and ghosting for increased contrast and color fidelity.
Lens construction is 14 elements in 11 groups
Focal length is 14mm, maximum aperture is 1:2.8 and has gel filter holder at rear of lens
Closest focusing distance is 7.9 inches
Diagonal angle of view is 114° (on full-frame cameras)Dust and moisture proof built in lens hood
Compatible with all EOS Digital SLR cameras
Redesigned optics including 2 high-precision Aspherical elements and 2 new UD-glass elements
Canon EF 70-200mm f/4L USM Lens

It's one of those rare models that combine professional-grade build and optical qualities. The 70-200mm f/4L is lightweight and has high quality and solid feel. Images from this lens have striking colors and bokeh background blur quality. With a superfast auto focus and excellent image stabilization, this model is a worthwhile investment.
Lens not zoomable
Minimum focus Distance is 0.8ft
Focal Length -24 mm
Diagonal angle of view: 84°
Canon EF 24mm f/1.4L II USM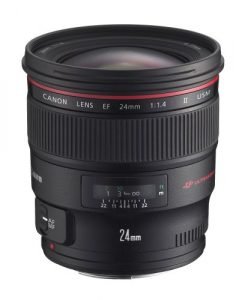 It features two high precision and a large diameter for sharpness across the sensor. Moreover, it's coated using Sub Wavelength Coating, which reduces ghosting and flaring across its surface no matter the angle that light enters or exits. UD glass lens elements are also included for reducing chromatic aberrations.
Lens not zoomable
Minimum focus Distance is 0.8ft
Focal Length -24 mm
Diagonal angle of view: 84°
Canon RF 85mm f/1.2L USM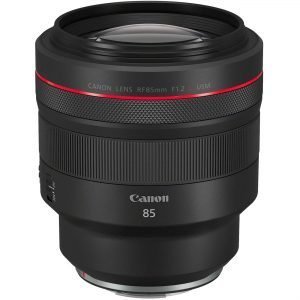 Portrait photographers would benefit so much from this model. RF 85mm may be expensive, but the price is worth it. If you're looking for a lens with excellent sharpness and superb chromatic aberration control, then you have one. Plus, it features very pleasing out-of-focus areas and swift AF considering its humungous size.
Contains a variety of multi-coated glass filters
Includes UV (ultraviolet), CPL (circular polarizer), ND8 (neutral density) filters and filter case
Made from high-quality, water-resistant materials
Canon EF 50mm f/1.8 STM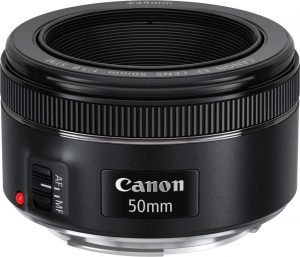 For more artistic and impactful photographs, one should have this incredible lens. Featuring a wide aperture, the lens produces sharp focus and blurred background. Its low-light capability can capture images even when it's dark. The narrow depth of field will make your subject stand out. Overall, the EF 50mm is a must-have no matter which photography you're into.
50 millimeter focal length and maximum aperture of f/1.8
Great for portraits, action, and nighttime photography
Stepping motor (STM) delivers near silent
Continuous Move Servo AF for movies and smooth AF for stills
Also recommended: Best Canon EOS R & RP Accessories