The Best Electronic Piano Keyboards
Are you interested in improving your music skills and advancing your knowledge of keyboards? We've researched and compiled a list of the best electronic keyboards on the market, considering factors such as portability, cost, and teaching modes.
With so many products available in this category, it can be overwhelming to choose the right one. That's why we've narrowed it down to the best electronic piano keyboards for kids and beginners.
Our selection features keyboards that are easy to learn, portable, and perfect for beginners. You or your children can easily carry them to music classes and practice on-the-go. Additionally, many of the keyboards on our list offer recording capabilities, allowing for fun family jam sessions.
Invest in one of these top electronic piano keyboards and take the first step towards improving your musical skills.
A List of Top 10 Best Electronic Piano Keyboards for Beginners
Rockjam RJ561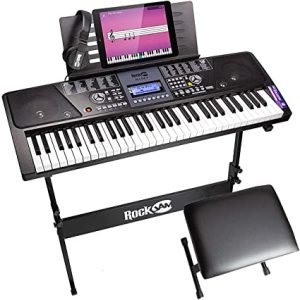 Rockjam is a 61-key keyboard designed to record and even playback. Its key features are liquid-crystal display, 100 keyboard sounds, up to 50 demo songs, and 100 keyboard rhythms. It's easy to adjust to any size the musician would want to aid by the adjustable keyboard stand. Rockjam comes with a durable stool, and you play for a longer time. If you are a beginner, Rockjam provides you with a piano app for both Android and iOS phones. Generally, this app is accessible for a month.
Pros
Pocket friendly
Provides learning aids
Good sized keys
LCD screen
Cons
Does not accommodate a USB connection
Alesis melody 61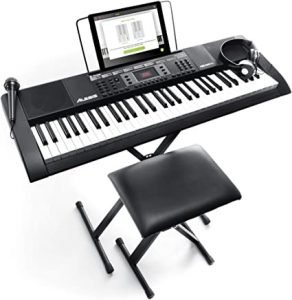 Melody 61 is a portable 61-key keyboard equipped with built-in speakers. It can record with up to 300 rhythms and 40 demo songs. You will enjoy its flexibility since it weighs about 8.7lbs; hence, you can carry it around. The buttons are large and clear, thus facilitating easy playing. Alesis has an adjustable stand, quality headphones, a stool, and a microphone. As a result, the 300 inbuilt tones provides you with a good musical sensation.
Pros
Flexibility
Playback feature
Accompanied by other accessories
In-built speakers
Cons
Moukey MEK-200 keyboard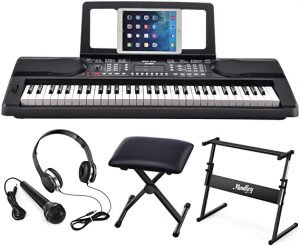 Moukey is a full-size keyboard with a standard key. It is engineered with a built-in speaker that gives a quality sound. The keyboard has with 50 demo songs, an LED screen, a playback feature, recording, 100 rhythms, and keyboard sounds. You can connect with an external speaker and allow single-finger playing and auto bass chords. You are also in a position to make use of ensemble vibrato and sustain. The keyboard comes with a stool, a stand, microphone, power supply, stickers, and headphones.
Pros
Accompanied with pother necessary accessories
Good sized keys
Portable
Cons
Ohuhu digital electric keyboard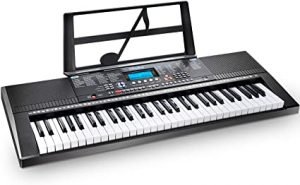 Ohuhu is a well-equipped keyboard with teaching modes for the beginners. It comes with notes. The keyboard comes with 300 rhythms, 300 demo songs, and 300 timbres. You can come up with multiple compositions. You might not need a music teacher. Why? It has three modes of teaching, enhancing your skills, and offers the best record tracking. Ohuhu has a USB port facilitating easy download whenever you want to listen to more songs.
Pros
Suitable for both beginners and experts
USB port
Has 3-teaching modes
More number of rhythms and tones
LCD screen
Cons
Accompanied with minimal accessories
Expensive
Plixio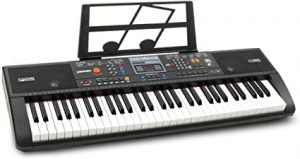 This is a lightweight 61-key keyboard with a dual power supply. Plixio comes with multiple sound effects including, 100 rhythms, 40 tones, tempo control, 60 demo songs, and eight percussions. It weighs fewer pounds; hence you can carry it around. Above all, Plixio has a note sheet music stand, adapter, and cables. You can customize the sound effects.
Pros
Sound customization
Favorable for both beginners and experts
Dual power
Multiple sound effects
Portable
Cons
Does not include a USB port and a microphone
YAMAHA Ypt260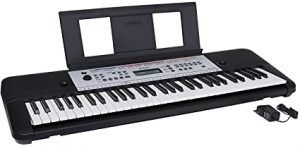 Yamaha Ypt260 is a portable keyboard with a high-quality voice. It has up to 400 sounds and 112 onboard songs, making it preferred both beginners and experts. Besides, it has a 9-step lesson, and the presence of AUX. So you to connect your phone or computer music while playing. So, you can record or playback with up to 32 polyphony. This keyboard has a PA130 power adapter.
Pros
Pocket friendly
AUX external connection
Accommodates the beginner
Cons
Goflame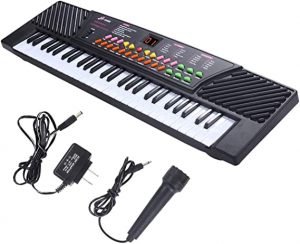 This a 54-key electronic keyboard. With this keyboard, you can record or even playback, which facilitates skill performance. It is suitable for beginners since it is easy to set the controls, thus easy to learn. It has minimal sound effects including, 7 sound effects, 32 tempo control, 10 timbres, and 6 demo songs. So it's great for learning hence beginners' choice. The keyboard is light making it easy to carry around while attending the music classes.
Pros
Affordable
Beginner's choice
Multi-functional electronic keyboard
Cons
QMG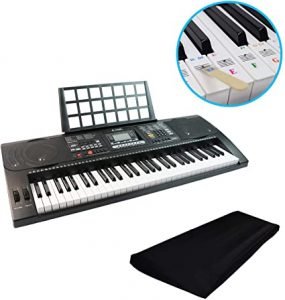 QMG is a 61-key electronic keyboard with several excellent characteristics. With this, you can listen to any music using audio inputs from computers, phones, or any mp3 player. Again, it comes with 128 rhythms and 200 timbres. QMG has a sensitive key with three key effects: memory, vibrato, and pitch blend. It's a piano-like playing. It features a teaching function of 3 levels providing the best guidance. Overall, it's one of the best for beginners.
Pros
Accommodates both beginners and experts
Recording and playback
Portable
Cons
GreenPro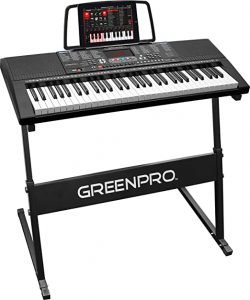 GreenPro is a portable 61-key with and a LED screen display with multiple sound features. It comes with three teaching modes hence minimal music teacher's guidance. GreenPro has 60 demos, 300 timbres, and 300 rhythms. The recording and playback feature is available. You can connect a headphone or a microphone since it has a USB port. With this, the keyboard stand can be adjusted to fit your desired position.
Pros
Has a USB port
LED display screen
Adjustable stand
3 modes of teaching
Cons
Casio CTK-2550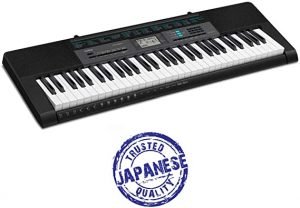 This is a 61-key keyboard with an app integration feature. It is engineered with 400 tones and 150 rhythms. Casio has an advanced feature of dance music mode. You can play via inbuilt speakers are a headphone. You can create or remix dance music since you are in a position to select different sound effects. Also, it allows connection to both Android or iOS phone.
Pros
Advanced lesson system
48 note polyphony
Dance Music Mode
Portable
Cons