It's a beauty. It's a mysterious after taking each shot and we don't know what the photographs look like until later. Most photographers who have the film cameras have been through these feelings. It's until the time we need to a film scanner that we can see our photography work. Having the best film scanner makes life easier for photographers. Based on my research, conversations with photographers friends, and thorough tests, I create this list of the best film scanners to help you find the right one for yourself.
Best Film Scanners for Photographers in 2018
Epson Perfection V600 Color Photo, Image, Film, Negative & Document Scanner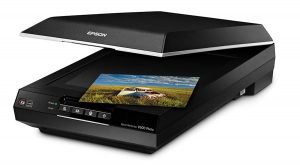 In term of price and quality, this Epson scanner is head to head with Canoscan 9000F MKII.
Features:
Create extraordinary enlargements from film — 6400 x 9600 dpi for enlargements up to 17″ x 22″
Scan slides, negatives and medium-format panoramic film — built-in Transparency Unit
Plustek OpticFilm 8200i SE Film Scanner


For those who have been looking for the best best film scanners under $500, I recommend that you take a look into this Plustek OpticFilm 8200i SE Film Scanner.
Media Handling: 35mm Film
Optical Resolution: 7200 dpi
Color Depth: 48-Bit
Scan Speeds: 36 secs. (3600dpi) / 113 secs. (7200dpi)
Hasselblad Flextight X1 Scanner


Professional photographers invest in this expensive film scanner for an ultimate reason. Greatest quality you can find in a film scanner. With an impressive 8000 dpi scanning resolution, a maximum scan speed of 300MB per minute for 16-bit, the Hasselblad Flextight X1 Scanner is a dream film scanner you can own.
Easy to Use
Up to 60 MB per minute
The 3F file and workflow
Batch scanning capabilities
Pacific Image PowerSlide X Automated 35mm Slide Scanner


The film scanner offer the best optical resolution and great color depth. This new scanner produces a quality image far superior to the previous model. This is a one of the best film scanners that will save you time not having to manually scan each slide.
48-bit color depth
10,000 dpi resolution
Magnasonic All-In-One High Resolution 22MP Film Scanner


Magnasonic Film Scanner has the built-in 2.4 inch LCD screen, which is very useful for most people. So you can edit brightness, rotation and more directly on the all-in-one film scanner.
Convert negative films into 22MP JPEG files
Quick 5 second scanning
Optional SD card (up to 32GB) as photo storage
Conclusion
Film photographers always hope to make the process of digitizing films much easier and more convenient. This is where the best film scanners come in. The list of the best film scanners above give you a variety of choices of in term of prices and qualities. It depends on your budget ranges when you have to decide which one to buy. After all, these selected film scanners are the best in the category you can buy.
Disclaimer: All recommendations are impartial and based on user experience, with no bias to the products or the brand. The products in this post contain affiliate links which help support SweetMemoryStudio.com.