Top 10 Best Portable Photo Booth Printers
There are several types of portable photo booth printers to consider: wireless, economy, performance, color accuracy, paper sizes, and dual media support. A photo booth printer provides high quality prints and is easy to use, especially with an iPad.
What to avoid: experienced photo booth business owners will not use inkjet photo printers, which serves as another purpose. The other key factor to consider is investing in a photo booth printer that you can use with any media types.
The advantage of having a portable photo booth printer is not to spend frequent times on changing the ink and papers. Therefore, in this review I highly recommend DNP Event Photo Printer DS-RX1HS 6″ Dye Sublimation for all new photo business owners and event photographers.
Of all self-service photo printing services, photo kiosks or photo booth printers are popular and capable of performing the heavy duty jobs. The above list features professional brand printers like Kodak, DNP, HiTi, and Mitsubishi photo kiosks and printer media. Searching for some of the best photo booth printers for your business?
The Best Portable Photo Booths
A List of Top 10 Best Portable Photo Booth Printers for Business
HiTi P525L Roll Photo Printer – Bundle with HiTi 4×6 Media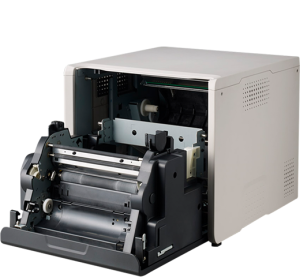 Top of the list is HiTi P525L Roll Photo Printer, which is the best for on site photo booth and event photograph. It's not designed for use in a quiet home. The HiTi photo booth printer features the integrated mono-LCD and five hard keys to monitor the status of printing jobs.
Pros
Best for heavy duty jobs
Compact and high speed printing
Cons
DNP DS-Tmini 10.1″ Kiosk Order Terminal – Bundle DS620A Dye Sub Professional Photo Printer
The great thing about the DNP DS-Tmini printer is you can print panoramic (up to 8×32″) photographs, double sided prints, and even photo books. The bundle will help most people to start a photo print business. Overall, this is a great investment for most businesses.
Pros
Comes with a USB Cable, 2 side panels, and a WiFi router
Great build quality
Cons
Mitsubishi CP-K60DW-S Eco-Value Dye-Sub Photo Printer
Unlike the other photo booth printers listed here, the Mitsubishi CP-K60DW-S Photo Printer is capable of producing matte finish, which is a growing demand among customers.
Pros
High Resolution: Reproduce smooth edges and natural images at 300DPI
Print Resolution: 300 x 300 dpi
Print Sizes: 2 x 6″ to 6 x 8″
Ink Rewind & Rollback
96% less Standby-energy
Cons
DNP Event Photo Printer DS-RX1HS 6″ Dye Sublimation
Unlike the DNP DS-Tmini 10.1″ Kiosk Order Terminal, the DNP Event Photo Printer is ideal for booth portrait printing.
Pros
Energy efficiency: 25% less power
Portable: 30 pounds
Fast and accurate
Cons
Needs extra care when moving (especially the foam head protector)
Mitsubishi Compact Digital Dye Sublimation Thermal Photo Printer
For heavy printing jobs, you should consider getting this Mitsubishi Compact Digital Dye Sublimation Thermal Photo Printer. Either you want to use it in or studio or at a photo booth, you'd be impressed by the 6 seconds per 4″ x 6″ print.
Pros
Dust-proof housing design
Advanced cooling system
Very fast printing
Fujifilm Ask 300 Quick Print Station Dye-Sublimation Digital Printer System
This Fujifilm printer is an all-in-one solution at a very good price. Best for retail uses, this photo booth printer an all-in-one solution at an affordable price.
Pros
High quality photo print
Compact size: 275(W) x 446(D) x 445(H) mm (10.8 x 17.6 x 17.5 inches)
Formats: standard, ID and template-ready photo formats
Cons
DNP DS-RX1HS Photo Printer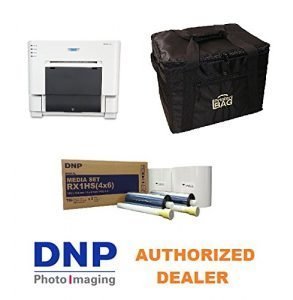 Undeniably, DNS brand is reputable for photo booth printers. So this is another higher end printer for photo booth you should consider. A really professional photo printer for event photographers! All in all, the DNP RX1 is the top best photo booth printer this year.
Pros
Best portable event photography use
Weighing only 30 lbs
Good price and value for the bundle
Cons
DNP IDW500 Passport and ID Photo Solution Set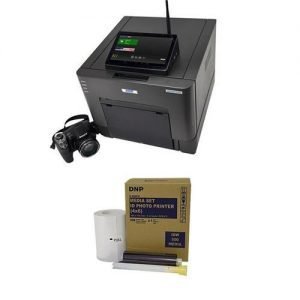 Top rated for printing passport and ID photos, this DNP IDW500 is ultimately for professional photo businesses (small and medium sizes).
Pros
Printer, camera, monitor and Air Card all included
Cons
Primera Impressa IP60 Photo Printer for Photo Booths, Events & Professional Photographers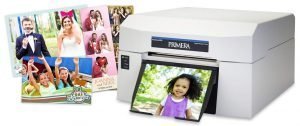 A portable, lightweight yet professional quality printer for event photographers, this is a dream for every event photographer. That's why I have to feature this Primera Impressa printer in this review.
Pros
Great photo quality
Print resolution: 1200 x 4800 dpi
Print sizes: single 2×6, 4×6, 6×6, 6×8, 6×12, 6×24
Weight: 7lbs
Cons
Sinfonia CS2 Photo Printer for Photo Booths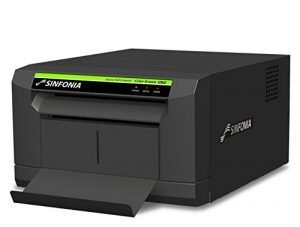 This booth printer set from Sinfonia comes with a rolling carrying case and a box media containing two rolls of paper and two ribbons. It's ideal for business owners who offer photo booth applications.
Pros
Easy to use
4″x6″ into two 2″x6″ strips
A 3-Year Manufacturer's Warranty or 20.000 prints
Cons
Best Home 3D Printers for Beginners
The Best Inkjet Photo Printers for Photographers