Best Studio Lighting Kits for Videos
Whether you want to shoot professional videos or just regular family videos, the lighting plays a huge role in how the videos and images will come out. Studio lighting is the perfect choice kit for taking the best crispy videos and images. These lights are equipped with different color filters that effortlessly allow you to create varying background color filters for our videos. However, it is crucial to note that the studio lighting kits come in different styles. Some have mini tripod stands for use on top of the table, and others are adjustable in height. Here are our selections of the five best studio lighting kits for videos. The lighting kits have adjustable brightness levels, and some have color filters so you can create different backgrounds in your videos.
Best Studio Lighting Kits for Videos
Switti 2-Packs 600 LED Video Light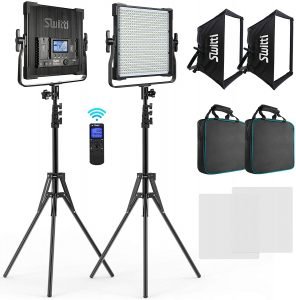 These are flexible lights that do not limit your videography job. I mean, the lighting is dimmable to regulate the light and temperatures displayed in the studio. Speaking of light, these studio video lightings work at 45 watts to produce a light temperature range of 3000 to 8000 lumens. So, the kit ensures you get the perfect light ambiance for crispy clear videos.
It is easy to monitor the lighting you work with since the kit has an LCD that displays the brightness level, color temperature, and battery power level. The lighting kit comes with mounting accessories for easy set up in multiple locations. The U bracket with locking knobs on each side makes it easy to tilt the lighting for better focus.
Special features
These lights come with a remote for control
The brightness is dimmable
The lights come with adjustable stands
The lightings have LCD
The temperature brightness range from 3000 to 8000
Neewer 2 Packs Portable Photography Lighting Kit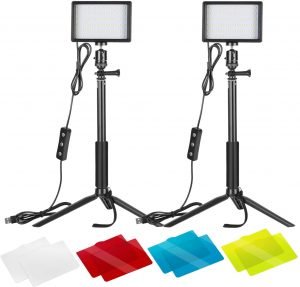 These are the best lighting kit option for people who need studio lighting to travel with since they are super portable. The lights come with mini tripods that are adjustable to make sure you set the lighting at the right angle before taking pictures or videos. Also, these lights adjust to different temperature levels, and they are dimmable.
Each lamp has 66 Pieces of energy-saving LED bulbs that ensure you get enough illumination without compromising your visibility. The lights also ensure you can create a different background for your photos since they have four white, red, yellow, and blue color filters.
Special features
The lights can adjust at an angle of up to 180 degrees
They come with multifunctional tripod stands
The lights illuminate four colors
The light temperature adjust up to 5600
GVM RGB LED Video Lighting Kit, 800D Studio Video Lights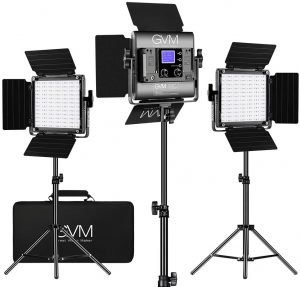 If you are looking for lights that will boost your youtube content videos, these are the perfect LED lights to use when shooting videos. One pack comes with three LED light panels to ensure you have ample lighting in the surroundings. These lights give great light temperatures of 3200K and 5600K. Adjusting the lighting is super smooth with the available control knobs.
With the two temperature outputs, you can easily adjust the LED lights to match the natural light of the area you shoot at. The colors also adjust from red, green, and blue, respectively. The APP control mode makes changing the lightings support easy, something you can do while you continue to shoot pictures or videos.
Special features
The lights can last for up to 100,000 hours
These lighting kit provide 168 LED Beads and 84 RGB beads
The light temperatures range at 3200K and 5600K.
It is compatible with Intelligent Control System
Emart 60 LED Continuous Portable Photography Lighting Kit
This is another portable lighting kit for taking close-by videos or pictures of mini items. A pack comes with two lights plus stands to hold lighting, especially when working outdoors. This studio lighting allows you to create varying backgrounds using five different color filters.
With light temperature settings of up to 5500K, you can easily balance the lighting to match the area you take the pictures or videos from. Also, note that these lights are equipped with energy-efficient 15W LED lamps for longevity.
Special features
These are multifunctional studio lighting kit
The lights are super portable
These lights can connect to both AC and DC adapters
The lighting adjusts in 11 brightness levels
Emart LED Video Light 11 Brightness with 4 Color Filters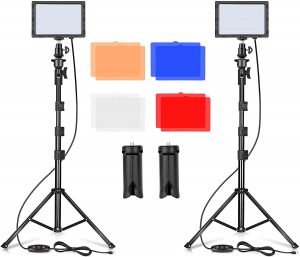 A lighting kit that ensures you adapt the natural lighting in the surrounding is the best for videos and photography jobs. The brightness level on this lighting kit adjusts in 11 levels to fit various areas and uses. These lights are perfect for shooting videos of small to tall items since they come with adjustable tripods.
The lights adjust to 180 degrees so you can perfectly take videos from multiple angles. The lightings have 66 LED beams, which are energy-efficient to minimize power usage, especially when working on a large project. These lights shoot in varying colors. You can choose from red, blue, orange, and white, depending on the job at hand.
Special features
This lighting kit comes with 12 months warranty
The lights adjust to 180 degrees
The brightness level adjusts in 11 different levels
Comes with adjustable tripod stands
The lighting kit is energy efficient