Top 10 Best Winter Gloves for Photographers
During winter, photographers can capture the most beautiful landscapes. One challenge for outdoor photography during winter is to protect yourself well enough. The best winter gloves make it easy to use cameras and safeguard them from cold weather. In this list, I covered the best winter gloves for photographers to use in either extreme cold.
Also recommended: Best Waterproof Camera Bags
For most travel photographers, having the best winter gloves are the must-have accessory.
A super useful apparel many winter photographers need is the top rated winter gloves. Leather and wool are the finest materials used for durable gloves.
These small yet handy fabrics help make sure that you can take on the extreme cold condition. And you won't have to worry about missing the best moment even when it's snowing.
Heated gloves are essential for photographers to achieve their photo shooting needs.
A List of Top Best Winter Gloves for Photographers
Freehands Men's Stretch Thinsulate Gloves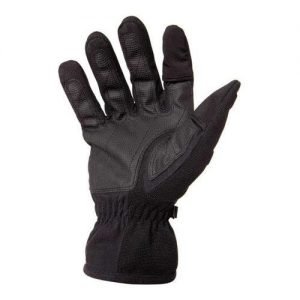 This is the second best winter photography gloves for extreme cold. I love its lightweight. Overall, the Freehands Men's Stretch Thinsulate Gloves is the best glove for outdoor photography.
Designed for when photographing outdoors in cold weather, the gloves are waterproof and windproof to keep you warm in the winter. Also, being lightweight enough to wear in milder weather is just great. When you need to access buttons on your camera, simply pull back the thumb and forefinger tips of the gloves to reveal your fingers. I also love how the tips are secured in place by magnets until you are ready to cover your fingers again. A silicon grip to prevent your camera from slipping is essential.
Features
Waterproof & windproof back
Thinsulate Insulation for warmth
Magnetic finger tips
Material: silicon gripped palmx
Snug fit
Bright Tangerine ExoSkin Leather Armour Gloves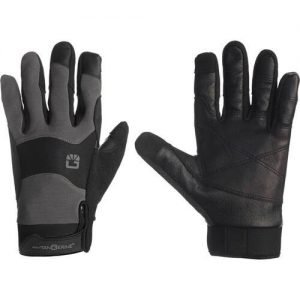 A new product with 5 Year Limited Warranty from Bright Tangerine, this leather-made gloves were designed for dexterity, flexibility, and durability. Made with soft, warm merino wool, and with a next-to-skin fit, the gloves provide warmth, naturally resists odors and insulates even if wet. The pair also help regulate temperature and elevating comfort inside garment.
Material: Leather
Dexterity, flexibility & durability
Textiles made from natural fibres
Arcteryx Gothic Glove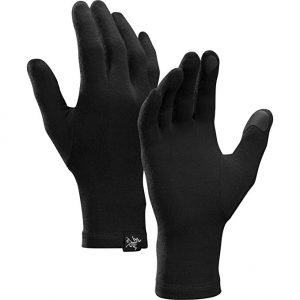 This Arcteryx Gothic Gloves are for a lining or standalone use. Thin and perfect only in a not too cold weather. Essentially, the quick release will keep the gloves in place.
Hands warm and comfortable
Slip resistant pad palm with abrasion overlay
touchscreen functionality
Made with soft, warm merino wool, natural fiber
Insulates even if wet
Matin Finger Camera Shooting Gloves for Pro Photographers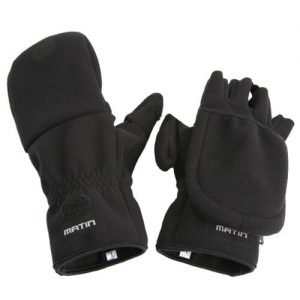 Matin Finger Gloves are the top best that I highly recommend to keep your hands warm and comfortable. With these winter gloves, you won't have to limit your movement during the shooting sessions.  The key feature we like in the gloves is the thumb and index finger for fine control for cameras.
Water resistant breathable outer shell
Silicon nubbed palm for comfortable grip
Adjustable wrist lanyards
Slip resistant pad palm
100% polyester
Aquatech Sensory Gloves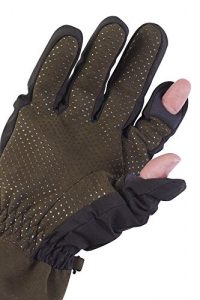 A well-designed gloves for everyday photography use. Overall, the gloves can give us comfortable wearing experience. I definitely recommend Aquatech Sensory Gloves. Fit, wearing comfort and freedom of movement.
Features
Silicon nubbed palm
Adjustable wrist lanyards
Water resistant
Breathable: keeps your skin dry
Stretch and recovery
Machine washable (wool) can be combined with shell and polar hood
Heat 3 Smart Layer System Merino Glove/Liner Smartphone Touch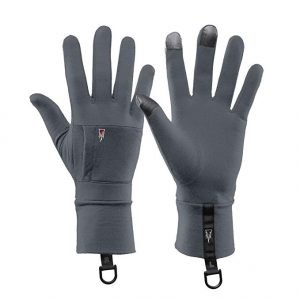 The best cold-weather protection for your hands, the Heat 3 Smart Layer from The HEAT company will give you the flexibility to operate your camera controls.
Top rated touch screen-friendly glove system
Best values for the money
Burton Powerstretch Liner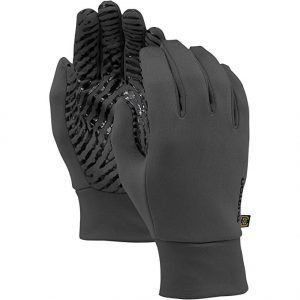 Ergonomic pre-curved fit, the Burton Powertrech Liner is another product I have to feature in this review.  This light weight glove is best for warmer weather. You can use your washing machine to clean it.
4-Way Polar Tec power stretch fleece shell
Ergonomic pre-curved fit
Shell: 88% Polyester/12% Spandex
Unisex sizing
Screen Grab Sticky Icky Grip Palm
Screen grab sticky icky grip palm
Achiou Winter Knit Gloves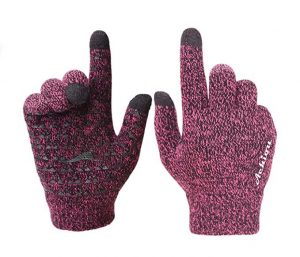 The winter is brutal. Get yourself these gloves from Achiou for comfortable and surprisingly warm. One of the best features in this winter glove is the palm-slip silicone, which allows you to hold the steering wheel firmly.
Soft and warm lining design
Excellent elasticity
Stretches to fit most hands
Not easy to slip
MCTi Waterproof Mens Ski Gloves Winter Warm 3M Thinsulate Snowboard Snowmobile Cold Weather Gloves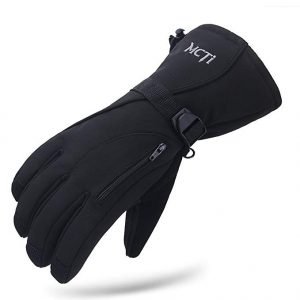 Soft and comfortable for skin touch, the MCTi waterproof ski gloves is the best gift for your families, friends, and photographers to play together in winter sports. It will warm up your hands, but not sweat. Great wrist tightening straps. Overall, we recommend this product as it's thick enough to keep our hands warmth in cold chilly weather in skiing, snowboarding, winter riding, and hiking.
Windproof Polyester
Insulate Thinsulate
Waterproof TPU
Multifuctional and durable for in winter sports
OZERO Winter Gloves -30°F Cold Proof Thermal Driving Glove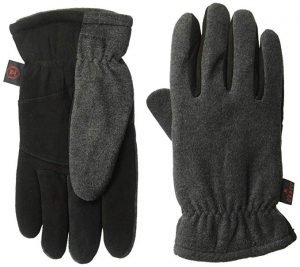 What I really love about the Ozero Winter Gloves is its big reinforced leather patch for grip. The abrasion resistance, breath-ability and sweat resistance are great. The gloves also have polar fleece back for thickness, warmth, and comfort. Essentially, the unique layer combines with other materials to keep your hands warm even when temperature drops to the range of – 30°F to -20°F.
Thermal retention, flexibility and light weight
Waterproof TPU: the second layer, a breathable material
Firm Sponge: wind resistant with the elastic wind resistant cuff
Heatlok insulated cotton
Soft and skin-friendly material
Wind and water resistant
Softness and durability