Top Best Production Switchers for Live Streaming
You want to produce more awesome videos and are in a search of a top rated production switcher? But the dilemma is among countless switchers in the market. So, let us help you find a top professional video switcher. Before buying one of the best production switchers for live streaming you should always consider:
durability
production quality
reliability
inputs
effects
ease of use
What is required for live streaming? A specialized hardware, a video production switcher is essential in film, television, and live event production. The best video switchers bring the image to the screen and your vision to reality. One of the great advantages is a production switcher software package is a great alternative to hardware-based systems for video switching. Digitally, you can customize and expand software systems to include professional video edit controllers. Thus, most professionals can edit and adjust the creative content.
A List of Top Best Production Switchers for Live Streaming (2021)
SlingStudio Hub HD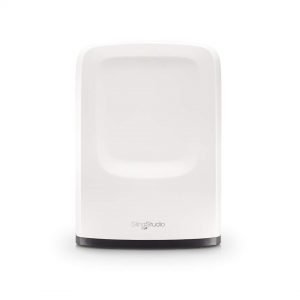 SlingStudio is a live video switcher that can connect with almost 10 wireless devices (smartphones, cameras, and drones). It can be wirelessly connected to 300 feet and with this switcher; you can take all programs and inputs for post-production work. Sling studio has an HDMI input-output in the hub, a USB Port and audio input. It supports 4K video production with a resolution of 1080p and 60 frames per second. There are two apps, Capture app and Console app. With Capture app, your smartphone acts as a video source while through Console app you control audio and switching. SlingStudio is a smart option for multi-device switching and streaming. The setup is simple and it's easy to use. All you need is an iPad
Portability and robust wireless technology
Up to 7 recordings on a single storage device
Affordable and easy to use
Blackmagic Design ATEM Television Studio Pro HD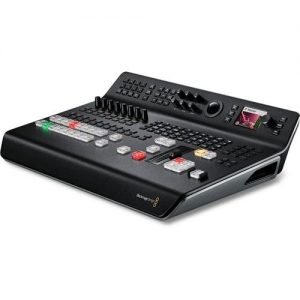 ATEM Television Studio Pro HD is an advanced production switcher with 8 inputs-8 outputs and features Mix Effect (M/E) control scheme. It produces ultra HD videos of 2160pixel with 60fps. It has been built specifically for live broadcast and remote events. This switcher is compatible with Windows, Mac as well as Linux OS. The setup is very easy. All you have to do is plug in computers or cameras and switch live! It comes with a 12 month warranty period. This production switcher is perfect for AV professionals and broadcasters as it is made for live production, web shows, and AV.
Total Video Inputs: 8; Outputs: 8SDI Video Input: 4 x 10-bit SD/HD switchable
2 channel embedded audio.HDMI Video Inputs: 4 x HDMI type A, 10-bit SD/HD switchable
2 channel embedded audio
Compatible with: Mac / Windows / Linux
Panasonic AG-HMX100E Digital AV Mixer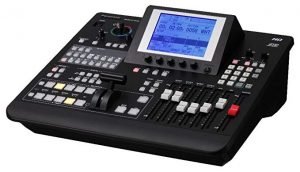 This all in one device acts as a multi-format audio switcher and video mixer. It has 7 video inputs and 6 outputs while 12 audio inputs and 6 outputs. It can record audios from even low-quality camcorders. It supports HD videos that are 1080p with 60 fps. There are multiple digital effects like time effect, fading effect, transition wipes, Chroma etc. It also supports 3D videos. If you produce videos for weddings and other live events, corporation, schools and other government organizations then this is a perfect switcher for you.
HD/SD multi video format compatibility
Digital interfaces of SDI (HD/SD) input/output and HDMI (HD) input
DVI-I input accomodates both motion and still image from a PC
Multi View function displays Preview (PVW), Program (PGM), and all source images on a single monitor
Roland VR-4HD AV Mixer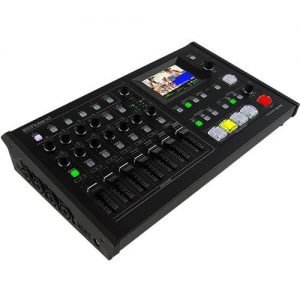 Roland VR-4HD is a video switcher, an audio mixer, and a USB video/audio streaming interface. With all these features in one device makes it very easy for any video producer switching and mixing of the video and sound. If you started with the Roland V-1HD Audio and Video Switcher and still getting to know more about the video production then this production switcher is all you need.
4-channel (video)/18-channel (audio) Digital Mixer with Touchscreen Multiviewer
Remote Access via External Hardware or Included Software
HDMI and RGB/Component Video Inputs
USB 3.0 Recding/Streaming
Extensive Hs-on Controls
Convergent Design Apollo Multi-Stream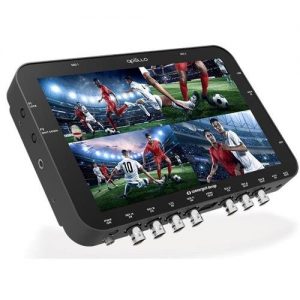 The Convergent Design Apollo Multi-Stream one of the best production switchers for the size of a tablet with a touchscreen. It can record up to four HD videos at the same time. The fifth channel is live switch. This tiny production switcher acts as a switcher, recorder and a multichannel monitor. This is perfect for producers who travel a lot and like an easy to set up switcher that can do all the work hassle-free.
Power: Under 20w power draw, 6.5-34v with battery mounts available
SSD: Two 2.5″ SSD slots (Convergent Design SSDs or qualified 3rd party models)
Physical: Magnesium case Gorilla Glass cover stick-on/peel-off screen protector